The final month of 2022 begins with four planets in the evening sky: Venus low in the southwest, Saturn and Jupiter higher up in the south-southwest and fiery Mars low in the east-northeast.
After Dec. 10, a fifth planet, Mercury will make itself evident very low in the southwest shortly after sunset, eventually engaging Venus in a close conjunction during the final days of the month. A lovely crescent moon will form a striking isosceles triangle with these two inferior planets on Christmas Eve.
But the highlight of the month will no doubt be the occultation (eclipse) of Mars by the full moon on Dec. 7, visible throughout much of North America. The exception will be along a part of the Gulf Coast and a portion of the Eastern Seaboard, where Mars will ever-so-narrowly miss being covered by the bright lower edge of the moon.
Related: Space calendar 2022: Rocket launches, sky events, missions & more!
In our schedule, remember that when measuring the angular separation between two celestial objects, your clenched fist held at arm's length measures roughly 10 degrees. Here, we present a schedule below which provides some of the best planet viewing times as well directing you as to where to look to see them.
If you're looking for binoculars or a telescope to see the solar system planets, our guides for the best binoculars and the best telescopes have options that can help. If you need photography gear, consider our best cameras for astrophotography and best lenses for astrophotography to prepare for the next planet sight.
The sun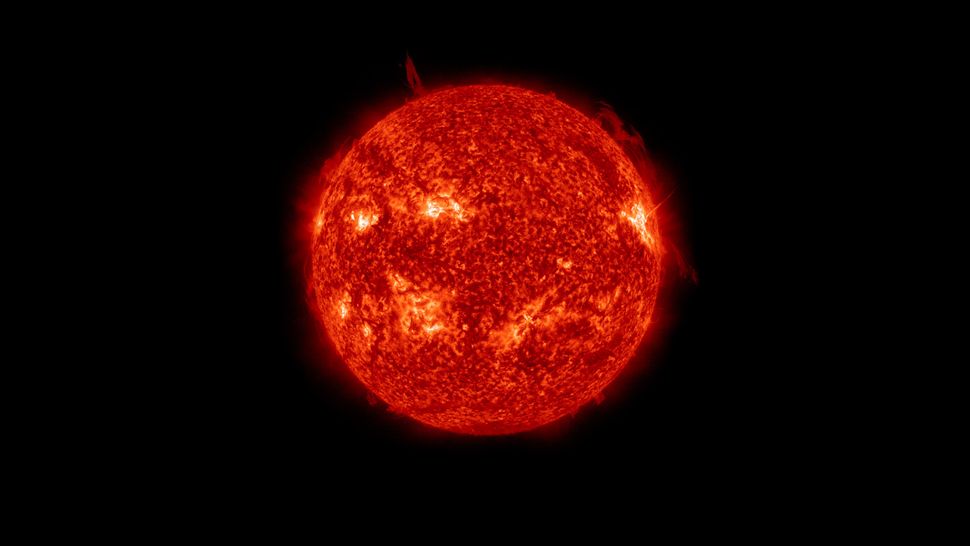 The sun reaches the winter solstice on December at 4:48 p.m. EST (2148 GMT), marking the beginning of winter in the Northern Hemisphere and summer in the Southern.
Mercury
(opens in new tab)
Top telescope pick!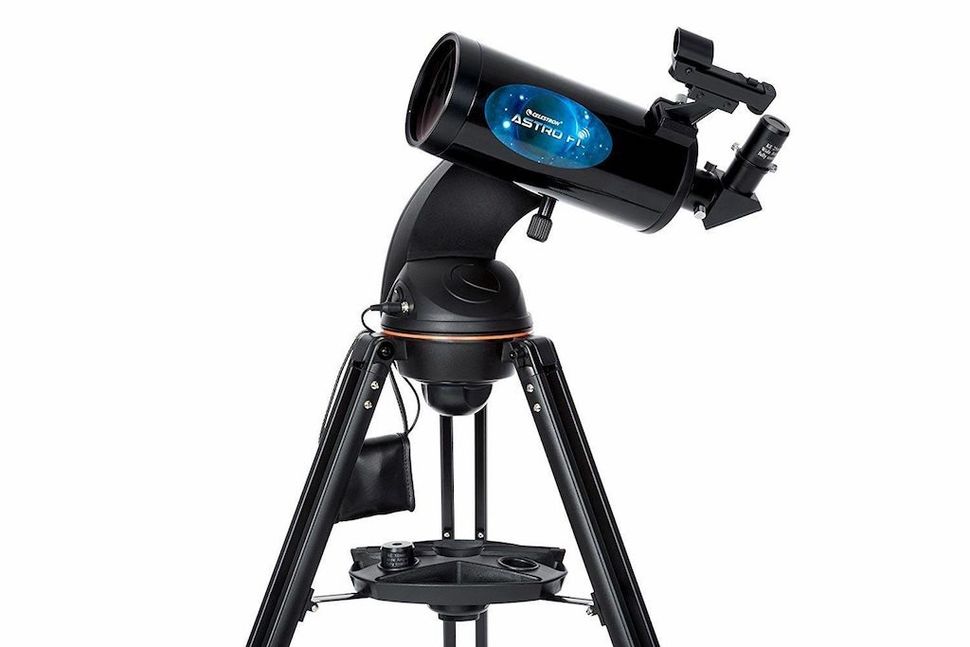 Looking for a telescope to see the planets or anything else in the December night sky? We recommend the Celestron Astro Fi 102 (opens in new tab) as the top pick in our best beginner's telescope guide.
Mercury emerges as an evening "star" around the 10th, when it sets an hour after the sun. At magnitude -0.6, it is easily located in binoculars about 5 degrees to the upper left of Venus. On Dec. 21, Mercury stands at greatest elongation, 20 degrees east of the sun. This is a "fair-to-middling" apparition, for the innermost planet is only 6 degrees above the horizon 45 minutes after sundown and sets a quarter hour before the end of evening twilight.
By Dec. 28, Mercury and Venus are in conjunction, with much fainter Mercury passing 1½ degrees almost directly above Venus. The rocky little world will have dimmed to magnitude +0.3; it will continue fading at 0.4 magnitude per day until it's lost to the naked eye by New Year's Day.
Venus
(opens in new tab)
Venus was so low after sunset in November that glimpsing it was a frustrating challenge. During the course of December, however, the interval between sunset and Venus-set increases from about 45 to 75 minutes when viewed at 40 degrees north latitude, with the planet's sunset altitude increasing from 5 degrees to 11 degrees.
That's enough improvement to make Venus, which shines at magnitude -3.9, reasonably easy to spot if the night is clear and you look for it just a few degrees above the southwest horizon starting a half hour after sunset. On Dec. 24, Christmas Eve, Venus will team up with Mercury and a slender waxing crescent moon, just 36 hours past new phase, to form a striking triangle; a lovely holiday ornament low in the evening twilight sky.
Mars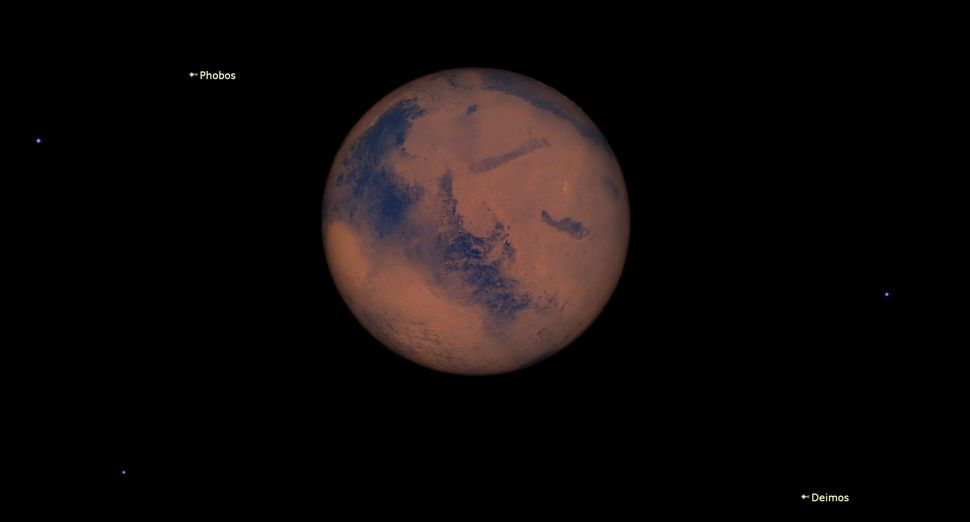 (opens in new tab)
Mars is December's prime planetary attraction, both because of its size and brightness and because this is your last chance to see it so well for 11 more years. It reached this year's minimum distance from the Earth, 50.61 million miles (81.43 million km), at 9:17 p.m. EST on Nov. 30 (0217 GMT on Dec. 1). Brightening to magnitude -1.9 on the 3rd, Mars outshines Sirius through Dec. 26; it will not exceed the Dog Star's brilliance again until 2031.
Mars now stands at opposition to the sun and is visible all night, in excellent observing position at declination +25 degrees. It rises well north of due east, and at midnight passes directly overhead as seen from the southernmost United States. But even as we watch, Mars is rapidly departing from the Earth's vicinity. By New Year's Eve it is flying away at 6 miles (10 km) per second. Or more accurately, the Earth is pulling ahead of Mars at this speed in our faster orbit around the sun. Mars loses nearly half of its brightness from Dec. 1 through Dec. 31, and shrinks in apparent diameter by about 13%. So don't miss any opportunities to examine it early in the month.
On the evening of Dec. 7, Mars will be occulted by the full moon when both objects are exactly opposite to the sun and 100% illuminated. This event favors observers in the Northern Hemisphere including most of North America (evening hours of Dec. 7 for most of the continent) and much of Europe (morning hours of Dec. 8).
Related: Best telescopes for seeing planets 2022
Jupiter
(opens in new tab)
Jupiter is the behemoth world of the solar system and provides its best telescopic view as dusk ends, for that's when it's highest in the south; still a superb sight. As darkness falls on Dec. 1, take note of Jupiter sitting a few degrees above the moon.
Toward month's end, the first quarter (half) Moon occurs on Dec. 29 and for the second time this month take note of Jupiter nearby, this time about a half dozen degrees to the moon's right.
Saturn
(opens in new tab)
Saturn fades to magnitude +0.8 this month, but as the stars come out it still shines more prominently in the south-southwest than the 1st-magnitude star Fomalhaut does, even lower in the south. We find the golden yellow orb remaining near the 3rd-magnitude star Delta (δ) Capricorni (Deneb Algedi) in December and moving toward it from the west. Even by the last day of the year Saturn still sets about 3½ hours after the sun, so there's time each evening to study the ringed planet through a telescope. Saturn is the bright "star" hovering about 5 degrees to the upper left of the moon on the evening of Dec. 26.
Editor's Note: If you snap a photo of any of the planets in December and would like to share it with Space.com's readers, send your photo(s), comments, and your name and location to spacephotos@space.com.
Joe Rao serves as an instructor and guest lecturer at New York's Hayden Planetarium (opens in new tab). He writes about astronomy for Natural History magazine (opens in new tab), the Farmers' Almanac (opens in new tab) and other publications. Follow us on Twitter @Spacedotcom (opens in new tab) and on Facebook (opens in new tab).