November is an unusually active month for the planets. First, virtually the entire Western Hemisphere as well as Europe, Africa and westernmost Asia will be able to see (weather permitting, of course) Mercury cross the face of the sun on Nov. 11. As the month progresses, Venus and Jupiter gradually close in on each other in the evening twilight sky, resulting in a spectacular conjunction on Nov. 24 ... and then the moon joins them on Thanksgiving evening. Saturn is visited twice by the moon on Nov. 1 and again Nov. 29. Mars is still relatively dim, but passes the brighter blue star Spica on Nov. 10. And finally, after crossing the sun on the 11th, Mercury vaults into easy visibility in the morning sky during the last week of the month, joining Mars and Spica.
In our schedule, remember that when measuring the angular separation between two celestial objects, your clenched fist held at arm's length measures roughly 10 degrees. Here, we present a schedule below which provides some of the best planet viewing times as well directing you as to where to look to see them.
Planet Viewing Guide
Mercury — crosses the sun's disk on Nov. 11 between 7:35 a.m. and 1:04 p.m. EST (1235 to 1804 GMT), the last such event to be seen from Earth until 2032; the last to be visible for North Americans until 2049. Passing perihelion only five days later, Mercury quickly enters the morning sky and by the 18th the rapidly brightening planet rises in the east-southeast 70 minutes before the sun at magnitude +1.2. On the morning of Nov. 25, Mercury, now shining at magnitude -0.3, will be positioned about 5 degrees to the upper right of an exceedingly thin crescent moon. In an unusual paradox, you may need to use Mercury and binoculars to locate the moon, now only one day before new phase. Three mornings later, this speedy little world arrives at its greatest western elongation (maximum apparent separation) of 20 degrees from the sun. The planet comes up in a dark sky more than 1½ hours before the sun — just before the first light of dawn – from Nov. 22 to Dec. 4.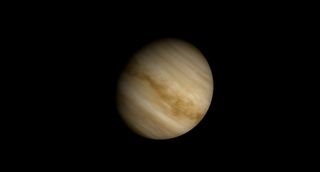 Venus — is still quite low in the southwest twilight. Although it shines at a brilliant magnitude of -3.8, it's hard to locate until 10 or 15 minutes after sunset.
Look for it there in the afterglow of day starting just 30 or 40 minutes after sundown. For observers around 40 degrees north latitude, it sets about 1 hour after the sun when November begins and about 1¾ hours after sunset — just after the end of twilight — by the end of the month. Venus is gradually getting higher and easier to see, a trend that will accelerate and propel the planet to prominence in December. Telescopes will show it as a small, trembling, ever-so-slightly gibbous globe. Venus interacts with Jupiter in a spectacular conjunction on the evening of Nov. 24 and with a crescent moon on Thanksgiving. More details can be found in the Jupiter section.
Mars — shining at second magnitude, rises around 4:30 a.m. in the east-southeast. During this month, Mars moves some 20 degrees eastward, nearly keeping pace with the sun; crossing over into Libra on Dec. 1, Mars will then be rising 2½ hours before sunup. On Nov. 10, it will be passing 2.8 degrees to the upper left of the bluish first magnitude star Spica, which is twice as bright. By Nov. 24, Mars continues to be fairly inconspicuous, sitting midway between Mercury and Spica in the east-southeast before dawn. Look for it this morning about 3½ degrees to the lower right of a narrow crescent moon. In a telescope Mars is a very tiny orange-yellow disk. There's not much of interest here now, but wait until next fall. This month Mars lies about 20½ light-minutes from Earth. Next October it will be only 3½ light-minutes away, and the Martian disk will appear nearly six times larger. Then, even a small telescope should reveal a fat Mars capped with white polar regions and streaked with dark markings. Spica shines nearly a dozen degrees to the upper right of the moon and Mercury about 9 degrees below and to the left of the moon. It's good that Mercury and Spica are in the general vicinity as Mars. Although both outshine it, they make the red planet more noticeable than it would otherwise be.
Jupiter — which has been a prominent fixture in the evening since the start of the summer, shines at magnitude -1.9 but now lurks very low in the southwest at disk, getting lower every week. At mid-northern latitudes, Jupiter sets almost 2½ hours after the sun as November begins but only about 80 minutes after at month's end. When November begins, Venus sits far off to Jupiter's lower right. As Jupiter drops lower and Venus ascends, these two planets are headed toward an eye-catching rendezvous during the final week of the month. Watch as they slowly approach each other as the month progresses. Then, on Nov. 24, Venus overtakes Jupiter resulting in a glorious conjunction, low in the southwest sky about 45 minutes after sunset. They are separated by 1½ degrees with Jupiter positioned to Venus's upper right. Jupiter shines at a dazzling magnitude of -1.8, and yet it is no match for Venus which glows more than 7 times brighter. Finally, on Thanksgiving Day, invite your family and friends to step outside about 45 minutes after sunset and look low toward the southwest sky for a spectacular gathering of a thin crescent moon and the two brightest planets, Venus and Jupiter. Jupiter will be nearly 5 degrees to the right of Venus, while a slender sliver of a crescent moon hovers less than 1½ degrees above Venus.
Saturn — continues to gleam in the fading twilight for most of November. Look for it 33 degrees to the lower left of the similarly bright, yellow-white star Altair in the south-southwest at dusk at the beginning of the month, and lower in the southwest by the time November ends. On the evening of Nov. 1 you can also use a nearly 5-day old crescent moon to positively identify Saturn; it will be sitting 5 degrees to the moon's upper left. In a telescope you can still see Saturn's rings (tilted 24.9 degrees to our line of sight) and Titan, its largest moon. On "Black Friday" (Nov. 29) a slightly slimmer crescent moon again visits Saturn, passing 1½ degrees below it that evening.
Space Launch Calendar 2019: Sky Events, Missions & More
Joe Rao serves as an instructor and guest lecturer at New York's Hayden Planetarium. He writes about astronomy for Natural History magazine, the Farmers' Almanac and other publications, and he is also an on-camera meteorologist for Verizon FiOS1 News in New York's lower Hudson Valley. Follow us on Twitter @Spacedotcom and on Facebook.