The best lens heaters can solve some age-old astrophotography challenges and can allow astrophotographers to get the perfect shot; after all, photographing the night sky is hard enough.
Shooting at night means you and your camera are often exposed to cold weather for long periods of time, so condensation can be a real issue. As the equipment and the lens in particular tend to be cooler than the surrounding air, water can condense onto the surface and ruin your shots. Additionally, if your camera is angled towards the sky (as it tends to be when shooting the stars), you may get water trickling onto the lens, which shows up in the resulting photographs.
Enter lens heaters. These nifty and inexpensive gadgets can prevent condensation from building up on your equipment by gently heating the lens body. Avoiding dew is also crucial to protect the best cameras for astrophotography as rubber gaskets and seals can't always be trusted to fully insulate your camera from water infiltration.
Lens heaters are very simple in design, consisting of a padded strip that needs to be wrapped around your lens and plugged into the relevant power source. They will then gently heat your lens and get rid of any condensation forming on it. While most models work in a comparable way, some are velcro-secured, others are USB-rechargeable, and others still offer three temperature levels to adapt to different environments.
If you're looking to upgrade more of your camera accessories, check out our guides to the best lenses for astrophotography and the best camera backpacks.
---
Best lens heaters 2023
Best lens heaters 2023 ranked
The MOVE SHOOT MOVE lens warmer is our top pick of the best lens heaters for its convenience and smart technology.
The 6.6 ft. cable remains flexible even in temperatures down to -25 degrees Celsius, which is handy if you're shooting outside in cold environments. The lens warmer itself is made of neoprene, a material that helps prevent heat loss and keeps the lens dry.
This lens heater has three incremental heat levels to choose from, and a temperature regulator to maintain your lens at the perfect temperature at all times.
As with most lens heaters, it is chargeable with a USB-A cable. All you need is to plug it into a power bank and you can keep it running for hours on the go.
---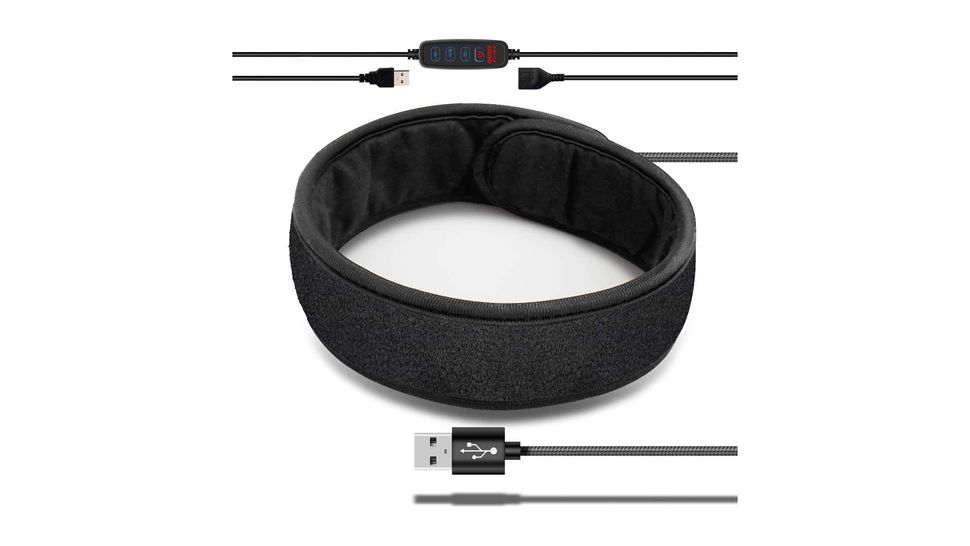 Composed of a simple neoprene band that slips around your lens with a USB plug for taking power from a rechargeable power pack (or a phone charger, if you have an extension cable that reaches far enough), this lens heater will keep the dew off your lens for as long as its power source holds out.
Suitable for lenses up to 41cm in circumference, the 3.5cm-wide band is secured in place with velcro. The heater also has a temperature regulator on its power cable that, via its low, medium, and high modes, allows you to alter the amount of heat being produced. This means you can also use it to stop your water bottle from freezing in really cold weather.
---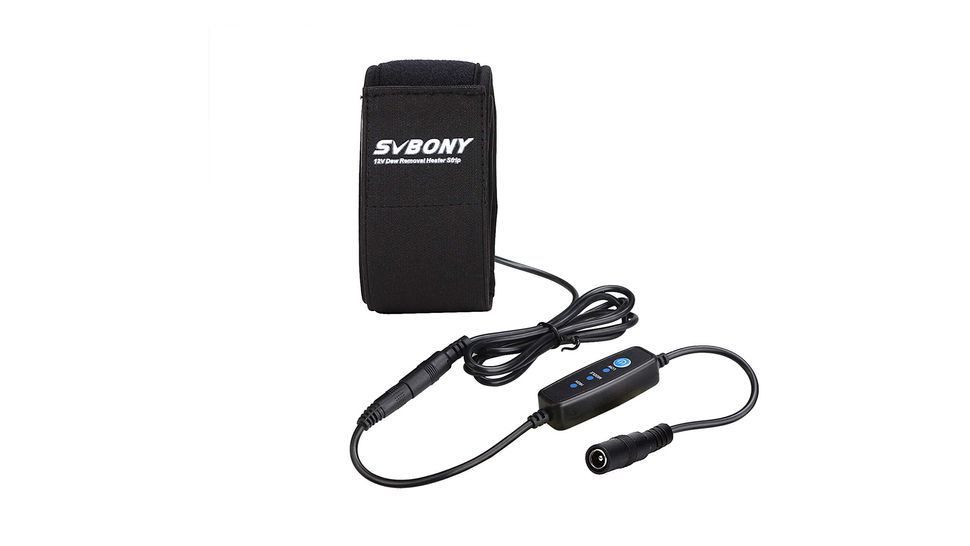 This strap is 72cm long with 56cm of that providing a heated area, allowing it to be used on even the largest lenses and many telescopes too. It takes its power from a power tank putting out 1.6 to 1.8A and has three heat settings: Low, medium and high.
Aluminum alloy heating elements allow quick, even heating, while three layers of insulation prevent contact between the heating elements and your equipment, and also help prevent heat dissipation into the night air.
A shorter, cheaper version is available, but we like the universal fit and future-proofing offered by the longer strap. As the heater goes around the lens or scope at its widest point, it's always good to have a bit of extra length in the bag in case some new and unexpected equipment makes itself available.
---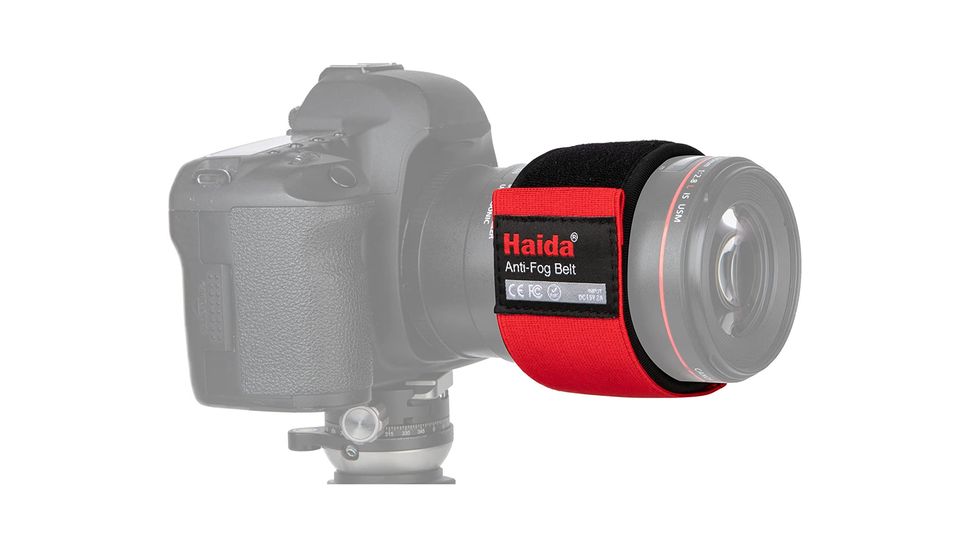 This anti-fog belt from Haida is incredibly easy to install, thanks to its simple velcro design. It's also made from graphene which, according to Haida, allows the belt to heat up quickly, so you can rescue your lens from fogging in the nick of time.
Like most lens heaters, it comes with a USB port, which is best attached to some kind of external power bank, and it has three 'heat' settings for you to try out. A little LED light indicates that it is on and working, which could damage your night vision while you're out taking astro shots, so it's best to find a way to shield it. It's not the largest lens heater on this list, but it should fit any camera lenses that have a 110mm or smaller diameter.
---
The NEEWER USB lens heater can heat lenses on cameras or telescopes up to 16 inches or 400 millimeters in circumference. It also accommodates smaller ones as it's fully adjustable. The brand also highlights that it can be used to heat up arms and legs in the cold, or items like coffee cups.
As most competitors, this lens heaters has three temperature modes (high mode: 55-65 degrees Celsius, middle mode: 45-55 degrees Celsius, low mode: 35-45 degrees Celsius). It's rechargeable thanks to a USB cable, so you can charge it on the go with a power bank or plug it into a power source.
---
This lens heater is ideal for slimmer lenses and telescope eyepieces up to 3.15 inches in diameter. Impressively, it can withstand temperatures as low as -40 degrees Celsius, so you can even take it on a shooting trip to the Arctic!.
It has three temperature modes, high, medium, and low, that you can adjust according to your environment. The controller cable is 1.5 meters long, which could be a tad longer.
Usefully, this lens heater comes with a storage pouch to store it and take it on the go safely. It is rechargeable using a USB power source such as a portable battery.
What to look for in a lens heater
There is a wide choice of lens heaters available out there, so it can be hard to make sense of all the features. We've rounded up the most important things to look out for when choosing a lens heater below.
First off, you'll want to think about how cold the environments you shoot in are; some lens heaters are better at coping with extreme temperatures, some as low as -40 degrees Celsius. Most lens warmers come with more than one temperature setting so you can adjust it according to your shooting location, too.
Another important factor to consider is the charging method. Most lens heaters are chargeable with a USB-A cable, which can either be plugged into a portable battery or into a plug head and into the mains.
Obviously, you'll want to keep your budget in mind. Lens heaters come at a variety of price points, from some more premium ones with a few bells and whistles to slightly more budget-friendly ones which will still do the job reliably. Some more expensive lens heaters are made from premium materials such as neoprene, which helps traps heat and keeps your lens warmer.
Lens heaters also come in a variety of sizes, so depending on how large your lens is, you'll want to look at the specifications to see how the heaters fit.