No astronomy enthusiast's home is complete without one of the best star projectors to light up those dark, cold evenings (that have well and truly arrived!) We have reviewed many models of star projectors and selected the best to feature in our Best Star Projector guide.
This week we've seen the Pococo Galaxy star projector drop from an inflated price of $145.99, down to $89.99 last week and $84.79 on Tuesday.
Editor's note 22 Nov: Today even further savings, this star projector is now 47% off for Cyber Monday, equalling its lowest-ever price we've seen.
You will see from our April 2023 Pococo Star Projector review that we were impressed, so much so that we thought the imagery was just as impressive and the functionality was just as good as the much-loved Sega Toys Homestar Flux. The added bonus is that the Pococo is rechargeable, whereas the Sega Toys Homestar Flux needs to be used near a power supply.
In this Cyber Monday deal, for $84.79 you'll get the Pococo Galaxy Star Projector and two image disks (Westerlund 2 and Diamond Stars). Differently 'themed' expansion packs, each containing six disks are available and feature discounts in the Cyber Monday sales, too. If you already own the Pococo Galaxy Star Projector or know someone who does, now is a good time to add to your (or their) disk library.
Star and galaxy projectors vary in both price and functionality. Some can project scientifically accurate constellations and galaxies, while others are more of a one-trick pony and are only really good for creating a relaxing atmosphere. The Pococo Galaxy Star Projector sits somewhere in the middle.
---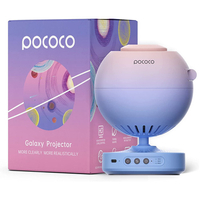 Pococo Galaxy Star Projector: was $145.99 now $79.99 from Amazon.
Save 47% on this stunning home planetarium galaxy star projector this Black Friday/Cyber Monday. It's a superb, affordable way to transform your space into a home planetarium without breaking the bank. It comes with two included discs, with the option to purchase expansion packs and its discount just dropped even further.
---
We should be clear here though, this deal looks better than it really is. We reported this star projector as discounted from $135.99 just the other day and for 48 hours the price went up to $145.99 before today's big discount. It's still a good discount, but the price was inflated for only two days to make it look like a better deal than it is. Naughty, naughty!
After reviewing the Pococo Galaxy Star Projector, our main takeaway is that it certainly gives the more expensive models a run for their money — particularly the Sega Homestar Flux, which is over double the normal RRP price. The fact it's rechargeable means it's more portable too as a power cable doesn't limit where you can position it.
The sharp and bright projections display vivid colors, and the disks are very easy to change (if a little on the small side). We found out that the disks also fit the Orzorz star projector too. The Orzors offer the same functionality in a differently shaped body. That's currently $79.99, reduced from $89.99.
There are no apps to set up accounts for or use up space on your phone; the buttons on the device do everything you need. The rotating motor is incredibly quiet, so it can be used as a sleeping aid or to accompany a movie without interruption.
In all, following our hands-on review, we're happy to recommend this star projector alongside the industry favorites. Even more so when there's a decent discount!
Don't forget, if you want to make the most of Black Friday/Cyber Monday 2023, check out our Cyber Monday deals hub for a roundup of the best discounts and deals on telescopes, binoculars, cameras, star projectors, drones, lego and much more.
Key Specs: The projector itself is an attractive sphere design, measuring around 6.2 x 4.7 x 4.7-inches (157 x 120 x 120mm) and weighing 1.7 lbs (771g). It rotates and has a 15, 30 or 60-minute sleep timer. The maximum size of the projection is 39 x 39 ft (12 x 12m). It isn't scientifically accurate, but it gives realistic projections of the night sky, or other imagery depending on which disks you use (there are some novelty disks like 'Haunted Moonbeam' and Transportation.
Consensus: This is a much more reasonably priced star projector than competitors like the prestigious Sega Toys Homestar Flux. It has just the same functionality and we'd argue the imagery is just as good. The Pococo Galaxy Star projector is also rechargeable giving more positioning flexibility.
Buy if: You want realistic night sky projections for an affordable price and don't want to break the bank.
Don't buy if: You only want what is considered 'the best' and you are willing to pay for it, or if you're just looking for something inexpensive to add some ambiance to your space or to create a cool space-themed atmosphere.
Alternative models: If you do want the best of the best, we likened this to the Sega Homestar Flux, but for something more cheap and cheerful, check out the Astronaut Starry Sky Projector which is currently just $25.99 at Amazon. We'd also recommend the BlissLights Evolve that's currently sitting at $39.99.
Check out our Cyber Monday 2023 deals page for discounts on telescopes, cameras, binoculars, star projectors, Lego and more.