After 17 successful flights to space and back — including one carrying four people — Blue Origin is ready to move its launch operations into your backyard.
The commercial spaceflight company, which was founded by billionaire Jeff Bezos, announced a model rocket version of its New Shepard launch vehicle. The ready-to-fly toy rocket was revealed in conjunction with Blue Origin's NS-17 suborbital mission, which lofted a NASA lunar landing experiment, original artwork and other cargo to just beyond the border between Earth and space on Thursday (Aug. 26).
"Just like the real New Shepard, it is fully reusable and follows a similar flight profile," Jacki Cortese, Blue Origin's senior manager for civil space government relations, said of the model rocket during a live webcast of the NS-17 launch. "The capsule even separates from the booster near apogee and floats back to Earth under a parachute for a gentle touchdown in your backyard."

Related: Best model rocket kits for 2021: Great deals and more
Video: Watch Blue Origin's New Shepard NS-17 launch (and stunning landing)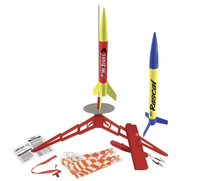 Estes Rascal and HiJinks Launch Set: $47.99 at Amazon
If you grab an Estes Blue Origin New Shepard, you'll need a launch set to get it off the ground. You can double your flying fun with the Estes Rascal and HiJinks launch set. Each rocket will require Estes engines (sold separately), which allows you to propel to 1,200 feet.

The New Shepard model rocket is the first product of a new partnership between Club for the Future, Blue Origin's nonprofit educational foundation, and Estes Industries, the leading manufacturer of model rocket engines, kits and accessories for the past 60 years. Estes and Club for the Future plan a series of Blue Origin models and educational content to inspire the next generation of space leaders and explorers.
"The Estes and Club for the Future collaboration is the next exciting step in Estes's long legacy of supporting STEM [science, technology, engineering and mathematics] education, and the Estes New Shepard is the perfect vehicle to inspire future generations," Mallory Langford, president of Estes Industries, said in a statement.
The 1/66th-scale New Shepard model comes out of the box ready to launch. Capable of carrying a small payload, the rocket can fly as high as 400 feet (120 meters) using a single C6-3 or C6-5 model rocket engine.
Each box also includes a postcard that can fly much higher.
Kids (of all ages) are invited to use the postcard to draw or write their vision of how they see the future of life in space. Once mailed to Club for the Future, the cards will be flown on a Blue Origin New Shepard rocket to space. After the flight, the postcard will be returned to its sender with an official "Flown to Space" ink stamp as a unique keepsake.
Club for the Future has been flying postcards on Blue Origin flights since 2019.
"Sharing the crew capsule with the science payloads today are thousands of postcards from students around the world flying on behalf of Club for the Future. We dedicate space on every flight to fly postcards, and it is a core initiative of our foundation. It is one of the most tangible ways that we can make space feel accessible to students of all ages," said Kiah Erlich, Blue Origin's director of astronaut and NASA sales.
The Estes New Shepard model rocket retails for $70 each. Expected to ship in November, the model is now available for pre-order through both the Blue Origin and Estes Industries websites.
The two companies will also soon be releasing a suite of free hands-on STEM activities, designed in collaboration with middle school teachers, to help kids further explore the science of flight, design engineering and data literacy in a fun way.
"Our hope is that the Estes New Shepard model sparks the imagination of future space explorers and inspires them to carve out their own role in helping to invent the future of life in space," said Josef Reinke, director of Club for the Future.
Follow collectSPACE.com on Facebook and on Twitter at @collectSPACE. Copyright 2021 collectSPACE.com. All rights reserved.