First Woman to Join an ISS Crew
The first female member of an International Space Station crew was NASA astronaut Susan Helms, who served as a flight engineer during the Expedition 2 mission from March to August 2001.
First Female Space Tourist
Iranian-American entrepreneur Anousheh AnsariM/a> became the first female space tourist when she funded her own way to the International Space Station aboard a Russian Soyuz space capsule in 2006 through the firm Space Adventures.
First South Korean in Space
South Korean astronaut Yi So-yeon became her country's first space traveler when she rode to the International Space Station on Russia's Soyuz TMA-12 in April 2008.
First Marathon in Space
NASA astronaut Sunita Williams became the first person to run a marathon in space during the Expedition 15 mission in 2007. She officially registered for the Boston Marathon and ran 26 miles in 4 miles and 26 minutes on the Combined Operational Load Bearing External Resistance Treadmill (COLBERT) in the Tranquility node of the International Space Station.
First Woman to Spend (Nearly) 1 Year in Space
In April 2019, NASA announced that Expedition 59 astronaut Christina Koch's mission at the International Space Station would be extended to last 328 days. If all goes according to plan, she will break the record for the longest single spaceflight by a woman — a record that is currently held by NASA astronaut Peggy Whitson, who spent 289 consecutive days in space from 2016 to 2017. Koch launched to the space station on March 14 and will return in the spring of 2020.
Most Time in Space
The woman who has spent the most total time in space is Peggy Whitson, who has logged 665 days, 22 hours and 22 minutes in orbit over the span of three trips to the International Space Station. When she returned from her final trip to space in 2017, she had logged more hours in space than any U.S. astronaut — male or female.
China's 1st Female Taikonaut
China's first female astronaut Liu Wang waves to supporters while clad in a spacesuit just before boarding the Shenzhou 9 space capsule for a successful June 19, 2012 launch from the Jiuquan Satellite Launch Center.
Four Women in Space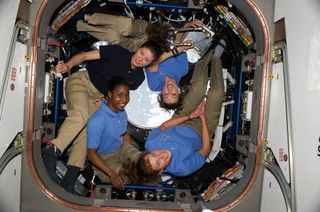 Four women serving together on the International Space Station on April 14, 2010, represented the highest number of women in space simultaneously. Clockwise from lower right are NASA astronauts Dorothy Metcalf-Lindenburger, Stephanie Wilson, both STS-131 mission specialists; and Tracy Caldwell Dyson, Expedition 23 flight engineer; along with Japan Aerospace Exploration Agency (JAXA) astronaut Naoko Yamazaki, STS-131 mission specialist.