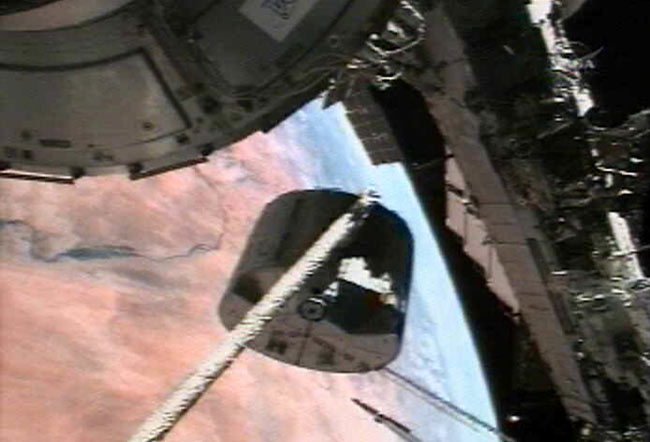 This story was updated at 10:17 p.m. ET.
HOUSTON — Astronauts on board the International Space Station (ISS) opened up Japan?s first orbital room Friday evening as mission controllers solved a power supply glitch with a giant robot outside the orbiting laboratory.
ISS commander Peggy Whitson had the honors of opening the new room, known as the Japanese Logistics Pressurized module (JLP), with STS-123 shuttle mission specialists Rick Linnehan and Takao Doi, a Japan Aerospace Exploration Agency (JAXA) astronaut. The module is the first segment of JAXA?s massive Kibo, or ?Hope,? laboratory to be delivered to the station.
?This is a small step for one Japanese astronaut but a giant entrance for Japan to a greater and newer space program,? Doi said shortly after opening the module. Prior to his spaceflight, Doi referred to the opening of the JLP as a dream.
?We love our new room already,? Whitson told mission controllers in Japan and the U.S. ?It looks great.?
The hatch was opened at 9:24 p.m. EDT (0124 GMT March 15), marking the first time the space station?s 15-nation program has full on-orbit participation.
Smoking gun
Meanwhile, specialists in Mission Control here at NASA?s Johnson Space Center remedied a power glitch with a pallet containing pieces of Dextre, a two-armed Canadian-built robot that space shuttle Endeavour delivered to space this week.
Mission controllers sent computer commands the pallet Thursday morning, but the operation failed. Following a successful spacewalk by two astronauts early Friday, an upload of new power-regulating software also did not send electricity through the device.
"We weren't going to fool ourselves by thinking that there weren't going to be any issues," said Pierre Jean, acting program manager for the Canadian space station program, of the robot. "But nonetheless we have to deal with them."
Despite the two foiled attempts to supply Dextre with power, which is crucial for protecting the robot from circuit-snapping cold, Jean said Friday morning that his team pinpointed the problem's origin.
"It's basically a design error in the cable," Jean said of a power line that routes electricity through the pallet to Dextre. He explained that the improperly designed cable allows power to flow, but doesn't relay data to and from a computer.
Astronauts confirmed that the cable was to blame — and not Dextre — by grappling the robot's head with the space station's robotic arm, circumventing the faulty wire and powering the robot directly.
The spaceflyers completed the maneuver at 9:59 p.m. EDT (0159 GMT March 15) and minutes later mission controllers told them it was a success.
?That's great,? Whitson replied. "Really good news, we're happy to hear that."
Leak check
LeRoy Cain, chair of NASA?s mission management team, said during a Friday evening briefing that technicians approved Endeavour?s heat shield, also known as its thermal protection system (TPS), to make a searing reentry through Earth?s atmosphere.
"Today in our mission management team [meeting], we went ahead and cleared the TPS for deorbit and entry," Cain said. "So the vehicle is safe to come home whenever we are ready to do so."
During the briefing, Cain said that an auxiliary power unit ? which has compartments of hydrogen and hydrazine ? has a small leak, adding that specialists will continue to monitor the problem.
?We?ve seen this on flights before,? Cain said of shuttle Discovery?s STS-121 flight. He said a hydrogen leak would be of little concern, but hydrazine would pose a small threat and can be detected by it temperature-dropping properties.
?We?re looking for thermal indications, or any kind of ice or frost, or snowy flakey looking stuff developing on the vents,? he said. If hydrazine is leaking, Cain explained that burning the remaining supply would stop the problem.
At 16 planned days in duration, Endeavour?s STS-123 mission is the longest ISS-bound flight to date. Four more spacewalks remain to build Dextre, deliver on-orbit experiments and test a new system to repair heat-resistant tiles crucial to the shuttle's safe atmospheric reentry.
Endeavour launched from Kennedy Space Center early Tuesday morning and docked at the space station Wednesday night and is scheduled to return to Earth on March 26.
NASA is broadcasting Endeavour's STS-123 mission live on NASA TV. Click here for SPACE.com's shuttle mission coverage and NASA TV feed.
NEW GALLERY: Launch Day for Shuttle Endeavour