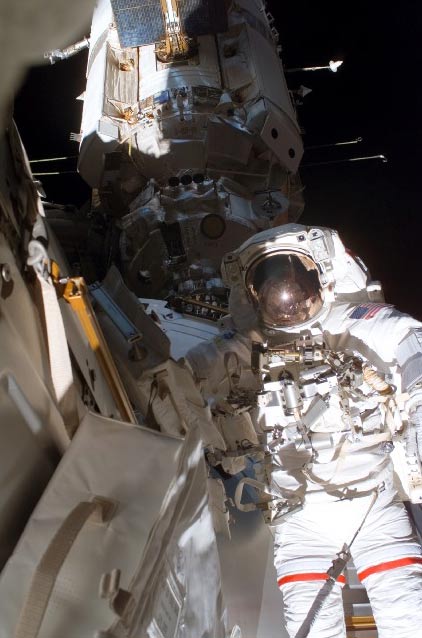 HOUSTON -- Two spacewalking astronauts will step outside the International Space Station (ISS) later today to complete efforts to rewire the orbital laboratory and, time permitting, give a stubborn solar array a little push.
Veteran spacewalker Robert Curbeam and first-time spaceflyer Sunita Williams plan to spend about six hours working outside the ISS to shift two of the outpost's power channels from their temporary configuration into their final form [video preview].
If they finish their tasks early, the spacewalkers are due to ascend the space station's mast-like Port 6 (P6) truss and tap on the bottom of one of its solar array boxes in efforts to loosen stuck guide wires that have prevented the 115-foot (35-meter) wing from retracting properly.
"The solar array viewing, pushing on that box, is a get ahead task," Kirk Shireman, NASA's ISS deputy program manger, said late Friday. "The primary objective tomorrow is to rewire the space station."
Today's spacewalk, set to begin at 2:37 p.m. EST (1937 GMT), is the second in three days dedicated to overhauling the space station's power system and the last of three planned for NASA's STS-116 shuttle mission aboard Discovery.
Curbeam and fellow STS-116 mission specialist Christer Fuglesang, of the European Space Agency (ESA), successfully rewired the first half of the station's electrical grid during a five-hour spacewalk on Thursday. Discovery pilot William Oefelein will choreograph the spacewalk from the shuttle's flight deck.
"Hopefully, it will go just the same and we'll be just as good," Williams, a newly arrived member of the space station's Expedition 14 crew who will make her spacewalk debut, told reporters Thursday. "I'm just looking forward to going outside and checking out the planet. It should be pretty nice."
Curbeam and Williams are expected to spend the first 90 minutes of today's spacewalk wrangling stiff power cables, connecting 21 of them while unplugging 18, to feed power though a pair of Main Bus Switching Units used in Channels 1 and 4 of the space station's power grid. They are also charged with attaching a grapple bar along with some debris panels, stored in a pyramid-like fashion dubbed the "Christmas tree," destined to shield a Russian station module against micrometeorites to the space station's exterior.
During the critical power system overhaul, lights, smoke detectors, ventilation fans and other ISS systems will be shut off as half of the orbital laboratory is powered down while Curbeam and Williams reconfigure the station's power system to its permanent configuration. A vital cooling system pump must perform properly afterward to ensure the work is a success.
"We're looking forward to a successful [spacewalk] tomorrow," Shireman said Friday.
Solar array work possible
Only if they complete all of their assigned tasks swiftly will Curbeam and Williams be given the go ahead to inspect, then tap, the portside wing of the space station's P6 solar array. Either of the astronauts could do the tapping, which includes pushing up or forward on the afflicted array's storage box.
"It's a pat," Shireman said of the push, adding that the spacewalkers are authorized to apply a gentle five pounds of force for the job.
Shuttle and ISS astronauts partially retracted the six-year-old P6 array on Wednesday to allow a separate pair of solar wings on the station's Port 3/Port 4 (P3/P4) truss beneath it to begin rotating to track the Sun. But one of the array's two solar panels, known as blankets, refused to fold properly [image]. ISS flight controllers believe one of three guide wires is hung up in a series of stainless steel grommets [image].
Efforts to loosen the jam remotely Friday proved fruitless. ISS flight controllers first wiggled the array itself and then asked Expedition 14 flight engineer and ESA astronaut Thomas Reiter to perform a vigorous workout on an exercise machine that has caused noticeable vibrations of the solar wing in the past. Neither attempt succeeded.
"I'm very sorry to hear that, I was training for it for half a year," said Reiter, who has lived aboard the ISS since July.
"We'll give you a silver medal for that," replied NASA astronaut Terry Virts, serving as spacecraft communicator.
Mission managers have discussed the possibility of adding a fourth spacewalk to the STS-116 mission, which would occur no earlier than Monday if at all. The possibility of an additional spacewalk has always been included in Discovery's complicated spaceflight in case major elements in the rewiring effort had to be repaired or replaced entirely.
Sending astronauts to work near ISS solar arrays carries added risks, particularly shock hazards, for spacewalkers, but Discovery astronauts said Friday they were willing to help in whatever way required.
"I'm not concerned at all about the shock hazard, we've got a great team on the ground working a plan that hopefully will work well for us," Curbeam said. "If nothing else, I know it will be safe for us."
STS-116 Mission Profile Video: EVA 3
Images: The Spacewalks of NASA's STS-116
Images: Discovery's STS-116 Launch Day Gallery
STS-116 Video: Power is Everything
STS-116 Video: Building Blocks
Mission Discovery: The ISS Rewiring Job of NASA's STS-116
Complete Space Shuttle Mission Coverage
The Great Space Quiz: Space Shuttle Countdown
All About the Space Shuttle