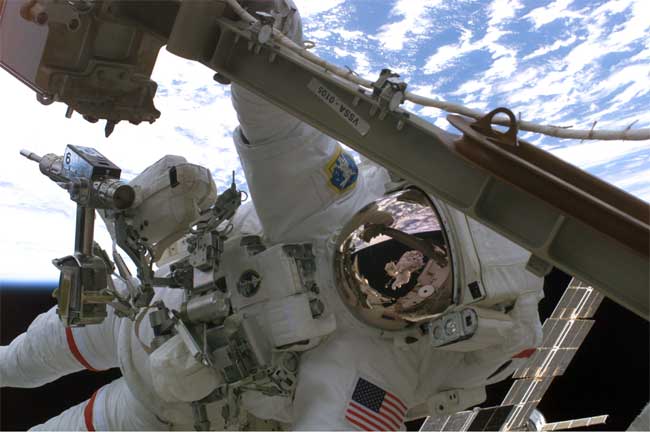 HOUSTON -- Two shuttle astronauts successfully rewired power systems for half of the International Space Station (ISS) Thursday in the first of two spacewalks to overhaul the orbital laboratory's electrical grid this week.
Discovery's STS-116 spacewalkers Robert Curbeam and Christer Fuglesang reconfigured part of the space station's electrical system from a temporary set up to a permanent one now drawing power from two rotating solar arrays on the outpost's port side [video].
The astronauts wrangled stiff power and utility cables, disconnecting 19 of them while plugging 17 back in, to activate two primary power channels that feed ISS systems and a vital ammonia cooling system loop. The successful spacewalk, along with an upcoming Saturday extravehicular activity (EVA), will set the stage for the station's expansion to support two new international laboratories and crews of six in upcoming years.
"NASA is very happy about that," said astronaut Sunita Williams, an ISS flight engineer who wielded the station's robotic arm in the spacewalk, after flight controllers reported all systems were operating as designed.
"Excellent," Curbeam added.
Curbeam and Fuglesang sped through their spacewalk, the second of their STS-116 mission to the ISS, to finish an hour earlier than the six hours allotted. They also began about 30 minutes early, stepping out of space station's Quest airlock at 2:41 p.m. EST (1941 GMT).
Power play and other tasks
To allow spacewalkers to make major electrical changes outside the ISS, NASA flight controllers cut power to half of the space station. The move left half of the lights off in the U.S. segments along with a smoke detector and communications systems.
Live video was unavailable throughout much of the spacewalk, since the astronauts were working too close to the station's main Ku-band antenna relay, NASA officials said, adding that many non-critical systems were left without the backups.
Until today, the space station has relied on power generated by a pair of solar arrays on its mast-like Port 6 (P6) truss.
During their spacewalk, Curbeam and Fuglesang activated power channels 2 and 3 aboard the ISS, and routed power from the station's two Port 3/Port 4 (P3/P4) truss solar arrays delivered in September through a pair of long dormant Main Bus Switching Units (MBSUs). They also relocated a pair of spacewalk equipment carts, wrapped sensitive areas of the station's robotic arm in thermal blankets, and stowed tool bags outside the ISS.
Curbeam and Williams will stage one last planned spacewalk during the STS-116 mission on Saturday to complete the rewiring job by performing similar activations of the station's power channels 1 and 4.
Sweden, shooting stars and aurora
In addition to speeding through their spacewalk, Curbeam and Fuglesang had some time for orbital sightseeing, which apparently included shooting stars streaking through the Earth far below. The annual Geminid meteor shower, renowned as the world's best, peaked Wednesday night.
"Hey, I actually saw one Beamer," Discovery shuttle pilot William Oefelein, who choreographed the spacewalkers' movements from the orbiter's flight deck, told Curbeam. "That's pretty neat."
Fuglesang, a European Space Agency astronaut and Sweden's first spaceflyer, sought out his homeland as the ISS passed over Europe. He and Curbeam also caught an eyeful of the aurora borealis, or northern lights.
"That's cool, huh? The whole horizon is aurora," said Fuglesang, wondering out loud if the light show stemmed from a powerful solar flare belched by the Sun on Wednesday.
NASA spokesperson Bill Jeffs here at the Johnson Space Center said the astronauts were prepared to forgo any extra tasks during the last scheduled hour of today's spacewalk to avoid being caught outside should a fresh solar flare follow a similar event earlier this week, but the astronauts were already inside by that point. At no point were the astronauts in any danger, he added.
Mission controllers did have the joint ISS and Discovery crews sleep in protected areas earlier this week as a precaution when the flare first appeared.
Today's spacewalk marked the 75th in support of ISS assembly and maintenance and the 47th staged from the space station itself. It also marked the fifth career EVA for Curbeam, who now ranks 22nd on the list of all time spacewalkers. Fuglesang now has two EVAs under his belt, a total of 11 hours and 36 minutes, both which were performed during the current STS-116 mission.
NASA is studying the possibility of a fourth STS-116 spacewalk, that could call for Curbeam and Fuglesang to help fully retract a P6 solar array left half stowed on Wednesday after repeated attempts to fold it away completely from inside the ISS failed.
STS-116 Mission Profile Video: EVA 2
Images: The Spacewalks of NASA's STS-116
Images: Discovery's STS-116 Launch Day Gallery
STS-116 Video: Power is Everything
STS-116 Video: Building Blocks
Mission Discovery: The ISS Rewiring Job of NASA's STS-116
Complete Space Shuttle Mission Coverage
The Great Space Quiz: Space Shuttle Countdown
All About the Space Shuttle