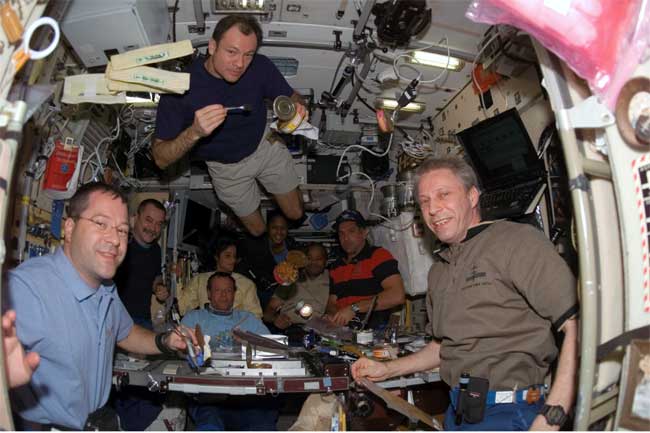 HOUSTON -- The astronaut crews of NASA's shuttle Discovery and the International Space Station (ISS) lauded their joint mission as it passed the halfway mark Friday.
"It has been pretty fantastic," Discovery's STS-116 commander Mark Polansky told reporters, adding that watching the five first-time spaceflyers on his crew has been a special treat. "They're just doing great."
Discovery's seven-member STS-116 crew is working alongside the space station's three Expedition 14 astronauts to continue assembly of the orbital laboratory [image]. The shuttle launched towards the ISS on Dec. 9 on a 12-day mission.
After two spacewalks, the joint crews have installed a new piece of the station's main truss and rewired half of its power grid. The other half of the rewiring job is on tap for a third planned spacewalk on Saturday, and ISS flight controllers are discussing a possible fourth excursion to completely tuck away a half-furled solar array before Discovery's crew heads home.
"Of course, we're excited about the possibility of helping out and helping make the house up here a little bit better by fixing that solar array if we can," STS-116 mission specialist Robert Curbeam, a veteran spacewalker, said. NASA hopes to avoid a fourth spacewalk and stow the array remotely if possible.
One shuttle astronaut, Sunita Williams, will remain aboard the ISS when Discovery undocks from the ISS.
"It's just a nice place to live," said Williams, who joined the Expedition 14 crew after arriving aboard Discovery. "My new home is beautiful; it's a little bit crowded right now with all the stuff we've brought over from SPACEHAB and my shuttle compadres here."
Williams is relieving European Space Agency astronaut Thomas Reiter, who has lived aboard the ISS since July and will return to Earth with Discovery's crew next week.
"Well it certainly kind of a bittersweet moment, I should say," Reiter said of leaving the ISS. "But having been here for half a year, of course I miss the ground, I'm missing my family and I'm really looking forward to seeing them again."
Earlier today, Reiter aided his fellow ESA astronaut Christer Fuglesang, Sweden's first spaceflyer, set a new Frisbee toss world record [image].
Fuglesang, a former Swedish national Frisbee champion, kept his Frisbee aloft for 20 seconds while Reiter timed him. The feat was part of a discussion with Sweden's Crown Princess Victoria, politicians and schoolchildren.
The previous record, 16.72 seconds, was set by Don Cain of Philadelphia, Pennsylvania, according to the World Flying Disc Federation.
"We were actually throwing it around in the tunnel between the shuttle and the space station, and I needed the practice," said Fuglesang, who like many of his STS-116 crewmates is making his first spaceflight. He reported some nausea, back pain and other ailments in the first few days, but they ultimately subsided.
Fuglesang has made his first two spacewalks during Discovery's STS-116 mission alongside Curbeam. Their latest excursion, a five-hour outing to rewire the space station from a temporary electrical set up to a permanent power grid.
Fuglesang said he and his Discovery crewmates are enjoying their spaceflight, but look forward to returning to Earth. Their shuttle, he added, is in fine shape.
"It's going to be very fun coming back," said Fuglesang, who spent 14 years as an ESA astronaut before launch on his first flight. "Not that I'm in a hurry to come back, but it's going to be fun."
STS-116 Mission Profile Video: EVA 2
Images: The Spacewalks of NASA's STS-116
Images: Discovery's STS-116 Launch Day Gallery
STS-116 Video: Power is Everything
STS-116 Video: Building Blocks
Mission Discovery: The ISS Rewiring Job of NASA's STS-116
Complete Space Shuttle Mission Coverage
The Great Space Quiz: Space Shuttle Countdown
All About the Space Shuttle