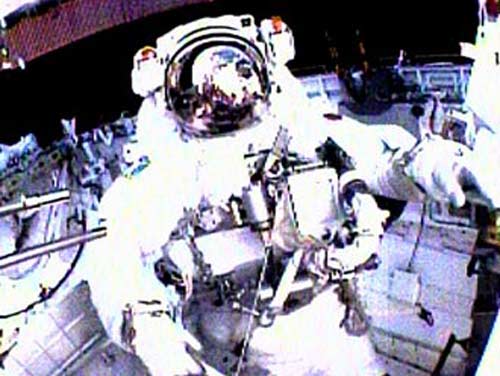 This story was updated at 4:28 p.m. EDT.
HOUSTON - Two astronauts are safely back inside the Discovery orbiter after a successful Saturday morning spacewalk where they tested new shuttle repair techniques and repaired faulty hardware on the outside of the International Space Station (ISS).
Despite a one-hour delay at the start, STS-114 astronauts Soichi Noguchi and Stephen Robinson strolled through almost seven hours of activities that ranged from the much-anticipated test of shuttle heat shield repair techniques to a graceful ride on the space station's robotic arm. The crew even had time to get a jump on the two remaining spacewalks for their flight during their six hours and 50 minutes outside Discovery.
"You guys did an awesome job and it's been a real treat," said astronaut Michael Massimino, capcom for NASA's ISS mission control here at Johnson Space Center (JSC). "We look forward to doing it a couple more times."
The astronauts staged spacewalk - the first for both men - from Discovery's airlock, going on internal spacesuit power at 5:46 a.m. EDT (0946 GMT) and cracking the hatch about 15 minutes later as the Discovery-ISS stack passed over Southeast Asia.
"You're actually flying over Australia now," said STS-114 mission specialist Andrew Thomas, an Australia-native and choreographer for the spacewalking astronauts, shortly afterward.
Spacewalk planners opted to use the shuttle's airlock instead of the U.S.-airlock in the space station's Quest module, after contamination there affected stored spacesuits. While that problem has been solved, mission planners chose to not to change their egress plans for the STS-114 spacewalks.
Once the Quest airlock was open, the STS-114 crew shut the hatches to Discovery's airlock, repressurized it and again opened the hatches between the orbiter and space station. The move allowed Discovery pilot James Kelly and mission specialist Wendy Lawrence access to the space station's robotic arm for use during the spacewalk.
"We're finally in space," said Noguchi, who served as lead spacewalker during the extravehicular activity.
The years of training for the STS-114 mission saw Noguchi and Robinson, as well as their fellow Discovery crewmembers, rehearse their mission's spacewalks 70 times - where typical crews practice between five and seven times per EVA - in NASA's massive Neutral Buoyancy Laboratory swimming pool.
"It's slightly different from the pool," Robinson said.
Testing out repairs
The first major tasks for Noguchi and Robinson were tests to evaluate new materials to repair shuttle tiles and reinforced carbon carbon (RCC) panels in orbit. The tests were a direct result of the 2003 loss of Columbia, which disintegrated over Texas after sustaining heat shield damage its crew had no way of evaluating, let alone repairing.
Robinson started off with a blank, putty-like material known as non-oxide adhesive experimental (NOAX), applying it with the space equivalent of a caulk gun and smearing it on intentionally cracked and gouged RCC samples with a spatula.
"It's just like spackling," Robinson said while testing his first panel. "It's a lot like pizza dough. Like licorice- flavored pizza dough."
Noguchi used the handheld Emittance Wash Applicator to test a gray substance - the wash - that he both daubed and brushed on intentionally damaged sample tiles. The wash is designed to help damaged tiles shed heat more efficiently as they encounter reentry temperatures.
"The brush is easy to operate and I think I can get good coverage," Noguchi said.
The astronauts did not perform the heat shield tests on samples to be sent to NASA's arc jet facility, where they were to be subjected to the searing heat experienced by during atmospheric reentry. But that option was always secondary to the spacewalk's other goals, NASA officials said.
"This was primarily an on-orbit test of the materials," said Cindy Begley, lead EVA officer for the STS-114 mission. "What we were primarily looking for was how [they] behaved."
Engineers on ground will prod the samples returned by the STS-114 spacewalkers to evaluate their effectiveness, first by non-destructive means and later by slicing them into pieces to see how far the NOAX and wash permeated the RCC panels and heat tiles, Begley added.
Both Robinson and Noguchi reported seeing not as much bubbling in their respective repair materials as they did in tests back on Earth. And while the NOAX and emmitance wash were not the cleanest to handle, they weren't as bad as anticipated.
"We expected them to be messier," Begley said.
Robinson and Noguchi were originally slated to also test a backpack-mounted tile filler system dubbed the cure-in-place-ablator-application (CIPAA), which mixes two materials together into a pink goo called STA-57. That pinkish material is designed to be applied to a damaged tile, then rise like bread during reentry and ablate away, protecting the damaged area. But the material's propensity to bubble in vacuum, which could lead to voids when applied that would weaken the repair, prompted engineers to hold back in the flight test.
There are two CIPAA units aboard Discovery just in case they are needed, NASA officials said.
ISS work
After completing the heat shield repair tests, Noguchi and Robinson began a full docket of ISS maintenance and construction work. First on their list was the installation of an External Stowage Platform Attachment Device (ESPAD) outside the Quest airlock, which Robinson reached via an assist from the space station's robotic arm.
"Vegas, there are no words for how cool this is," Robinson told Kelly, who is known as 'Vegas' and controlled the arm. "This will be a good memory, Soichi."
"It is a strong one," Noguchi said.
After some difficulty mating the attachment device to its location, then locking it down with bolts, Robinson expressed elation.
"How you like them apples," he said to flight controllers.
"We copy, we like those apples," replied astronaut Michael Massimino, serving as capcom at NASA's Johnson Space Center in Houston.
Following the successful ESPAD installation, Robinson rerouted power for Control Moment Gyroscope 2 (CMG-2), one of four gyroscopes that make up the U.S. portion of the space station's attitude control system.
While the gyroscope itself is functional, its power source has experienced problems and already undergone one repair by ISS astronauts. The STS-114 spacewalkers will completely replace a faulty gyroscope, CMG-1, that broke down in 2002. That gyroscope replacement, which Robinson arranged tools for near the worksite today, will completely occupy their second spacewalk on Aug. 1.
The two gyroscope fixes will allow ISS controllers to shutdown still a third gyroscope, CMG-3, which is giving off abnormal vibrations that engineers attribute to the additional load of the shuttle Discovery's docked presence. Together, the ISS and Discovery weigh about 300 tons, and may be putting a strain on the gyroscope.
While Robinson tended to CMG-2, Noguchi swapped out a broken global positioning system (GPS) antenna on the station's S0 truss. The two astronauts then joined up to connect cables that will provide heating for the spare parts that will eventually reside on the external stowage platform.
The crew even had time for a few extra tasks.
Robinson picked up a pair of Materials International Space Station Experiments (MISSEs) from the exterior of the ISS. The activity was scheduled for the third EVA of the STS-114 mission. Meanwhile, Noguchi photographed a loose thermal blanket just under the commander's window atop Discovery's crew cabin.
During that time, pilot James Kelly conducted additional inspections with the orbital boom sensor system of Discovery's left wing leading edge, isolating seven areas spread across four RCC panels on the orbiter's port wing leading edge.
"I believe we're flying over Houston," Thomas told flight controllers during spacewalk operations. "Look up. I'm waving."
Today's successful spacewalk was the 59th EVA conducted to maintain the ISS and the 26th staged from a U.S. space shuttle.
Fixing NASA: Complete Coverage of Space Shuttle Return to Flight