Want to get into VR but don't want to break the bank? Grab the 128 GB Meta Quest 2 for $299 from either Amazon or Best Buy, with a $50 gift card thrown in.
It's the final countdown for this amazing 128 GB Meta Quest 2 deal which will take you much, much further than Europe. Even if blasting aliens isn't your style, there are so many different ways to step into space with this VR headset.
The Meta Quest 2 is a standalone headset, so you don't have to worry about wires interrupting your spacewalk. Though if you choose to do so you can plug it into your PC, unlocking even more avenues for virtual stellar exploration.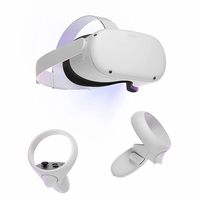 Meta Quest 2 Virtual Reality Headset (128 GB) + $50 voucher
Was: $349.99
Now: $299.99 at Amazon
Overview: The Meta Quest 2 can be used with a PC but it excels as a standalone virtual reality headset. There are so many apps and games you're unlikely ever to get bored.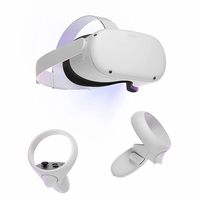 Meta Quest 2 Virtual Reality Headset (128 GB) + $50 voucher
Was: $399.99
Now: $299.99 at Best Buy
Overview: Best Buy is offering the exact same deal, so it just depends where you'd rather get a $50 voucher for.
Key features: 1832 x 1920 resolution per eye, 128 GB of storage, comes with two Touch controllers, works without a PC.
Price history: Before today's deal, the Meta Quest 2's price has gone up and down a little. Meta themselves raised the price of the headset some time back and phased out the 64 GB model. However, the headset has never gone lower than $299.99 and while it's the same price at Walmart, Amazon and Best Buy throw in a $50 gift card.
Price comparison: Amazon: $299.99 | Best Buy: $299.99 | Walmart: $299.99
Reviews consensus: The Meta Quest 2 is an excellent standalone headset and the lack of wires makes for a much more immersive experience. You just pick it up and go - the freedom it offers is a real joy. It's slightly disappointing that the controllers run on AA batteries with no rechargeable option, but that's not a deal breaker.
Space: ★★★★ | Tom's Guide: ★★★★ | TechRadar: ★★★★½
Buy it if: You want a cheap but fun way to get into VR, all without the fuss of wires or meddling with a PC.
Don't buy it if: You're prepared to wait for the more powerful Meta Quest 3 which is arriving later this year, priced at $499.99.
Featured in guides: Best VR headsets, best VR space experiences.