'Star Trek: Picard' Season 3 premiere is pure 'Next Generation' nostalgia, for better or worse
For an undeterred devotee of "The Next Generation," it's magnificent. For anyone after anything fresh, it's mediocre, and as such, this is going polarize opinion even more than the first two seasons.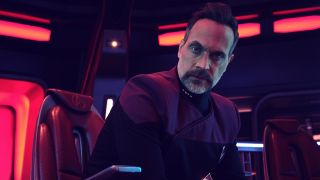 (Image credit: Paramount Plus)
Warning: Spoilers ahead for "Star Trek: Picard" season 3, episode 1
Well, here we are, again. A new season and a new opportunity to watch another of Jean-Luc Picard's attempts to grow old gracefully get utterly blown out of the water. It's almost a shame that the "Lethal Weapon" Saxophone Retirement Riff wasn't incorporated.
The episode opens with a musical accompaniment similar to the opening episode of Season 1, but instead of Bing Crosby singing "Blue Skies," it's "I Don't Want to Set the World on Fire" by the Ink Spots, which was used throughout the "Fallout" series of video games and sounds very much like the music used in the Cinnabon scenes of "Better Call Saul" – but that was actually a different track by the Ink Spots and they do sound remarkably similar.
One thing is for sure however, this show does exactly what it said on the tin. We all knew it was basically going to be Season 8 of "The Next Generation" and if excessive nostalgia floats your boat, then you're probably going to adore this third and final season. If however, you've actually moved on a little bit since the late 90s, then there's the tiniest of possibilities that you might find this only mildly entertaining.
Related: 'Star Trek: Picard' Season 3 is almost upon us. What can we expect?
The season premiere is extraordinarily fast paced, so much so, that it feels like the first half of a movie, not the first part of a 10-episode season. Quite how the remaining six-and-a-half hours are going to be filled remains to be seen. But it's an action-packed opener, no doubt about that.
However, you cannot help but feel that it jars; it feels like an obvious attempt to update certain elements, while leaving others exactly as they are. And perhaps that's down to the character writing, rather than the plot writing. We discover that almost everyone seems to have hit on hard times since we last interacted with them at length, which feels a little forced, for the sake of being able to add some new, darker backstory to characters we already know everything about.
During the last two seasons of "Picard" lots of additional backstory was added to the Picard family history, which was fun and interesting, especially with the addition of James Callis. Moreover, another example of masterful writing was adding the Kobayashi Maru simulator backstory to Kirk's character history after three seasons and "The Motion Picture." But we've already had more "Star Trek" covering this set of characters than any other. Maybe it's time to put the training wheels away.
Does "Star Trek" have an Enterprise problem, in the same way "Star Wars" has a Skywalker problem? Yes, it does. Is this third and final season going to be this franchise's "The Rise of Skywalker?" It's possible. Should "Picard" have started this way to begin with? Maybe. But let's just thank our lucky stars – for now – that it's not as bad as "Indiana Jones and The Kingdom of the Crystal Skull" because that was really, really awful.
The thing is, all television genre writing – not just sci-fi – has evolved significantly since the mid-to-late 90s and in order to provide the nostalgia that a percentage of fans so desperately crave, the showrunners have put themselves in something of a corner. Some elements, at the very least, are inevitably going to come across as outdated. In essence, it's a sliding scale: Nostalgia is inversely proportional to modern, representative science fiction writing. What matters, above all, is where you position that slider and it's no easy task to take on a challenge like this.
Because of this, this first episode at least, feels a little bit dated, especially when you think of where television science fiction is now. It's a little heavy on the clichés – which "Star Trek: The Next Generation" more than helped create – so, if you still find those enjoyable, sure, you'll enjoy this. Exposition is bountiful and again, feels like too much, too soon and already the pace is quite different from previous seasons of "Picard." Granted this might all change, but we can only judge from what we've seen so far.
Todd Stashwick, who plays Captain Liam Shaw of the USS Titan, is delicious to watch, but again, we're fearful that he's purely there to provide some friction for our ace, aged adventurers to fight against. It will be a crime if he's underused. The set and production design is stunningly gorgeous and the choice to use the opening credits as the closing credits was also nice. Plus, the end theme had more than a hint of Kirk-era influence, which was also very effective.
As it turns out, there's also an accidental memoriam to Eaglemoss and enough Easter eggs to keep most Trekkies happy, from the fair weather fans to the undeterred devotees.
The first six episodes were sent out to fans, followers, influencers and folk in the media and it was a very deliberate strategic act. Of course many of them will now have to wait six weeks for a new episode, but boy-oh-boy it got social media buzzing – and that was the idea. That said, we're very deliberately not writing any of these reviews with any influence from forthcoming episodes. So, it's entirely possible that everything could drastically change next week, we'll just have to wait and see.
"Star Trek: Picard" will premiere on Thursday, Feb. 16, 2023 exclusively on Paramount Plus in the U.S. Every episode of every "Star Trek" show also currently streams exclusively on Paramount Plus in the U.S.
Internationally, the shows are available on Paramount Plus in Australia, Latin America, the U.K. and South Korea, as well as on Pluto TV in Austria, France, Germany, Italy, Spain and Switzerland on the Pluto TV Sci-Fi channel. They also stream exclusively on Paramount Plus in Italy, France, Germany, Switzerland and Austria. In Canada, they air on Bell Media's CTV Sci-Fi Channel and stream on Crave.
Follow Scott Snowden on Twitter. Follow us on Twitter @Spacedotcom and on Facebook.
Get the Space.com Newsletter
Breaking space news, the latest updates on rocket launches, skywatching events and more!
When Scott's application to the NASA astronaut training program was turned down, he was naturally upset...as any 6-year-old boy would be. He chose instead to write as much as he possibly could about science, technology and space exploration. He graduated from The University of Coventry and received his training on Fleet Street in London. He still hopes to be the first journalist in space.
100% agree with Snowden's appraisal of the show, and the somewhat cynical markerting ploy. I was reliably informed that Picard Season 3 was a return to old Trek (by that very marketing strategy), and in the first few minutes - especially with plenty of nods to the original Alexander Courage theme and Jerry Goldsmith's music - I began to feel that Trek warmth for the first time in decades. Then the nostalgia-veneer peeled away to reveal the standard clichéd, trope-filled character writing we've come to expect from the JJ-Kurtzman-verse. Why was the bartender so disaproving of the Enterprise D? That element came off cheap and shoe-horned in just to give old characters that 'down on their luck' and 'gritty' jumping off point. As soon as Riker did his old-man-shouting-at-kids routine, I felt a palpable sense of cringe.

I tried to give it the benefit of the doubt, but when you have Picard, famous for his stoicism, say things like "Shut it, Will", it disolved any goodwill I had towards the show. It's embarrassing to see these legacy characters be given such hackneyed dialogue and character motivations. I've gotta give credit for the design of the USS Titan though - that truly was the star of the show. Whoever designed that knew what they were doing. It was an incredible mix of the late-70s Enterprise refit design and the Discovery-era ships. I want that ship on my shelf.

Reply

If this is "evolved" script writing then it needs to go back to school and get revolved. A Bunch of actors who used to work together 30 years ago, decide to work together again quoting Trek lingo isn't promoting the craft and its something marginal as sci-fi goes. It's a last stab at relevance and a paycheck. This will keep them active in the con circuit for another 7 years as they will have something new to say.

All I can say is "good riddance". If they thought the last movie was a bust of an exit, then they burned the exit door down in this. What a mess. No coming back now.

Nothing to see here Unless you are using your free Paramount Plus coupons, otherwise I would move along.

Reply