If you're interested in virtual reality and you're want to save big, now could be your moment as Amazon are offering $400 off the Meta Quest Pro.
The $400 discount is a saving of 27% and Amazon's lowest ever price on this model. You get a lot of quality for your money - as you'd expect - including high resolution, premium comfort, 256GB of storage and a good selection of games and experiences available. For those in the UK wanting in on the action, there's £200 off the Meta Quest Pro on Amazon.
The world of virtual reality is becoming evermore accessible, even if premium headsets cost big bucks, so checking out the our guides to the best VR headsets and VR headset deals is always worth doing before buying.
You can also check out our guides for the best VR space games and best free VR experiences to find great space experiences and games to enjoy on your shiny new headset too.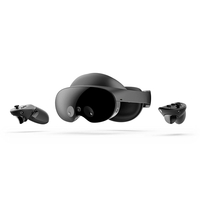 Meta Quest Pro VR Headset was $1499.99, now $1099.99 on Amazon.
Save $400 on the Meta Quest Pro VR headset. Here, you get 37% higher pixel thanks to the new pancake lenses, 256GB storage, 12GB ram and 1800x1920 pixels per eye. It's backwards compatible with the Meta Quest 2 and offers much improved facial and eye tracking, to give avatars more emotion which makes your virtual experience feel much more real.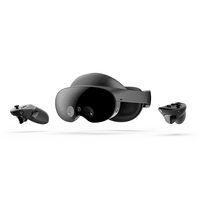 Meta Quest Pro VR Headset was £1499.99 now £1299 on Amazon.
Save £200 on the Meta Quest Pro. It's exactly the same product as above, but for UK based people wanting to buy it.
$400 off the Meta Quest Pro is a huge saving, there's no denying that, but what makes it worth getting? What makes it stand out? Well, The Pro offers 1800x1920 pixels per eye with a 106 degree (horizontal) field of view, meaning you see a lot with tremendous picture quality.
On top of the 37% higher pixel density that the Pro model offers, you get 256GB of storage and 12GB of RAM. 10 advanced VR sensors mean there's improved eye and face tracking, which is noticeable as Avatars translate facial expressions as well as instinctive and detailed hand gestures to give virtual interactions a much more realistic feel.
It's Meta's sleekest design yet with counter balance ergonomics to allow you to wear the headset for longer in total comfort. There's even new lenses for this model as the pancake lens delivers the higher pixel density and gives you striking visuals to maximize your virtual experience.
Crucially, it's backwards compatible, so any games and experiences you had on the Meta Quest 2, you can play on the Pro. This is a massive discount so if you're looking for a premium VR headset, this could be the deal you're looking for.
Follow Alexander Cox on Twitter @Coxy_97Official. Follow us on Twitter @Spacedotcom and on Facebook.