If like us, you're celebrating Star Wars Day (May the fourth be with you) then you might want to check out these two Lego Star Wars deals, which are both at Amazon's lowest ever price.
The two sets on offer are a 1022-piece Justifier starship from "The Clone Wars" and "The Bad Batch" a 625-piece TIE Bomber, both of which are 20% off and their lowest ever price on Amazon. We'll get into the specs below, but as Lego Star Wars deals go, these are pretty good as both feature good playable options and look good as a standalone figure. They both also feature minifigures so the fun doesn't stop when you finish building the set.
Can you build these Lego Star Wars sets in under 12 parsecs? It's May 4th so now is the perfect time to be celebrating all things Star Wars. Equally, these two deals are a great excuse to have some fun if you just love Lego. We also have round-ups for the best Lego Star Wars sets and best Lego space sets. But, it's also worth noting that Amazon also has some pretty cool deals on Echo Dot Star Wars bundles too.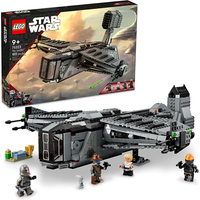 Lego Star Wars Justifier Starship was $169.99 now $135.99 on Amazon.
Save 20% and get Amazon's lowest ever price on this awesome 1022-piece Lego Star Wars set. It features a laser cell, two thermal detonator elements, spring loaded shooters and spare ammo. It also comes with Cad Bane, Fennec Shand and Hunter minifigures.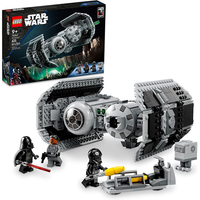 Lego Star Wars TIE Bomber was $64.99 now $51.99 on Amazon.
Save 20% and get Amazon's lowest ever price on this 625-piece TIE Bomber. It features an opening cockpit, a warhead bay and torpedo-dropping function. The minifigures you get here are Darth Vader (with lightsaber), Vice Admiral Sloane, TIE Bomber pilot and a Gonk Droid.
Yes, you do get a 20% discount on both of these sets and they are Amazon's lowest ever price but they are worth getting purely for what they offer. The Justifier set offers 1022 pieces, which is plenty of building fun. It also offers plenty of playable options which include spring loaded shooters, spare ammo, a laser jail cell and more. It's not just the ship though as you also get minifigures of Fennec Shand, Cad Bane, Hunter and a Todo 360 droid.
The TIE Bomber is a little more instantly recognizable and is more affordable. For your money you get 625 pieces that after building, mean you get plenty of playing options. An opening cockpit as well as a warhead bay and torpedo dropping features are all part of the final model. The minifigures include Darth Vader (with lightsaber) as well as Vice Admiral Sloane, a bomber pilot and a Gonk droid. It even comes with cart to transport the buildable torpedoes to the TIE Bomber.
While you may not quite learn the ways of the force by building these sets, they will be a lot of fun to have and are still perfect for the Jedi Knight in your life. These two deals are a perfect celebration of Star Wars Day but the offers are for today only, so you will have to act quickly to make the most of these deals.
Follow Alexander Cox on Twitter @Coxy_97Official. Follow us on Twitter @Spacedotcom and on Facebook.