May the fourth be with you! It's Star Wars Day (May 4) and Amazon are offering 22% these awesome-looking Amazon Echo Dot accessory bundles.
You can save $20 on a bundle that includes a fifth gen Amazon Echo Dot and with it, you get a choice of a Darth Vader, Mandalorian or Stormtrooper helmet stand. The fifth gen Amazon Echo Dot is Amazon's best sounding model yet and was released only last year, while the Star Wars themed stands are limited edition.
As May 4 comes round only once a year, there's never been a better time to also check out the best Lego Star Wars deals, everything you need to know about Lego's Star Wars Day event and Disney Plus, as they're releasing new shows to celebrate May 4.
Check out all the specs and exactly what you get for your money with these Amazon Echo Dot bundles and their discounts below.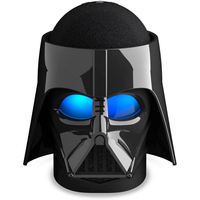 Amazon Echo Dot Fifth Gen Bundle With Darth Vader Helmet Stand was $89.98 now $69.98 on Amazon.
Save $20 (22%) on an Amazon Echo Dot bundle, ideal for any Jedi Master to celebrate on Star Wars Day. The fifth gen Echo Dot features improved audio compared to previous models, Alexa has a clearer voice and there is a deeper bass too. Darth Vader's eyes light up when Alexa is talking, which is seriously cool.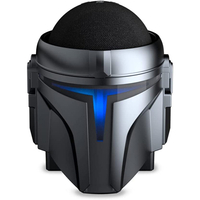 Amazon Echo Dot Fifth Gen Bundle With The Mandalorian Helmet Stand was $89.98 now $69.98 on Amazon.
You get exactly the same as above except this bundle features The Mandalorian's helmet stand, which lights up too when Alexa speaks.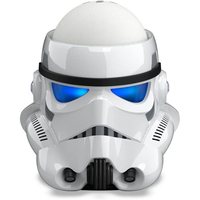 Amazon Echo Dot Fifth Gen Bundle With Stormtrooper Helmet Stand was $89.98 now $69.98 on Amazon.
Save 22% and get the same deal as the two above, except here, you get a Stormtrooper helmet stand for your Echo Dot.
There's a lot to like about these bundles, aside from the money you save, as the Amazon Echo Dot fifth gen was only released last year. It features improved sound qualities from previous models as well as a clearer voice from Alexa and a deeper bass system. Alexa, the voice that speaks to you through your Echo Dot, can answer questions, give news and weather updates, set timers and even tell jokes. You can also listen to music, podcasts and more.
The standout point of interest here is which Star Wars helmet stand you choose for your Echo Dot. Do you want to know the power of the Dark Side by choosing Darth Vader or a Stormtrooper or will you walk the way of the Mandalore by choosing The Mandalorian?
The eyes of each helmet lights up when the Echo Dot is placed in the stand and when Alexa's name is called. Each stand is suitable for placing on a desk, table, nightstand or any flat surface. Saving $20 here is a great way to celebrate Star Wars Day and give your home a sense of a galaxy far, far away.
Follow Alexander Cox on Twitter @Coxy_97Official. Follow us on Twitter @Spacedotcom and on Facebook.