Artemis 2 moon rocket now has all 4 powerful engines on board (photo)
The rocket is scheduled to launch four astronauts around the moon in late 2024.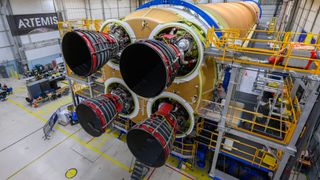 (Image credit: NASA/Eric Bordelon)
The core stage of the rocket that will launch the first crewed moon mission in 50 years now has all of its engines.
Technicians have installed the fourth and final RS-25 engine on the core stage of the Space Launch System (SLS) rocket that will fly NASA's Artemis 2 moon mission in late 2024, agency officials announced on Monday (Sept. 25). Artemis 2 will send four astronauts and their Orion spacecraft on a round-the-moon mission.
Two of the RS-25 engines are recycled from NASA's space shuttle program (including one from a shuttle mission that visited the Hubble Space Telescope), while two are fresh engines with recycled hardware inside. The four engines were installed between Sept. 11 and Sept. 20, NASA officials said in a release on Monday.
Related: 'Hubble Hugger' space shuttle engine mounted on Artemis 2 moon rocket (photos)
The next steps in the long rocket preparation process at NASA's Michoud Assembly Facility in New Orleans include "fully securing the engines to the stage and integrating the propulsion and electrical systems within the structure," NASA officials wrote in Monday's statement.
After its pieces are put together, SLS will be tested out at the launch pad next year at NASA's Kennedy Space Center (KSC) in Florida. (The core stage will be shipped there by barge.)
Launch Pad 39B at KSC is already a hub of activity as NASA readies one of its two mobile launchers there for supporting the big moon effort. The pad and its associated infrastructure and personnel are undergoing seven key Artemis 2 readiness tests, including a simulated launch day with all four crew members that wrapped up Sept. 20.
Artemis 2's crew consists of NASA commander Reid Wiseman, NASA pilot Victor Glover (who will become the first person of color to leave Earth orbit), NASA mission specialist Christina Koch (the first woman to do so) and Canadian Space Agency mission specialist Jeremy Hansen (the first non-American to leave Earth orbit).
Assuming their mission goes to plan, and Artemis program schedules and budgets stay on track, a follow-up mission called Artemis 3 is slated to land astronauts on the moon in 2025 or 2026. But that will depend not only on Artemis 2's outcome and NASA mission readiness, but also on key hardware such as SpaceX's Starship system (tasked with the landing, the first since 1972) and surface spacesuits made by Houston compay Axiom Space.
Unlike the previous Apollo program missions to the moon, which ran between 1968 and 1972, NASA's Artemis program includes international participation. Some of its more than two dozen Artemis Accords partners committed to providing key hardware in exchange for science or mission seats. (The program is also a framework for international peaceful space cooperation led by NASA; not all nations in the agreement have direct participation in Artemis missions at this time.)
Get the Space.com Newsletter
Breaking space news, the latest updates on rocket launches, skywatching events and more!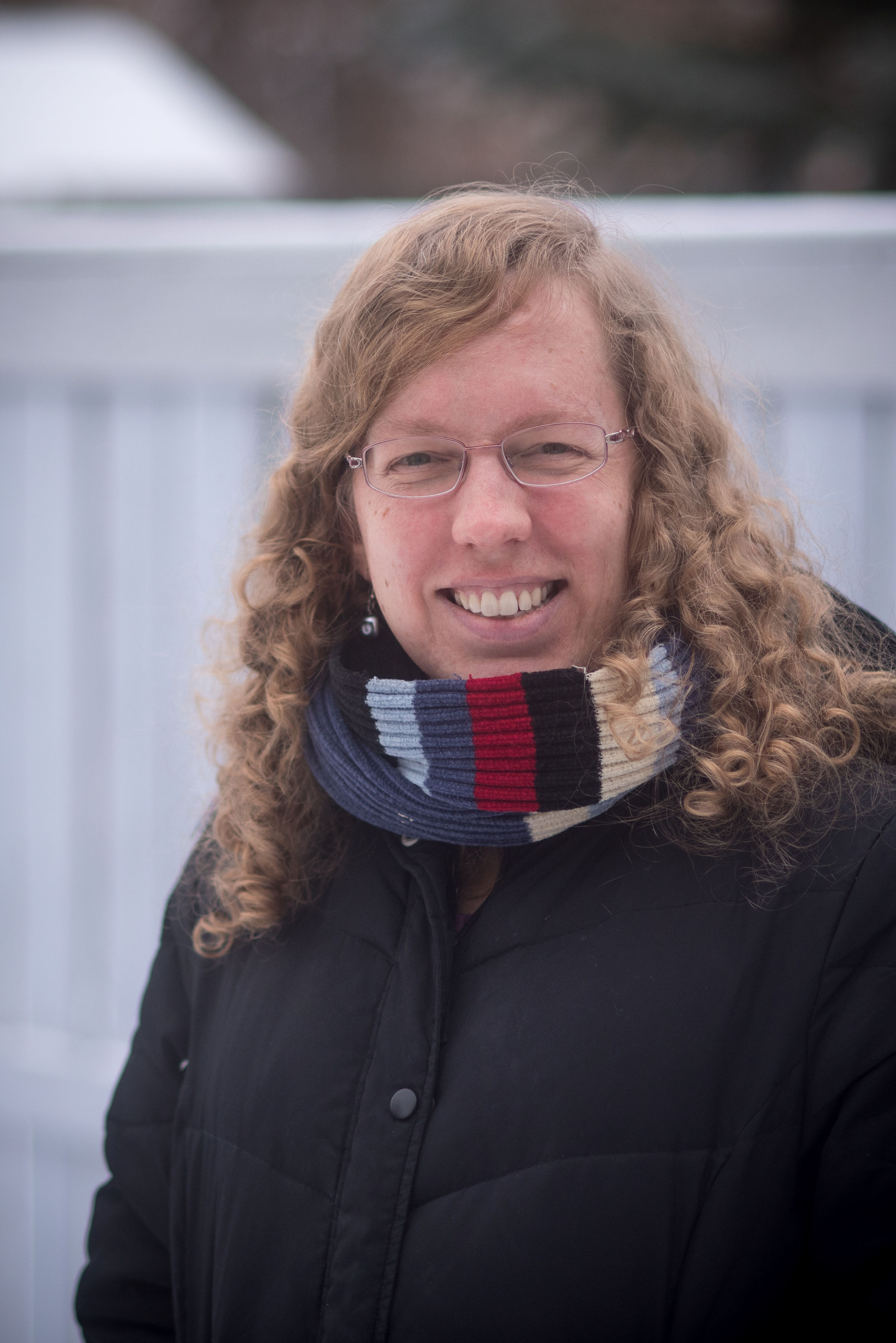 Staff Writer, Spaceflight
Elizabeth Howell (she/her), Ph.D., is a staff writer in the spaceflight channel since 2022 covering diversity, education and gaming as well. She was contributing writer for Space.com for 10 years before joining full-time. Elizabeth's reporting includes multiple exclusives with the White House and Office of the Vice-President of the United States, an exclusive conversation with aspiring space tourist (and NSYNC bassist) Lance Bass, speaking several times with the International Space Station, witnessing five human spaceflight launches on two continents, flying parabolic, working inside a spacesuit, and participating in a simulated Mars mission. Her latest book, "Why Am I Taller?", is co-written with astronaut Dave Williams. Elizabeth holds a Ph.D. and M.Sc. in Space Studies from the University of North Dakota, a Bachelor of Journalism from Canada's Carleton University and a Bachelor of History from Canada's Athabasca University. Elizabeth is also a post-secondary instructor in communications and science at several institutions since 2015; her experience includes developing and teaching an astronomy course at Canada's Algonquin College (with Indigenous content as well) to more than 1,000 students since 2020. Elizabeth first got interested in space after watching the movie Apollo 13 in 1996, and still wants to be an astronaut someday. Mastodon: https://qoto.org/@howellspace