A behemoth galaxy gets a new nickname to honor astronomer Vera Rubin, the sun's two new sunspots hint at the start of a new solar activity cycle and a modified Boeing 747 plane laboratory carries an infrared camera into space where it takes a beautiful image of the Milky Way's center. These are just some of the top photos this week from Space.com.
Hello, Solar Cycle 25!
Two new sunspots indicate that the sun is exiting its quiet season. On Dec. 24, 2019, NASA's Solar Dynamics Observatory captured imagery that shows the two new solar blemishes (circled in red); one in the sun's northern hemisphere and the other in the southern hemisphere. Solar cycles last about 11 years, and the uptick in activity is expected to peak in about five years.
Full story: First new sunspots in 40 days herald coming solar cycle
Center of the Milky Way
This new high-resolution image of the Milky Way's center could offer scientists clues about why so few stars exist in this part of the galaxy. The swirls of gas and dust seen here were detected by several instruments tuned in to the infrared spectrum. The primary data source was FORCAST, or the Faint Object Infrared Camera, aboard SOFIA, a modified Boeing 747 used by NASA and the German Aerospace Center to capture information about the universe high in Earth's atmosphere. According to NASA representatives, 10 times fewers massive stars are born in the Milky Way's center than expected.
Full story: This super-sharp image could help explain the Milky Way's strange creamy center
The Crab Nebula
The Crab Nebula is a special celestial object. The supernova that created the nebula was recorded by Chinese observers centuries ago, and its bright spark could be seen for weeks, even during the day. The nebula is so bright that 18th-century French astronomer Charles Messier thought it was a comet. This colorful image of the Crab Nebula combines X-ray light from the Chandra X-ray Observatory (in blue) with visible light from the Hubble Space Telescope (in yellow) and infrared light seen by the Spitzer Space Telescope (in red).
Full story: Tour the colorful Crab Nebula with this stunning new 3D visualization
Rubin's Galaxy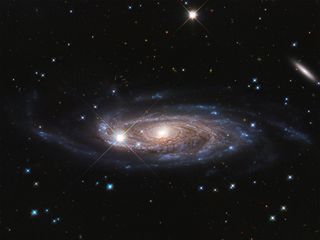 This beautiful Hubble Space Telescope photograph features spiral galaxy UGC 2885, located 232 million light-years away in the northern constellation Perseus. This galaxy was one of the several research targets of Vera Rubin, the groundbreaking astronomer who discovered the existence of dark matter. UGC 2885 received the nickname "Rubin's galaxy" in her honor.
Full story: Giant 'Rubin's Galaxy' stars in stunning Hubble photo named for dark matter pioneer
Street Decorations and Wolf Moon
A picture taken on Jan. 10, 2020 shows the Full Wolf Moon rising behind Christmas street decorations during the penumbral lunar eclipse in Skopje, Macedonia as seen by photographer Robert Atanasovski. — Space.com staff
Full gallery: Amazing photos: The Wolf Moon lunar eclipse of January 2020 in pictures
Full Wolf Moon Rising
The Full Wolf Moon rises above the frosty mountains of Macedonia in this photo taken by Stojan Stojanovski on Friday (Jan. 10). Stojanovski captured this view of the rising moon near the town of Kuratica, shortly before a penumbral lunar eclipse cast a subtle shadow on the moon's face. (See photos of the lunar eclipse in this Space.com gallery.) — Hanneke Weitering
A Martian Winter Wonderland
Earth isn't the only planet with a frosty north pole. This image of the north pole on Mars, captured by the European Space Agency's Mars Express orbiter, shows part of the planet's polar ice cap rippled with dark-red troughs and depressions, which indicate that strong winds have been blowing in the area. Although it does not snow on Mars, storm clouds can kick dust up into the atmosphere, causing erosion that changes the appearance of the landscape over time. — Hanneke Weitering
1st Arianespace Launch of 2020
An Ariane 5 rocket rises between the silhouettes of two palm trees as it lifts off into the cloud-covered evening sky in Kourou, French Guiana, in this photo from Arianespace's first launch of the year. The rocket launched two communications satellites for Eutelsat and the Indian Space Research Organisation into orbit on Thursday (Jan. 16) after lifting off from the Guiana Space Center at 6:05 p.m. local time (4:05 p.m. EST or 2105 GMT). — Hanneke Weitering
SLS under the Full Wolf Moon
January's Full Wolf Moon rises behind NASA's Vehicle Assembly Building at the Kennedy Space Center in Florida, in this photo by NASA photographer Ben Smegelsky. To the right of the Vehicle Assembly Building is the mobile launcher that NASA will use to launch its new Space Launch System rocket and Orion crew spacecraft, which the agency plans to use to send astronauts back to the moon in 2024. — Hanneke Weitering
Milky Way Shines Over Residencia
The arc of the Milky Way galaxy forms a glowing dome above the European Southern Observatory's Residencia, a hotel for astronomers that was featured in the James Bond movie "Quantum of Solace." Residencia is located on top of Cerro Paranal, a mountain in Chile's Atacama Desert that is home to the Paranal Observatory. Also featured in this photo are two neighboring galaxies known as the Large and Small Magellanic Clouds, seen just below the Milky Way's glittering arc. — Hanneke Weitering