NGC 1929 in N44: A Surprisingly Bright Superbubble Space Wallpaper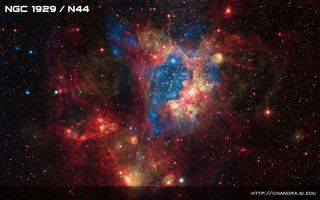 (Image credit: NASA/CXC/U.Mich./S.Oey, IR: NASA/JPL, Optical: ESO/WFI/2.2-m)
This composite space wallpaper shows a superbubble in the Large Magellanic Cloud (LMC), a small satellite galaxy of the Milky Way, located about 160,000 light years from Earth. Many new stars, some of them very massive, are forming in the star cluster NGC 1929, which is embedded in the nebula N44. The massive stars produce intense radiation, expel matter at high speeds, and race through their evolution to explode as supernovas. The winds and supernova shock waves carve out huge cavities called superbubbles in the surrounding gas. X-rays from NASA's Chandra X-ray Observatory (blue) show hot regions created by these winds and shocks, while infrared data from NASA's Spitzer Space Telescope (red) outline where the dust and cooler gas are found. The image was released Aug. 30, 2012.
Get the Space.com Newsletter
Breaking space news, the latest updates on rocket launches, skywatching events and more!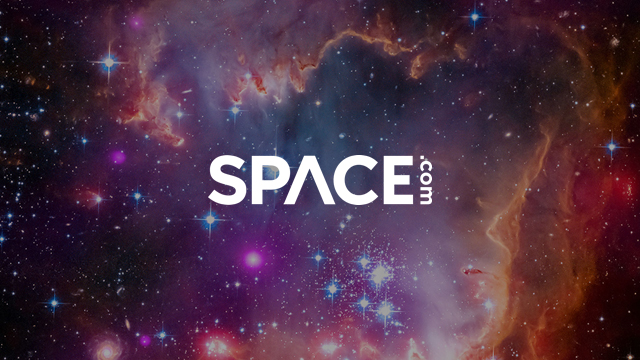 Space.com is the premier source of space exploration, innovation and astronomy news, chronicling (and celebrating) humanity's ongoing expansion across the final frontier. Originally founded in 1999, Space.com is, and always has been, the passion of writers and editors who are space fans and also trained journalists. Our current news team consists of Editor-in-Chief Tariq Malik; Editor Hanneke Weitering, Senior Space Writer Mike Wall; Senior Writer Meghan Bartels; Senior Writer Chelsea Gohd, Senior Writer Tereza Pultarova and Staff Writer Alexander Cox, focusing on e-commerce. Senior Producer Steve Spaleta oversees our space videos, with Diana Whitcroft as our Social Media Editor.