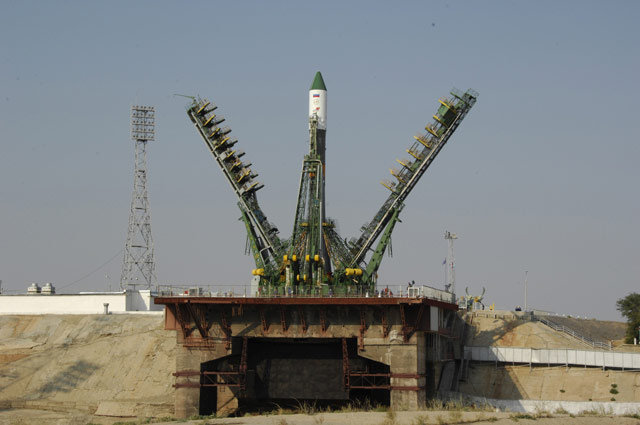 An unmanned resupply ship took aim on the International Space Station today, successfully launching into orbit atop a Russian Soyuz rocket from the Baikonur Cosmodrome.
The Progress M-65 spacecraft departed the historic launch base in Kazakhstan at 3:50 p.m. EDT (1950 GMT) and settled into its preliminary orbit after a nine-minute ride provided by the three-stage booster.
Onboard commands extended the Progress craft's two power-generating solar arrays that span 35 feet and unfurled communications and navigation antennas.
A series of precise engine firings over the next two days will guide the freighter to its automated docking at 5:01 p.m. EDT (2101 GMT) Friday. It's the 30th such Russian-made cargo craft sent to the station.
The 24-foot long ship will link up with the rear-facing port on the Zvezda service module, a spot vacated by Europe's first Automated Transfer Vehicle that undocked Sept. 5. The most recent Progress was discarded from the Zarya control module's Earth-facing port on Sept. 1 and then deorbited over the Pacific Ocean on Monday.
Today's launch, known in the station's assembly matrix as Progress mission 30P, will deliver two-and-a-half tons of supplies to the station. The "dry" cargo packed aboard the Progress amounts to 2,866 pounds in the form of spare parts, life support gear and equipment hardware.
The refueling module carries 1,918 pounds of propellant for transfer into the Russian segment of the complex to feed the station's maneuvering thrusters.
And the vessel has 110 pounds of oxygen and air, plus 463 pounds of water to replenish the station's supplies.
The space station is occupied by the Expedition 17 crew of commander Sergei Volkov, flight engineer Oleg Kononenko and NASA astronaut Greg Chamitoff. Volkov will be standing by Friday to manually dock the Progress if the automated system experiences a problem.
Click here for a Spaceflight Now timeline of the Progress spacecraft?s space station approach.
Copyright 2008 SpaceflightNow.com, all rights reserved.