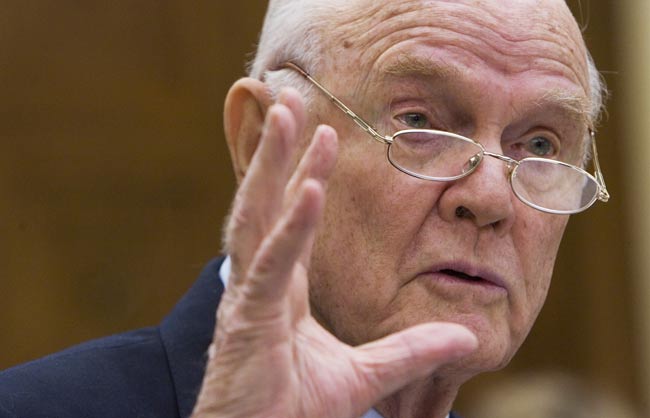 This story was updated at 2:13 p.m. EDT.
WASHINGTON — Former U.S. Sen. John Glenn (D-Ohio), the first American to orbit the Earth, criticized President George W. Bush for directing NASA to set a course for the Moon and not following through with the promised funding.
"I favored the [Vision for Space Exploration] because I assumed it was in addition to, not in place of, existing programs. I assumed that money requests would follow," Glenn told the House Science and Technology Committee during a Wednesday hearing. "Instead what we got were cuts in other research to try to pay for this program and it wound up in my view one of the biggest unfunded mandates that we have in all of government history."
Glenn, a NASA astronaut who spent 25 years in the Senate before retiring shortly after his 1998 flight aboard the space shuttle Discovery — his second spaceflight — appeared before the committee to testify about the challenges facing the U.S. space agency celebrating its 50th anniversary this year.
Glenn criticized the Bush administration for rolling out the Vision for Space Exploration in January 2004 without much external consultation and said concerns among scientists and others about financing the program have been borne out.
"Congressional consent and consultation and international consultation was certainly lacking in this because there was consternation in some of those communities when this was announced," Glenn said. "Not only would there be no increase in funding but ongoing research at that time was gutted by $1.2 billion over a five-year period."
The Bush administration sought and received a nearly 6 percent increase for NASA for 2005, the first budget Congress enacted after the Vision for Space Exploration was unveiled. Subsequent NASA requests have been less generous, with the White House failing in some years to request sufficient funding to keep pace with inflation.
NASA in response has capped spending on science and stretched out the development of the Orion Crew Exploration Vehicle and Ares I rocket, the vehicles it is building to replace the space shuttle. NASA does not expect to field Orion and Ares any sooner than March 2015 — nearly five years after it expects to conduct its final space shuttle mission. NASA's plan for keeping the International Space Station occupied during that gap relies on buying Soyuz rides from Russia. The agency already has signed contracts with Russia totaling more than $700 million for crew-carrying Soyuz and cargo-hauling Progress vehicles and currently is asking Congress for permission to negotiate additional Soyuz flights beyond 2011.
"I never thought I would see the day when the world's richest, most powerful, most accomplished spacefaring nation would have to buy tickets from Russia to get up to our station," Glenn said. "I think that's a bummer."
Glenn proposed giving NASA an additional $2.8 billion to $3 billion annually to enable it to keep flying the space shuttle until Orion and Ares are fielded. Glenn has floated such a proposal before, as have Rep. Dave Weldon (R-Fla.) and Sen. Bill Nelson (D-Fla.), both of who are gravely concerned about the estimated 3,000 to 6,000 jobs that could be lost at Kennedy Space Center in Florida during a five-year gap in U.S. human space flight activity.
"We will have $100 billion invested in this when the station is completed," Glenn said. "If we put 2.8 to 3 billion per year additional into the program now we could keep the shuttles, keep the research, and keep the workforce."
Special Report: John Glenn?s Orbital Flight