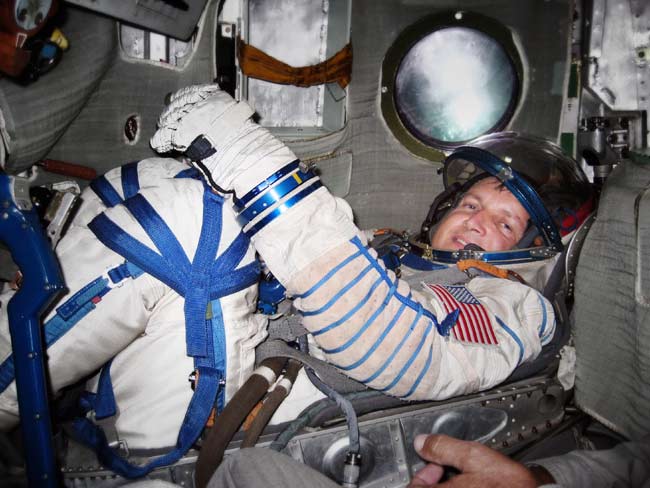 With a March 2007 spaceflight in hand, American space tourist-in-training Charles Simonyi celebrated with a launch of his own Thursday as he debuted a personal website where he'll document his trek to the International Space Station (ISS).
Simonyi [image], 58, is now set to launch towards the ISS on March 9, 2007 aboard a Russian-built Soyuz TMA-10 spacecraft that will also ferry two Expedition 15 cosmonauts to the orbital laboratory. He plans to lay down his training and flight experiences on the Internet at his website: www.charlesinspace.com.
"I want to share all that I learn with everybody, especially with kids so that they may become more involved with space sciences," said Simonyi, a former Microsoft software developer and co-founder of Intentional Software Corp., during a Thursday press conference at the Museum of Flight in Seattle, Washington. "I am very honored and excited to be joining the Soyuz TMA-10 mission."
Simonyi's trip is the result of a deal between Russia's Federal Space Agency and the Virginia-based firm Space Adventures, which has arranged ISS-bound flights for four paying customers - most recently U.S. entrepreneur Anousheh Ansari - since 2001.
Previous space tourist treks to the ISS were estimated to cost about $20 million, but that price tag is rising to $25 million, Space Adventures president and CEO Eric Anderson said.
"It will be safe to say that Charles is paying a little more than $20 million, but not more than $25 million," Anderson said during the briefing.
For his fee, Simonyi will spend an intense six months training for a 10-day spaceflight that includes eight days aboard the ISS. He will launch towards the space station with Expedition 15 commander Fyodor Yurchikhin and flight engineer Oleg Kotov, and return with Expedition 14 commander Michael Lopez-Alegria and flight engineer Mikhail Tyurin.
Unlike Space Adventures' last paid ISS flight, there is no back-up spaceflyer supporting Simonyi. Ansari served as the back-up for Japanese businessman Daisuke Enomoto. She flew in Enomoto's place after he failed a preflight medical check.
Simonyi has passed all required medical checks with flying colors, Anderson said.
The upcoming spaceflight appears to be the culmination of a lifelong interest for Simonyi who--at age 13 in 1963--was selected as his native country Hungary's Junior Astronaut and sent to Moscow, where he met cosmonaut Pavel Popovich.
"Naturally I was interested in space," Simonyi said. "I was so interested I learned the names of all the space dogs."
A dedicated flyer, Simonyi has racked up more than 2,000 hours piloting jets and helicopters and said his family supports his upcoming space shot. He added that he will dedicate the mission towards the advancement of civilian spaceflight while serving as a test subject for biomedical experiments and working to inspire today's youth.
"Space is an adventure," Simonyi said. "I think it is a very good hook to get kids involved."
There is a possibility that Simonyi's flight may be delayed to early April. The Russian news wire service Ria Novosti reported last week that Federal Space Agency officials were discussing whether to delay the mission to avoid the flooding season at the Kazakhstan landing site where Simonyi and the Expedition 14 astronauts will touch down.
But NASA spokesperson Kylie Clem at the Johnson Space Center told SPACE.com that those discussions are still ongoing and far from final.
In the meantime, Simonyi is due to head back to Russia's Yuri Gagarin Cosmonaut Training Center in Star City on Saturday to resume work.
"My training is rigorous," said Simonyi, who is working hard to add Russian to the wide ranks of languages in which he is fluent on top of his physical exercise. "I'm really enjoying it."
Space Tourism: Multimedia Adventure!
IMAGES: Launch Day for Expedition 14 Crew, Anousheh Ansari
Anousheh Ansari: First Female Private Space 'Explorer' Visits ISS
Complete Coverage: ISS Expedition 14