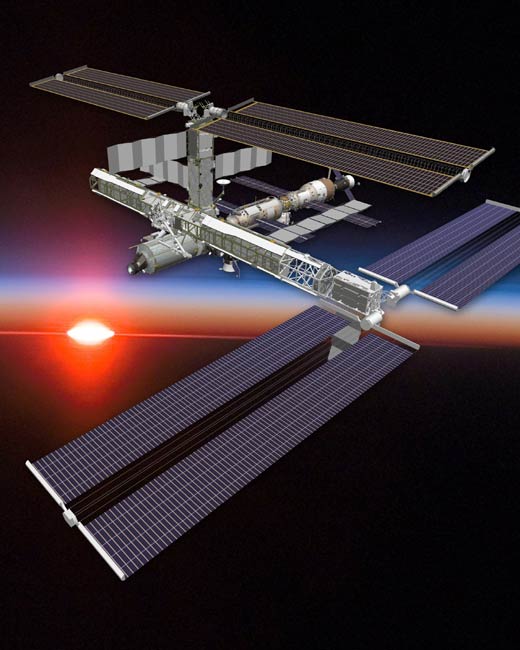 CAPE CANAVERAL, Fla. - The successful predawn landing of NASA's space shuttle Atlantis today marked just the start of what will be an ever-increasing challenge of completing the International Space Station (ISS), the agency's top official said Thursday.
"We are rebuilding the kind of momentum that we've had in the past and that we need if we're going to finish the space station," NASA chief Michael Griffin said after Atlantis' flawless landing here at the Kennedy Space Center. "We have an awesome task ahead of us. The space station is half-built and we have half to go."
Atlantis' six-astronaut crew completed a 12-day mission to the ISS at 6:21 a.m. EDT (1021 GMT) when the orbiter's wheels met the tarmac of Runway 33 here. The STS-115 astronauts - commanded by veteran shuttle flyer Brent Jett - delivered a massive 17.5-ton pair of trusses and new solar arrays to the ISS during a busy mission to kick off an orbital construction effort that stalled as NASA recovered from the 2003 Columbia accident.
"It was a pretty tough few days for us," Jett said from the Shuttle Landing Facility runway. "But we got a lot more missions coming up and they're going to be just as difficult."
NASA plans at least 14 more shuttle flights - beginning with STS-116 aboard the Discovery orbiter in December - to complete the ISS by September 2010, when the agency plans to retire its orbiter fleet to make way for its new Orion capsules. Atlantis is slated to launch NASA's STS-117 mission to the ISS in early 2007.
Michael Leinbach, NASA's launch director, said Atlantis' multiple launch postponements - and then its one-day landing delay - have cut a planned 110-day turnaround for the orbiter by more than 10 days.
"It will be the most aggressive turnaround that we've had since return to flight, but the team is up for that," Leinbach said.
Upcoming ISS construction missions include a complete rewiring of the station's electrical grid and cooling systems, the delivery of two more solar arrays and the launch of critical connecting nodes and orbital laboratories.
"It's maybe a little simpler than trying to build an aircraft while you fly it, but not by much," Griffin said of ISS assembly.
On top of STS-115's already challenging goal of resuming ISS construction, space station officials wrangled an orbital traffic jam to ensure that Atlantis' astronauts completed their mission and undocked before a Russian-built Soyuz spacecraft arrived this week with a new crew and a space tourist.
"I was wondering at one point if we needed to install a traffic light on one or our EVAs," Lynn Cline, NASA's deputy associate administrator of space operations, said of the STS-115 flight's three spacewalks. "We did have a lot of vehicles and basically we took it one step at a time."
The challenge, Cline said, required not only that Atlantis leave the ISS before the Soyuz arrived, but also that the space station's three Expedition 13 astronauts were rested and ready to help jettison a Russian Progress cargo ship to clear a berth for the incoming spacecraft.
"This is a lesson we need to learn, how to handle multiple vehicles and multiple constraints," Cline added.
For the crew of Atlantis, today's successful landing marked the end of what had been a smooth flight aboard the 100-ton space plane.
"Atlantis was a terrific ship," Jett told KSC workers after leaving the orbiter. "She gave us absolutely no problems at all during the mission."
New Gallery: STS-115 Spacewalks
Gallery: STS-115: Atlantis's Launch Day
Complete Space Shuttle Mission Coverage
NASA's STS-115: Shuttle Atlantis to Jump Start ISS Construction
The Great Space Quiz: Space Shuttle Countdown