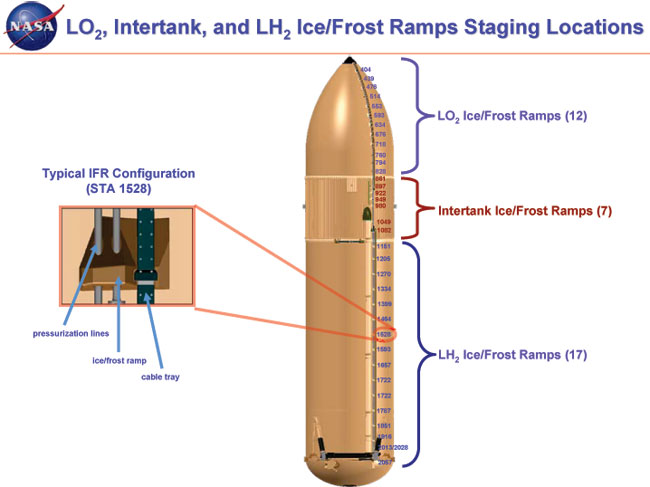 CAPE CANAVERAL, Fla. – NASA's second space shuttle flight since the Columbia tragedy will launch as planned on July 1 after two days of intense debate that included dissent from two senior officials, the space agency said Saturday.
"There were many different viewpoints on the issue of whether we are ready to fly or not," NASA chief Michael Griffin told reporters here at the Kennedy Space Center (KSC). "We've decided that we are."
Discovery will launch on July 1 at 3:48:15 p.m. EDT (1948:15 GMT).
Griffin said the decision came after two days of "intensive and spirited exchange" during a Flight Readiness Review for NASA's STS-121 shuttle flight aboard the Discovery orbiter.
Two senior NASA managers – chief engineer Chris Scolese and Bryan O'Conner, the associate administrator of Safety and Mission Assurance – did have concerns over the potential risk of foam debris posed by a number of insulated ice frost ramps along Discovery's external tank, NASA officials said.
About 34 foam-covered ice frost ramps line the shuttle fuel tank, insulating brackets that connect a cable tray and pressurization line.
"From their particular discipline, they felt they wanted their statement to be No-Go," William Gerstenmaier, NASA's associate administrator for space operations said. "But they do not object to us flying and they understand the reasons and the rationale that we laid out in the review for flight."
That flight rationale, Griffin added, states that while foam debris damage – such as that which led to the loss of Columbia – could affect a shuttle's availability to reenter the Earth's atmosphere, the spacecraft's astronaut crew could reach the orbit.
NASA's ability to inspect the spacecraft in orbit, conduct rudimentary repairs, and even keep shuttle astronauts aboard the International Space Station (ISS) until a rescue shuttle or Russian Soyuz vehicle can be launched were all factors that contributed to the positive launch decision, Griffin said.
But the NASA chief also said that much is riding on Discovery's flight and its safe return to Earth.
"Leaving aside the issue of crew, if we were to leave another vehicle...I would be moving to shut the program down," Griffin said. "I think, at that point, we're done."
A critical spaceflight
Discovery's STS-121 mission – commanded by veteran shuttle astronaut Steven Lindsey – is NASA's final return to flight test to shuttle fuel tank changes, orbiter inspection and repair techniques, as well as deliver vital supplies to the ISS.
It's been almost one year since NASA's first post-Columbia accident mission, STS-114 also aboard Discovery, took flight. The STS-121 crew has filled that time with additional training while shuttle engineers developed new external tank foam modifications and subsequent tests to prevent large chunks from detaching during launch.
A one-pound (0.4-kilogram) piece of foam insulation fell from a protective ramp – since removed – from Discovery's external tank during the STS-114 launch in July 2005. That chunk of launch debris did not strike Discovery, but a similar foam shedding event did occur during the Columbia orbiter's 2003 launch, piercing the spacecraft's heat shield and ultimately leading to its destruction and loss of seven astronauts.
The STS-121 crew will launch on a 12-day mission to the ISS, with two planned spacewalks – and a third if shuttle resources permit – on tap for their spaceflight.
The spaceflight will also deliver European Space Agency astronaut Thomas Reiter to the station to join the orbital outpost's Expedition 13 crew.
Reiter will raise the ISS crew size back up to three astronauts for the first time since the Columbia accident, and is the first long-term ISS crewmember to be from a country other than the U.S. or Russia.
Return to Flight: NASA's Road to STS-121