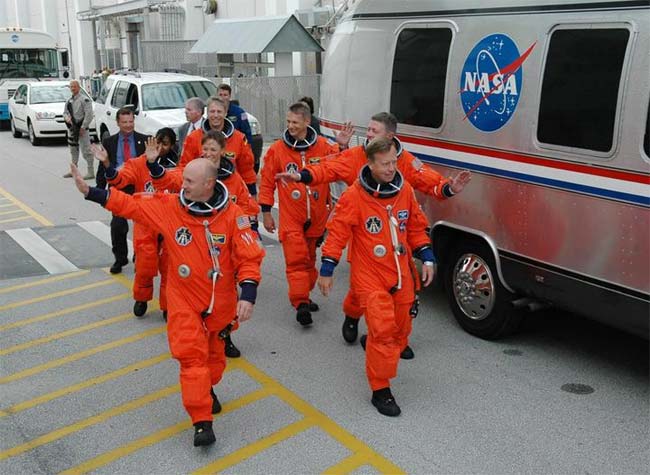 CAPE CANAVERAL, Fla. - NASA mission managers and engineers began a two-day meeting at the Kennedy Space Center (KSC) Friday to give the space shuttle Discovery a last once-over in preparation for a planned launch next month.
"There will be literally hundreds of folks down here for this," KSC spokesperson Bruce Buckingham said Thursday of the Flight Readiness Review (FRR) underway here for NASA's STS-121 mission. "They're going to go through every aspect of the vehicle from the time we last launched."
Buckingham said the meeting - which will end with a press briefing on NASA TV at no earlier than 2:00 p.m. EDT (1800 GMT) Saturday - also offers an opportunity for shuttle managers and engineers to raise any final concerns or questions over the planned STS-121 launch.
"This is another opportunity for them to get another briefing and to readdress any issues they might have in their minds, and for anybody else in the room to stand up and say 'Hey I've got a problem or listen to this scenario,'" Buckingham said. "There will be opportunities for folks to do that."
Discovery last flew in July 2005 during the STS-114 mission, NASA's first shuttle test flight after the 2003 Columbia accident. The orbiter now sits atop Launch Pad 39B, where shuttle workers are preparing it to loft the STS-121 astronauts towards the International Space Station (ISS) no earlier than July 1.
STS-121 commander Steven Lindsey and his six crewmates trained inside the orbiter Thursday during a launch dress rehearsal, and will return to NASA's Johnson Space Center in Houston, Texas later today. Lindsey has said he's confident that shuttle managers will opt for a July 1 space shot, though there have been discussions to delay the flight by a few days to secure optimum lighting for photographs of Discovery's external tank once it's jettisoned after launch.
"I personally wouldn't be surprised if we end up with something around July 1," Lindsey told reporters earlier this week.
Discovery and its launch stack have gone through a series of modifications since the last shuttle flight, the largest of which being the removal of a nearly 34-pound (15-kilogram) ramp of foam insulation that screened pressurization lines along Discovery's external tank hull.
A one-pound (0.4-kilogram) piece of foam from a similar ramp, known as a protuberance air load (PAL) ramp, fell from Discovery's external tank during the STS-114 launch but did not strike the orbiter. But the problem was a haunting reminder of Columbia's final launch, in which a 1.67-pound (0.7-kilogram) chunk of foam the size of a suitcase pierced the orbiter's heat shield during its liftoff and led to its destruction upon reentry.
NASA space shuttle program manager Wayne Hale has called the PAL ramp's removal the largest aerodynamic change to the shuttle launch system since its first flight 25 years ago. Earlier this month, Hale said that after countless tests and simulations, the external tank change has been rated "structurally sound" for flight.
Many of the issues to be discussed over the next two days will not be new to shuttle managers, but they will conduct a final poll Saturday on whether to go ahead with the launch.
"We expect that that's going to be a go signal from everybody at the table," Buckingham said.
STS-121 mission commander Steven Lindsey will speak briefly with the media live on NASA TV at 10:30 a.m. EDT (1430 GMT) today.
NASA's post-Flight Readiness Review press conference will also be broadcast on NASA TV no earlier than 2:00 p.m. EDT (1800 GMT) Saturday.
You are invited to follow along with the briefings using SPACE.com's NASA TV feed, which is available by clicking here.
Return to Flight: NASA's Road to STS-121