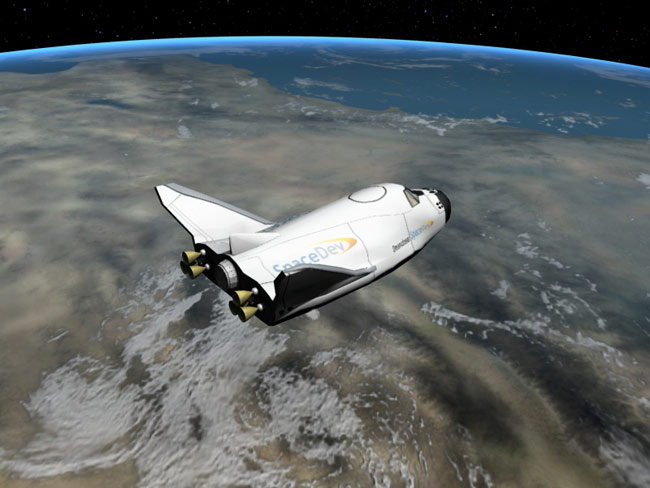 With NASA's shuttle fleet to retire and a looming gap before a new spaceship debuts, the stage is set for private firms hoping to offer commercial cargo and crew services to the International Space Station (ISS).
Six contenders - from a field of more than 20 hopefuls - have weathered NASA's round of culling for the Commercial Orbital Transportation Services (COTS) effort, with the first awards slated to be announced in August, according to some competitors. NASA plans to spend about $500 million on the COTS effort over the next five years, the agency has said.
Among the teams that reportedly made the cut are:
While some COTS contenders have openly spoken of their selection as NASA finalists, others - such as Andrews Space and t/Space remain reticent since the competition is still underway. They are competing in four different arenas: a pressurized vehicle to ferry cargo to and from the ISS, a pressurized variant that disposes of the spacecraft, unpressurized cargo to the station and disposal, and crew transportation, SpaceDev said.
Two other teams - Lockheed Martin and the joint Northrop Grumman-Boeing group - are competing in a separate race to build NASA's post-shuttle crewed spacecraft; the Crew Exploration Vehicle.
And the finalists are...
At the heart of Rocketplane Kistler's COTS entry is the K-1 rocket, a two-stage booster with reusable components and an orbital stage designed to carry deployable satellites - or other payloads - as well as a cargo container for the ISS.
Published specifications call for a 121-foot (37-meter) rocket capable of launching payloads of nearly 11,023 pounds (5,000 kilograms) into low-Earth orbit, though Rocketplane Kistler officials said their effort has moved beyond that specified on Kistler's website. Other details indicate target launch sites from the Nevada Test Site outside Las Vegas and Woomera, Australia.
"It gives the reader...a very good sense of how the vehicle operates and is appropriately out of phase with our development," Bob Seto, Rocketplane's vice president of engineering systems and analysis, told SPACE.com of the earlier documentation. "The actual development is ahead, but it gives you the sense of where we were and probably where we're going."
Out from under wraps
Meanwhile COTS competitor SpaceX, led by entrepreneur Elon Musk, unveiled plans for its reusable Dragon space capsule earlier this year.

SpaceX has drawn up several plans for its Dragon space capsule to ferry cargo (top) and possibly crew (bottom) into space. Credit: SpaceX. Click to enlarge.
Musk told
SPACE.com
that his firm is tackling the development of the heavy-lift Falcon 9 booster - while
fine-tuning its Falcon 1 rocket
at the same time - to support the 10.8-foot (3.3-meter) wide Dragon spacecraft.
"There are some things I didn't talk about, that we're keeping closer to the vest, that will be of benefit to NASA," Musk said in a telephone interview, reiterating that human spaceflight was always on the SpaceX docket. "Really the major goal in the long run is human space transportation, that's the reason for the founding of the company."
SpaceX kept its Dragon project under wraps while publicly moving ahead with its unmanned Falcon 1 effort since 2004, but reported that a prototype flight crew capsule has already been built. While the prototype lacks a reaction control system or reentry heat shield, a life-support system for the vehicle has already been tested.
The spacecraft is intended not to dock itself at the ISS, but user a laser-guided system to maneuver near the station to be grappled with the outpost's robotic arm. The capsule can then be mated manually like NASA's shuttle-carried cargo modules, to deliver supplies or new crewmembers.
Musk said engine tests of the Falcon 9 flight engines could occur this December with the first launch to follow about one year later.
"There're actually three Falcon 9 flights on schedule for 2008, with the NASA flights to follow on top of that," Musk said, adding that some uncertainty is built into that plan. "We'd have a three flight demonstration ending with a flight to the International Space Station."
Partners and competitors
SpaceX is working has reportedly partnered with several companies for its Dragon project, including fellow COTS competitor Spacehab. But that partnership hasn't prevented Spacehab from casting its own entry into the commercial space transportation ring.
Last summer, Spacehab - which has been a staple provider of components for NASA's shuttle system - announced plans to develop a family of spacecraft dubbed Apex to cater to the microsatellite and hefty payload needs of customers. The firm plans to move ahead with the project COTS or no COTS.
"Spacehab is committed to the Apex program as a whole," said Kimberly Campbell, Spacehab's vice president of corporate marketing, in a telephone interview. "Our goal is to provide continuous low-cost access to space."
The largest in the Apex arsenal, the 400 series, is Spacehab's bid for NASA's COTS contest.
Designed to launch atop an Atlas 5 or Delta 4 rocket, the spacecraft could haul payloads of up to 27,000 pounds (12,300 kilograms into orbit, Spacehab has said. A modified version equipped with a reentry system to return cargo or material to Earth - a valuable asset for ISS experiments - is expected to orbit 18,959 pounds (8,600 kilograms), they added.
Spacehab's Apex 400 series tops the spacecraft family's payload charts, with specification calling for loads up to 27,000 pounds (12,300 kilograms) for one-way flights and 18,959 pounds (8,600 kilograms) for returnable flights. The spacecraft could launch atop an Atlas 5 or Delta 4 rocket, Spacehab officials said.
"It's about providing an end-to-end service," Spacehab's Apex program manager Jim Baker told SPACE.com of the Apex 400's multiple booster plan. "If we're tied to one specific launch vehicle, than if that launch vehicle has issues or problems, or is down, than our business is impacted."
Orbital dreams
SpaceDev officials have said in the past that they hoped their Dream Chaser vehicle would prove a strong candidate for ISS resupply and crew rotation flights, though whether the vehicle will be modified for NASA's COTS program is unclear.
Initially unveiled as an evolution of the NASA's X-34 vehicle designed, SpaceDev later opted for a blunt-nosed spacecraft to carry passengers or crew on suborbital or orbital treks. The spacecraft is expected to launch vertically atop a stack of hybrid rocket engines and make runway landings upon Earth return. It is small enough - with wings folded -to fit in the payload bay of a NASA shuttle.
"Our employees, project team members, and subcontractors are thrilled to have been chosen as a finalist ," SpaceDev chief Mark Sirangelo said in a statement on NASA's COTS program.
Past statements have said the spacecraft could haul a limited crew and one ton of cargo into Earth orbit.

Industry sources point to Seattle-based Andrews Space, which has reportedly developed a family of vehicles capable of carrying cargo or crew into orbit, as one of the six finalists for NASA's Commericial Orbital Transportation contract. Credit: Andrews Space. Click to enlarge.

Keep the lid on
An Andrews Space spokesperson would not comment on the Seattle firm's COTS effort and t/Space officials did not return phone messages but projects by both companies hint at what their bids may entail.
Andrews Space recently won an U.S. Air Force contract to define architectures for a flexible hybrid launch vehicle capable of sending payloads ranging from 2,000 pounds (907 kilograms) to 60,000 pounds (27,215 kilograms) into various orbits within a 48-hour period.
Published statements on the firm's website indicate that Andrews has developed a "family of vehicles that are capable of addressing existing and emerging commercial and government markets." The firm also studied design requirements for a shuttle alternative vehicle to deliver and return cargo to the ISS under a past NASA-sponsored project.
"Under the contract, Andrews evaluated for recovering cargo as well as transporting up to 48,700 kilograms of cargo per year," the firm states on its website.

An artist's illustration of t/Space's CXV spacecraft approaching the International Space Station (ISS). Credit: Mark Maxwell/Transformational Space. Click to enlarge.
Meanwhile, t/Space has been pursuing an
air-launched spacecraft
to be lofted by a ramped up version of its QuickReach 2 booster. The firm has said that it could build a commercial crew transport
by 2008
, well before NASA's intended shuttle retirement date, given the funds.
Whoever wins out in NASA's COTS competition, there is no shortage of ideas for orbital spacecraft.
"I'm very pragmatic as far as what gets us to affordable space transportation and have no particular predilection towards private or government funding," Musk said. "I just want it to happen."