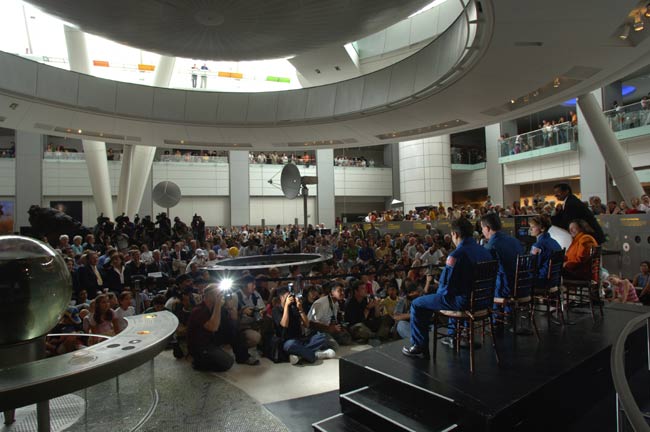 NEW YORK - Three NASA astronauts who flew aboard the space shuttle Discovery during the recent STS-114 mission met with hundreds of students Tuesday to discuss their spaceflight and hopefully inspire the next generation of explorers.
STS-114 commander Eileen Collins and mission specialists Stephen Robinson and Charles Camarda answered questions from children and high school students at the American of Natural History Museum's Rose Center for Earth and Space.
"This is really a chance for us to share what we did on the flight," Collins said.
Collins and her seven-astronaut STS-114 crew returned to Earth aboard Discovery on Aug. 9 after a 14-day spaceflight to the International Space Station (ISS).
In addition to delivering tons of cargo to the ISS, the shuttle astronauts also tested out new tools and methods to inspect and repair their spacecraft. Robinson conducted three spacewalks with fellow crewmate Soichi Noguchi, of the Japanese Aerospace Exploration Agency (JAXA), during the flight. Camarda helped inspect Discovery's heat shield using an orbital boom tipped with laser and camera sensors, as well as transfer cargo.
STS-114 pilot James Kelly and mission specialists Wendy Lawrence and Andrew Thomas also flew on the spaceflight, which marked NASA's first shuttle mission since the 2003 Columbia disaster that killed seven astronauts.
"This mission was an engineer's dream," Camarda said of STS-114.
For Camarda, the visit was a homecoming of sorts. The astronaut grew up here in New York's Queens borough and attended Archbishop Molloy High School before pursuing a Ph.D. in aerospace engineering. Many students and faculty from his high school alma mater came to see the local astronaut.
"It's such a great achievement to be able to go into space and onto the moon," said Guy Mangelli, 17, an Archbishop Molloy senior, adding that he followed the STS-114 flight with interest after the Columbia accident.
Robinson said that reaching out to today's youth and encouraging interest in mathematics and other sciences is vital for the future of NASA's space program, as well as exploration as a whole.
"By the time we have moon bases, these children will be the people who staff those moonbases," Robinson told SPACE.com, adding that their enthusiasm also supports astronauts like himself. "The excitement we see here we take back with us. We go back charged and pumped and ready to carry on."
Today's museum visit was the first stop in the STS-114 astronauts' New York City tour.
Collins will appear on CBS' Late Show with David Letterman tonight, then - with Camarda - throw out the first pitch at the Aug. 31 New York Mets baseball game while Robinson and fellow Noguchi look on. The astronauts will then move on to NASA's Small Business Solutions Conference here in New York, NASA officials said.
Return to Flight Special Report