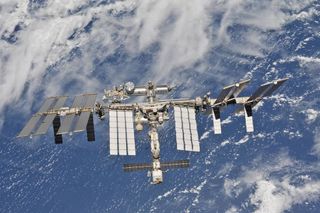 (Image credit: NASA)
NASA aims to develop a spacecraft capable of steering the International Space Station (ISS) to a controlled destruction in Earth's atmosphere when its time in orbit is up.
We first learned about this plan on Thursday (March 9), when the White House released its 2024 federal budget request. NASA's $27.2 billion allocation included $180 million "to initiate development of a new space tug" that could safely deorbit the ISS over the open ocean after its operational life ends in 2030, as well as potentially perform other activities.
More details emerged on Monday (March 13) during a press conference NASA held to discuss the proposed budget, which must be approved by Congress to be enacted. For example, we've now got a ballpark price tag for the deorbit tug, preliminary though it may be.
"A cost estimate we had was a little short of about $1 billion," Kathy Lueders, NASA's human spaceflight chief, said during the press conference. "Our goal is to go out with an RFP [request for proposals], and then, obviously, when we get the proposals, then we're hoping to get a better price than that. But this gives us a healthy start in '24 to get that critical capability onboard."
Related: The International Space Station will eventually die by fire
The new tug will supplement existing deorbit capabilities of the International Space Station partners (the space agencies of the U.S., Russia, Europe, Canada and Japan). The current plan for bringing the station down safely relies upon engine burns by robotic Progress cargo vehicles, which are provided by Russia.
"But we're also developing this U.S. capability as a way to have redundancy and be able to better aid the targeting of the vehicle and the safe return of the vehicle, especially as we're adding more modules," Lueders said.
"As you've seen in the past and over this last year, us having these redundancies has been very, very important for both ourselves and our partners," she added. "And so, having a U.S. deorbit vehicle is another key linchpin in our space operations and deorbit strategy of the ISS."
The recent examples to which Lueders was likely referring are coolant leaks that occurred on two separate Russian vehicles docked to the ISS: A Soyuz crew spacecraft lost all of its coolant to space on Dec. 14, 2022, and a Progress sprang a leak of its own on Feb. 11.
Russia has attributed the Soyuz leak to a likely micrometeoroid strike and linked the Progress issue to an "external influence," perhaps a problem incurred during launch. But the investigation into the two leaks continues.
In addition, Russia has voiced a desire to leave the ISS partnership early (at some point "after 2024") to focus on building its own outpost in low Earth orbit. This information likely factors into NASA's deorbit-tug plans, as does Russia's ongoing invasion of Ukraine, which has severed many of Russia's space partnerships.
Related: Russia's war on Ukraine has caused lasting damage to international spaceflight cooperation
NASA revealed some other interesting budget details during Monday's press conference as well. For example, the budget allocates $30 million in fiscal year 2024 (which runs from Oct. 1 of this year to Sept. 30, 2024) to support Europe's life-hunting ExoMars rover, new agency science chief Nicky Fox said.
That rover, named Rosalind Franklin, was originally supposed to launch on a Russian rocket last fall and touch down atop a Russian-built lander. But the European Space Agency cut ties with Russia on the ExoMars project last summer and is re-planning the mission, which is now unlikely to lift off before 2028.
It's unclear at the moment exactly what NASA will end up contributing to Rosalind Franklin.
"The out years are not determined yet," Fox said, referring to the post-2024 landscape. "That's part of the future Mars strategy that we're working on."
The "skinny budget" released on Thursday noted that NASA is set to receive $8.1 billion next year for its Artemis program, which is working to set up a crewed lunar outpost by the end of the 2020s.
During Monday's press conference, NASA officials said the funding would keep them on target to hit two big milestones in the near future — the launches of Artemis 2 and Artemis 3 in November 2024 and December 2025, respectively. Artemis 2 will send astronauts on a mission around the moon, and Artemis 3 will put boots on the ground near the lunar south pole — the first crewed lunar landing since Apollo 17 in December 1972.
But Artemis 4, which had been slated for 2027, has now been pushed back to 2028, agency officials said on Monday. Artemis 4 will help assemble NASA's Gateway space station in lunar orbit and also land astronauts on the moon, if all goes according to plan.
Mike Wall is the author of "Out There" (Grand Central Publishing, 2018; illustrated by Karl Tate), a book about the search for alien life. Follow him on Twitter @michaeldwall. Follow us on Twitter @Spacedotcom or Facebook.
Get the Space.com Newsletter
Breaking space news, the latest updates on rocket launches, skywatching events and more!

Michael Wall is a Senior Space Writer with Space.com and joined the team in 2010. He primarily covers exoplanets, spaceflight and military space, but has been known to dabble in the space art beat. His book about the search for alien life, "Out There," was published on Nov. 13, 2018. Before becoming a science writer, Michael worked as a herpetologist and wildlife biologist. He has a Ph.D. in evolutionary biology from the University of Sydney, Australia, a bachelor's degree from the University of Arizona, and a graduate certificate in science writing from the University of California, Santa Cruz. To find out what his latest project is, you can follow Michael on Twitter.