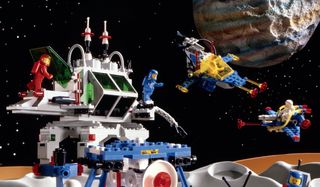 (Image credit: Dark Horse Books)
Lego and space are a match made in ... Denmark.
In the aftermath of NASA's Apollo program, which ended over 50 years ago with the return of Apollo 17 astronauts Harrison Schmidt, Gene Cernan and Ronald Evans, a certain Danish toy company — renowned for their beloved plastic brick building sets — lit the way for creative space enthusiasts. This is when Lego developed a whole new product line, focused around outer space exploration.
Lego's initial launch into spacecraft and space mission products specifically began in 1978 with the first of many dedicated sci-fi construction sets. The company had spawned an entire division of craftsmen and researchers aimed at delivering recreations of things like far-out spaceships, mobile rocket launchers, moon bases, lunar buggies, shuttle craft, giant robots, astronaut minifigures and, of course, all accompanying exploration gear.
Related: Best Lego space sets pre-Black Friday: NASA sets, spaceships and more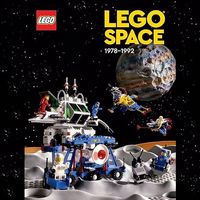 LEGO Space: 1978-1992: $44.99 from Amazon
This gorgeous, full-color hardback features pictures and descriptions from the most iconic years of Lego space, right from when the colorful bricks first made the trip to the final frontier.
Now, a new 200-page full-color hardcover reference book from author Tim Johnson and publisher Dark Horse Books, titled "Lego Space: 1978-1992," arrives in stores on Nov. 14 to tell the whole story of the company's space origins. It chronicles the first 15 years of Lego Space as they fit into an era obsessed with science fiction — following the stratospheric success of films like "Star Wars" and "Close Encounters of the Third Kind" as well as network TV shows like "Battlestar Galactica" and "Buck Rogers in the 25th Century."
Here's the official description:
"Perfect for Lego fans of all ages, this oversized hardcover volume explores the latter half of the 20th century through the lens of Lego Space — illuminating the brand's own history alongside the popular culture and world events that helped to shape it. This collection includes statistics and trivia for each set from across nearly two decades, fascinating insights of the Lego Group as a company, and celebrations of the talented designers who helped to create each incredible model and their bricks, elements, and accessories."
Most illuminating in this new deep dive into the Lego Space lineup are interviews with some of the company's lead designers and marketing thinkers who, through much trial and error and many midnight brainstorming sessions, helped create and manufacture dozens of space-oriented playsets and kits to inspire millions of future star voyagers.
For the Best Lego space-centric sets check out our list of hot deals in our guide to the best space Lego sets.
Dark Horse Books' "Lego Space: 1978-1992" touches down in bookstores on Nov. 14, and in comic shops on Nov. 15.
Get the Space.com Newsletter
Breaking space news, the latest updates on rocket launches, skywatching events and more!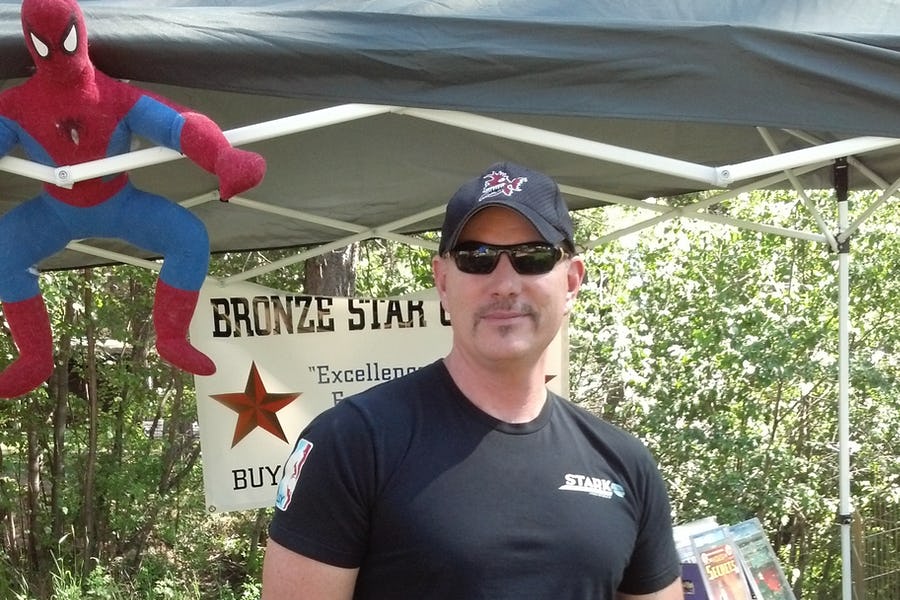 Jeff Spry is an award-winning screenwriter and veteran freelance journalist covering TV, movies, video games, books, and comics. His work has appeared at SYFY Wire, Inverse, Collider, Bleeding Cool and elsewhere. Jeff lives in beautiful Bend, Oregon amid the ponderosa pines, classic muscle cars, a crypt of collector horror comics, and two loyal English Setters.
I owned the walker Lego set pictured in the cover art as a kid. I used to try and reconfigure it to the alternate build pictured on the back of the build guide. These sets were great!

Reply