Failure is definitely an option in the forthcoming Kerbal Space Program 2.
Kerbonauts will launch on fresh new rockets and ride new vehicles across planets in the space exploration game launching in early release for PC on Friday (Feb. 24), according to a new YouTube trailer. But Kerbal Space Program 2 (KSP2) will preserve some of the learning curve its predecessor made famous.
Kerbal Space Program, first released on June 24, 2011, is a popular game teaching its users the physics of spaceflight. Private Division and Intercept Games have softened the experience for new users in KSP2, the makers have said, but there's still plenty of chances to (harmlessly) blow things up while building your space program.
Related: Kerbal Space Program 2 makes it easier than ever to launch — and crash — rockets (exclusive 1st look video)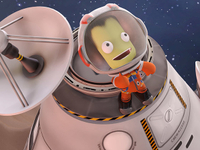 Kerbal Space Program | $39.99 from Green Man Gaming
While we keep waiting for KSP 2, you can get on board with the original. Recreate real space missions or just watch your creations explode in the pursuit of the Mun and beyond in this space exploration game.
The trailer shows a rocket launching within view of spacesuited Kerbonauts, presumably inspecting it to make sure it's ready to bring living beings on board. But there is the inevitable explosion that often comes with trying out new hardware.
"Fail harder," the trailer says in a written cutscene, along with a suggestion for improvement: "Add more boosters."
KSP2, delayed from its 2020 target to provide a "stable, polished whole" for gamers, will feature a fresh look for the famous Kerbonauts. Wild hairdos, distinctive personalities and even more exaggerated facial expressions will help players learn how physical forces are affecting their crews.
Read more: Kerbal Space Program 2 will launch Kerbonauts with wild new hairdos and emotions
The original KSP is huge within the space industry and has attracted praise from luminaries like Elon Musk of SpaceX and Tory Bruno of United Launch Alliance. The learning curve in the original is fairly unforgiving, but Space.com editor-in-chief Tariq Malik got a look at the revamped system for KSP2 during an event in the Netherlands earlier this month.
"The first thing I noticed about Kerbal Space Program 2 is its revamped tutorial system, which trades the text boxes of the original game with slick, easy-to-understand animations and steps to get the basics across," Malik wrote. "Using that, I was able to build my first rocket and reach space fairly quickly, even if it was just a barebones flight without a destination. (I did forget to check my G forces, though. I'm so sorry, dear Kerbal astronaut)."
The developers have said other features coming to KSP2 include:
Customizable parts and new space-flight technology: Players will have over 350 new and improved parts including engines, fuel tanks, procedural parts systems, and much more. The overhauled vehicle assembly interface includes part sorting and a blueprint view for making precise adjustments, along with new part coloring.
Improved onboarding: New animated tutorials, improved user interface, and fully revamped assembly and flight interfaces allow both experienced and novice players to quickly put their creativity to the test without sacrificing any of the challenge from the original game.
New exploration tools: You can now use time warp while accelerating and plan complex maneuvers with ease using the new non-impulsive maneuver planner. New spheres of influence, map iconography, and atmosphere indicators take the guesswork out of interplanetary maneuvering.
New environments to explore: Clouds, atmospheric scattering, and an all-new terrain system.
Kerbal Space Program 2 launches in early access mode on Friday (Feb. 24) on PC.
Elizabeth Howell is the co-author of "Why Am I Taller?" (ECW Press, 2022; with Canadian astronaut Dave Williams), a book about space medicine. Follow her on Twitter @howellspace. Follow us on Twitter @Spacedotcom or Facebook.