Independent Report Concludes 2033 Human Mars Mission Is Not Feasible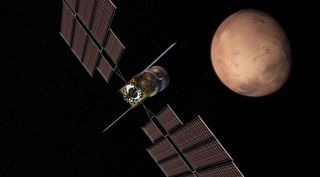 (Image credit: Boeing)
WASHINGTON — An independent report concluded that NASA has no chance of sending humans to Mars by 2033, with the earliest such a mission could be flown being the late 2030s.
The report, while completed prior to the March 26 speech where Vice President Mike Pence directed NASA to return humans to the moon by 2024, does offer insights into how much a lunar return might cost and how it fits into long-term plans to send humans to Mars.
NASA contracted with the Science and Technology Policy Institute (STPI) to prepare the report, which Congress directed NASA to perform in the 2017 NASA authorization act. That bill called specifically for a technical and financial assessment of "a Mars human space flight mission to be launched in 2033."
Related: Trump's 2020 NASA Budget Will Take US from Moon to Mars, Agency Chief Says
STPI, at NASA's direction, used the strategy the agency had laid out in its "Exploration Campaign" report, which projects the continued use of the Space Launch System and Orion and development of the lunar Gateway in the 2020s. That would be followed by the Deep Space Transport (DST), a crewed spacecraft that would travel from cislunar space to Mars and back. NASA would also develop lunar landers and related system to support crewed missions to the lunar surface, while also working on systems for later missions to the surface of Mars.
That work, the STPI report concluded, will take too long to complete in time to support a 2033 mission. "We find that even without budget constraints, a Mars 2033 orbital mission cannot be realistically scheduled under NASA's current and notional plans," the report states. "Our analysis suggests that a Mars orbital mission could be carried out no earlier than the 2037 orbital window without accepting large technology development, schedule delay, cost overrun, and budget shortfall risks."
That schedule is driven by the technology risks associated in particular with the Deep Space Transport, including life support systems and propulsion, that require long lead times. A mission to Mars launching in 2033, the report concluded, would need to have critical technologies tested by 2022, which is unlikely. Moving ahead without completing those technologies first, the report stated, will "dramatically increase technology and schedule risks for the DST and could force the DST design to be revised if any one of these technology testing programs reveals problems."
Moreover, initial "Phase A" studies of the overall DST would need to start in fiscal year 2020, which is also unlikely because trade studies on the DST design have yet to begin. The STPI report also warns that attempting to reduce schedules by not using NASA's existing standard practices for program development "would lead to very high technology, schedule, and cost overrun risk."
"As such," the report concludes, "a mission to Mars orbit in 2033 is infeasible from a technology development and schedule perspective." The next launch window, in 2035, was also deemed infeasible because of technology development work, pushing the earliest possible date for flying the mission to the following launch window in 2037.
STPI also estimated the cost of carrying out this first Mars mission in 2037. The report estimated the total cost of just those elements needed for the Mars mission, including SLS, Orion, Gateway, DST and other logistics, at $120.6 billion through fiscal year 2037. Of that total, $33.7 billion has been spent to date on SLS and Orion development and associated ground systems.
That total includes $29.2 billion for the DST, a figure that the report acknowledges is a very rough estimate given the few details about the design that could be used to project its development cost. Instead, STPI used the cost of developing Orion as a proxy for the DST. By contrast, the report estimated the cost of the Gateway at less than $6 billion for its various modules, in part because some of the modules would be contributed by international partners at effectively no cost to NASA.
Lunar landing costs
That Mars mission is part of an overall human spaceflight program with total costs through 2037 of $217.4 billion. That includes the Mars mission costs as well as operations in low Earth orbit and development of Mars surface systems needed for future missions.
It also includes a series of missions to land on the moon. The report projected the first human landing to take place in 2028, the date NASA was aiming for prior to Pence's speech in March. Four more missions, one per year, would follow through 2032.
The report uses the three-stage lunar lander approach that NASA studied last year, with a reusable ascent stage and transfer vehicle and expendable descent stages. Development of the landers and refueling systems alone would cost nearly $8 billion to cover that series of five crewed landings as well as an earlier uncrewed test. An additional $12 billion covers SLS and Orion costs, as well as other launches to transport the landers, propellant and other cargo. Those totals don't include other costs, such as development of the SLS, Orion and Gateway themselves.
The report, dated February 2019, was completed prior to the announcement of the 2024 lunar landing goal, and thus does not address costs of such an effort. The report estimated that the first lunar landing mission would cost an estimated $2.44 billion in launch and hardware costs, plus several billion in development costs for the landers.
Congressional reaction
The report has received a relative muted reaction on Capitol Hill, in part because it has been overtaken by events, namely plans to accelerate the first human landing to 2024 that will affect other elements over the overall exploration plan.
Rep. Kendra Horn (D-Okla.), chairwoman of the House space subcommittee, did mention in it in prepared remarks for an April 2 hearing by the full House Science Committee on the NASA budget request.
"According to the report, it's clear that getting to the surface of Mars in the 2030s is impossible under this Administration's current approach to exploration," she wrote in those remarks. "Moreover, the report acknowledges what many on this Committee have been surmising during past hearings — namely, that there is no actual Plan for a human Mars mission."
While NASA has, since Pence's speech, focused on how it will develop an architecture for a 2024 moon landing, it has not neglected Mars entirely. "Why do we go to the moon? Why is that so important?" NASA Administrator Jim Bridenstine asked in an April 9 speech at the 35th Space Symposium in Colorado Springs. "Well, because we're keeping our eyes on the horizon. The moon is a proving ground. It's the best place for us to live and work on another world so that we can ultimately go to Mars."
In that speech, he cited both ongoing Mars missions and future ones, such as the Mars 2020 rover, as preludes to human missions there. He also argued that going to the moon in 2024 would allow an earlier human mission to Mars. "People say, 'Why are you accelerating a mission to the moon?' Well, because it accelerates a mission to Mars," he said.
He made a similar argument in that April 2 hearing. "We want to achieve a Mars landing in 2033," he said. "In order to do that, we have to accelerate other parts of the program. The moon is a big piece of that."
He also alluded to the STPI report in his testimony. "We can move up the Mars landing by moving up the moon landing," he said. The agency hasn't disclosed details about how that will be possible, including the technology development issues for the Deep Space Transport, independent of a moon landing, that the STPI report concluded prevented a Mars mission from being ready by 2033.
Those comments, though, assuaged Rep. Ed Perlmutter (D-Colo.), a member of the committee and an outspoken advocate for a 2033 Mars mission who regularly displays a "Mars 2033" bumper sticker at hearings such as this one.
"Initially, when I came in, I was disappointed in the report that came back on the pathway to Mars," Perlmutter said at that hearing, referring to the STPI report's conclusion that a 2033 Mars mission is not feasible. "It was really disappointing to me."
However, he said he was encouraged by Bridenstine's comments that a 2033 Mars mission is possible if a moon landing takes place in 2024. "I'm okay with that because I think it accelerates the effort to get to Mars," he said of the 2024 goal of a human return to the moon, "which I think is the underlying driving force here."
This story was provided by SpaceNews, dedicated to covering all aspects of the space industry.
Get the Space.com Newsletter
Breaking space news, the latest updates on rocket launches, skywatching events and more!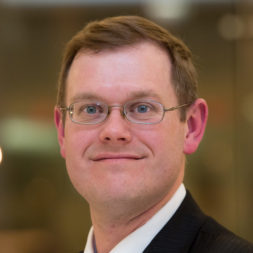 SpaceNews Senior Staff Writer
Jeff Foust is a Senior Staff Writer at SpaceNews, a space industry news magazine and website, where he writes about space policy, commercial spaceflight and other aerospace industry topics. Jeff has a Ph.D. in planetary sciences from the Massachusetts Institute of Technology and earned a bachelor's degree in geophysics and planetary science from the California Institute of Technology. You can see Jeff's latest projects by following him on Twitter.