How to photograph the 'ring of fire' annular solar eclipse on Oct. 14
Everything you need to know to capture images of the visible from North America.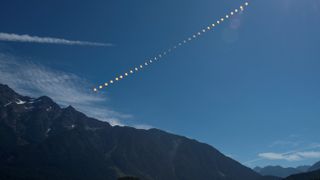 (Image credit: NASA/Bill Ingalls)
Opportunities to photograph a solar eclipse don't come along very often.
On Saturday, Oct. 14, North America will see its first solar eclipse since 2021. For most people, this event will be no different, with the sun being partially eclipsed during the morning. Like 2021's event, this will be an annular solar eclipse — better known as a 'ring of fire' — but while that one was visible only in Canada, this one will be best seen from a path through the U.S.
From being in the right place at the right time to planning specific compositions including the eclipsed sun, here's everything you need to know about how to photograph October 14's 'ring of fire' annular solar eclipse with a manual camera or a smartphone. If you want even more eclipse photography content we also have a more in-depth overview guide for how to photograph a solar eclipse.
Related: Annular solar eclipse 2023: Everything you need to know about North America's 'ring of fire' eclipse
Safety and solar filters
Whether you are going to be in the 125-mile wide path stretching from Oregon through Texas — where the ring of fire will be visible — or whether you are somewhere else in North America, the safety aspect remains the same. This solar eclipse can only safely be viewed through solar eclipse glasses and photographed using solar filters. Put simply, you're going to need to purchase or make a solar filter for your camera or smartphone. Here's what to know:
Do not use neutral density filters or polarizing filters.
Choose between aluminized Mylar filters (affordable) or metal-coated optically flat screw-in glass filters (expensive).
Consider making your own solar filter using A4 sheets of Baader AstroSolar film (Mylar), which comes in A4 size from companies including Kendrick Astro Systems).
Alan Dyer, Canadian astrophotographer and author of How to Photograph the Solar Eclipses: A Guide to Capturing the 2023 and 2024 Eclipses of the Sun told Space.com that he uses now-discontinued glass filters from Thousand Oaks Optical but finds its new SolarLite polymer material too dark and soft.
Other options include Seymour, Kenko and Orion filters. "The safest bet are filters of Baader Solar Film," says Dyer. One example is MrStarGuy. "It's better than other films and definitely better than glass, but it should not be stretched smooth — wrinkles do not affect its performance." He also recommends using gaffer or blue painter's tape to secure the filter housing to the lens as a safety precaution. The American Astronomical Society has a list of approved solar filters.
Choosing a location
Your location will make a huge difference to what you see. If you want a perfectly symmetrical ring effect at the peak of the event then you should be close to the centerline of the eclipse. An asymmetrical 'broken ring' shot — which is more unusual — is obtained most easily from the edges of the path, where the 'ring of fire' will last mere seconds. This interactive map will help you pick a spot while these simulations for any location will show you exactly what it will be possible to see.
"The best advice for 'ring of fire' photos is to go to Oregon and hope for thin cloud for landscape images including the ring and to go anywhere else for clear skies and close-ups of the ring," says Dyer. That's because in Oregon the eclipse begins at 8:05 a.m. PDT with the eclipse at just 5 degrees above the southeastern horizon, with the 'ring of fire' at 17 degrees about 70 minutes later and the eclipse ending at 29 degrees. It will get higher as it moves through the U.S. with the eclipse exiting Texas at a height of between 36 degrees and 54 degrees.
Apps like The Photographer's Ephemeris, PhotoPills and PlanIt Pro can help you plan your shot in detail. "The key thing about PlanIt Pro is it turns your phone into a virtual camera," astrophotographer Mike Shaw, author of The Beginner's Guide to Astrophotography, who also presents a series of video tutorials about how to use PlanIt Pro, told Space.com. "Its eclipse sequence tool shows you exactly what your image is going to look like from a specific location if you do an eclipse sequence."
Choosing a composition and focusing
The first thing you need to do is decide which kind of shot you want to take. For an annular solar eclipse or a partial solar eclipse, there are essentially two different types of shots you could go for — a close-up of the eclipsed sun and a wide-angle composite.
Capturing a close-up
For a close-up you'll need a tripod and a telephoto lens — the longer the better. Use your camera's LCD screen on 'live view' to find the eclipsed sun and then auto-focus on the edge of the moon. "Keep checking that focus," says Shaw, who also recommends using a star tracker. "With a 400mm lens it's tricky to find the sun with the filter in place, and even when you find it, it's going to quickly move right out of the frame," he says. "The tracker just takes get rid of all of that."
Image settings will vary according to the light at your location and the filter you use, but ISO 100, f/5.6 and exposures between 1/30 and 1/250 are a good place to start, according to Dyer.
Once you've collected lots of images of the eclipsed sun — paying particular attention to the ring of fire, if relevant to your location — consider making a collage of your favorite images.
Related: Best star trackers for astrophotography 2023
Capturing a sequence
If you want to capture a wide-angle image showing the progression of the eclipse across a landscape then the basic technique, at least, is surprisingly simple. You'll need a tripod and wide-angle lens of about 24-28mm, with a solar filter across it, to capture the sequence and a foreground image. The technique goes something like this: with your camera positioned so the eclipse begins on the left side of the frame, you take a wide-angle image of the landscape every four minutes (during which the obscuration of the sun will increase by about 5%, according to Dyer) for the entire two or three hours of the eclipse. At no time can you move the camera or tripod, so use a shutter release cable (and do not kick the tripod!).
After the eclipse, you'll be left with a few dozen images that are completely dark save for the tiny image of the eclipsed sun moving across the frame. All you then need to do then is take one image of the foreground and drag all the images into the free StarStaX software, which will create the finished composite image. "Practice it once or twice ahead of time — it'll lower your blood pressure," says Shaw, who will lead a workshop in New Mexico to shoot the 'ring of fire'. "During the eclipse, the adrenaline starts to go up and people do dumb things."
That foreground image is important. "The safest thing to do is to wait until after sunset," says Shaw. "Or you could try taking the shot during the annular phase because it's going to get pretty dark, but that would involve some extensive bracketing — and you'll only have a few minutes to get the shot." To prevent lens flare from the 'ring of fire' just put your finger over the eclipse, says Shaw.
Photographing the eclipse with a smartphone
Although you can perch a smartphone on a tripod and cover its lens with a filter made from cutting up a pair of eclipse glasses, the results are rudimentary.
A timer delay and a clip-on lens can help slightly in reducing judder and gaining magnification, respectively, but even then we're talking about a souvenir shot at best. Given that any photographer with a manual camera and a zoom lens is going to do much better — and flood social media with their photos — it's probably not worth the bother. That doesn't mean you can't take great images during the eclipse, but they should concentrate on capturing the emotion of people watching — and wearing eclipse glasses — as well as some of the odd optical events that occur, such as 'crescent suns' projected onto the ground beneath trees.
If you're looking for a telescope or binoculars to observe the annular solar eclipse, our guides for the best binoculars deals and the best telescope deals now can help. Our best cameras for astrophotography and best lenses for astrophotography can also help you make sure you have all the gear to get that perfect shot.
Get the Space.com Newsletter
Breaking space news, the latest updates on rocket launches, skywatching events and more!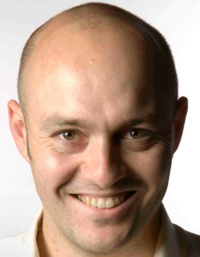 Jamie is an experienced science, technology and travel journalist and stargazer who writes about exploring the night sky, solar and lunar eclipses, moon-gazing, astro-travel, astronomy and space exploration. He is the editor of WhenIsTheNextEclipse.com and author of A Stargazing Program For Beginners, and is a senior contributor at Forbes. His special skill is turning tech-babble into plain English.