Amazing photos of Comet Leonard in the night sky
Comet C/2021 A1 — a.k.a. Comet Leonard — is on a last dash through our solar system before disappearing a little later in 2022. The comet has been a dazzling sight in binoculars or telescopes, appearing with a twisted tail and if you have a great camera, a green coma.
Shortly after Comet Leonard's discovery, it was just a small dot in the sky from Earth's view. This animation shows the object's path as seen by discoverer Gregory Leonard at the Catalina Sky Survey in January 2021. Leonard told Space.com that he was immediately able to see the comet's coma, or its tenuous atmosphere. "I also detected a little stubby tail, and that, of course, is another telltale sign that it's likely a comet," he said.
Astronomer Gregory Leonard is pictured here working at the Catalina Sky Survey observing station.
"This comet was my 10th comet discovery, and since that time I've discovered three more, so there are actually 13 Comet Leonards out there," Leonard told Space.com. "They automatically assume the name of the discoverer," he added, "which in all these cases was me over the last six years."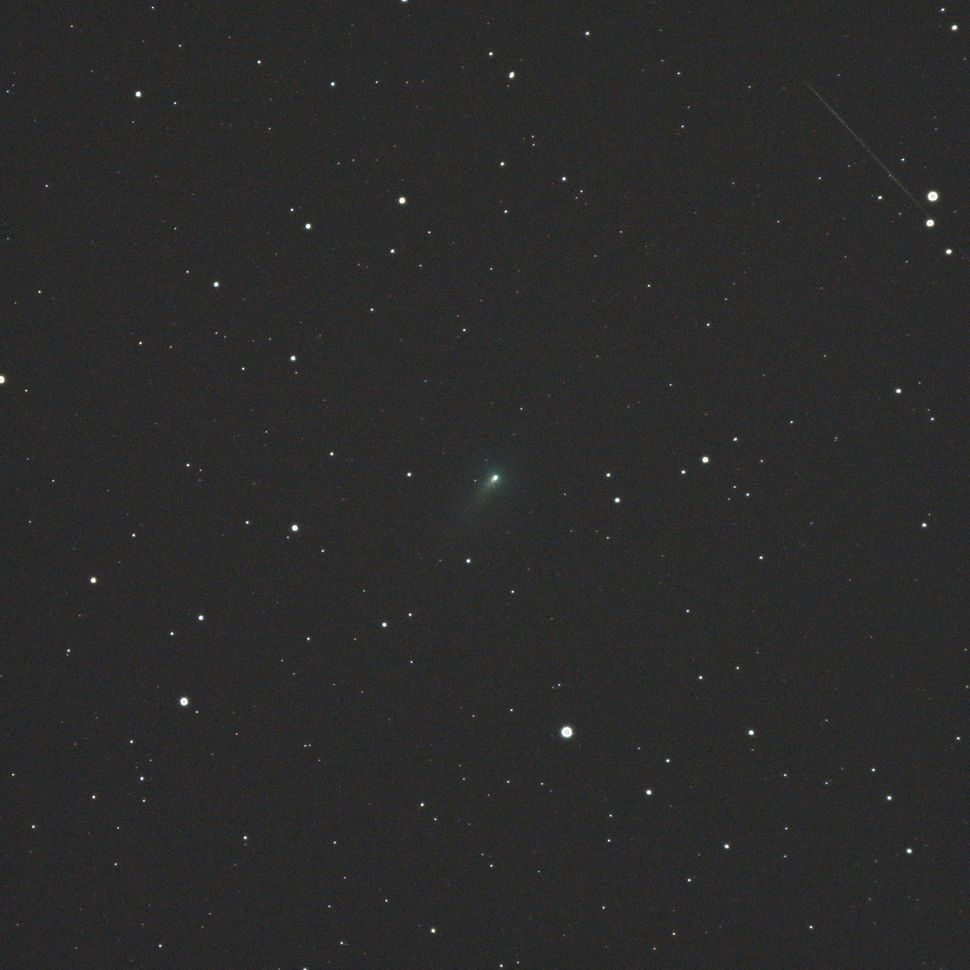 Comet Leonard eventually appeared as a brighter object amid a field of stars, as seen from Earth. Stargazer Steven Bellavia caught this image of Comet Leonard and a Leonid meteor on Nov. 13, 2021 from Mattituck, New York. The Leonids peaked that week, and the comet was a one-time sideshow during the annual meteor shower.
As Leonard got closer to the sun, its surface began to generate outbursts as the solar wind struck it. One of NASA's Solar Terrestrial Relations Observatory satellites (STEREO-A) captured this view of Comet Leonard on Dec. 14, 2021, as it extends its shroud of gas and begins spiking in brightness.
The comet quickly caught attention around the world and added more interest to an already ever-changing sky. Here, Comet Leonard is visible in an undated image captured by a small Chinese satellite. The green below the comet is a tinge of the northern lights, or aurora borealis. The lights occur when particles from the sun slam into our upper atmosphere (ionosphere) and get redirected towards the poles.
Feeling green? Astrophotographer Chris Schur captured this stunning photo of Comet Leonard on Dec. 4, 2021 from Payson, Arizona using a 10-inch Newtonian telescope and 60-minute camera exposure. The green-tinged coma is very visible in this time exposure photo, along with the long tail jetting from Leonard's core.
Amateurs weren't the only ones keeping watch on the comet. Comet Leonard shines bright in this image from the European Space Agency's Near-Earth Object Coordination Center, captured using the Calar Alto Schmidt telescope in Spain. It was created by stacking 90 five-second exposure images of the comet taken on Dec. 7, 2021.
The telescope is used to monitor all sorts of near-Earth objects, although Leonard was relatively far away; at its closest approach on Dec. 12, the comet was at a range of 21 million miles (34 million km), roughly a tenth of the distance to Mars.
The comet can appear in different colors depending on what equipment is used or the wavelength an astrophotographer chooses to emphasize. Seen here in cool blue, Comet Leonard streaks across the sky over Van, Turkey on Dec. 11, 2021 in this image by photographer Ozkan Bilgin.
This map of the solar system shows where Comet Leonard was located when it made its closest approach to Earth, on Dec. 12, 2021. Leonard came from a region known as the Oort Cloud, a collection of icy objects beyond the orbit of Neptune. It's likely that some gravitational force (such as a passing object) helped kick the comet towards the inner solar system, starting its one-way journey.
Amateur astronomers often use other celestial objects to assist with "wayfinding," and this photographer got quite lucky. Comet Leonard is here photographed over Payson, Arizona, near a relatively bright globular star cluster called Messier 3 (M3).
A photographer from Summerville, South Carolina captured another view of the close conjunction between Messier 3 and Comet Leonard. Here you can really see some of the brighter stars of M3, along with the coma and tail of Leonard.
The comet's tail and coma (atmosphere) both shine brightly in this photo taken on Dec. 28, 2021. What you're seeing is a combination of gas and dust being blown off the core of the comet and bleeding into space.
Mike Peel captured this haunting wide-angle view of Comet Leonard over Tenerife, in the Canary Islands, on Dec. 31, 2021.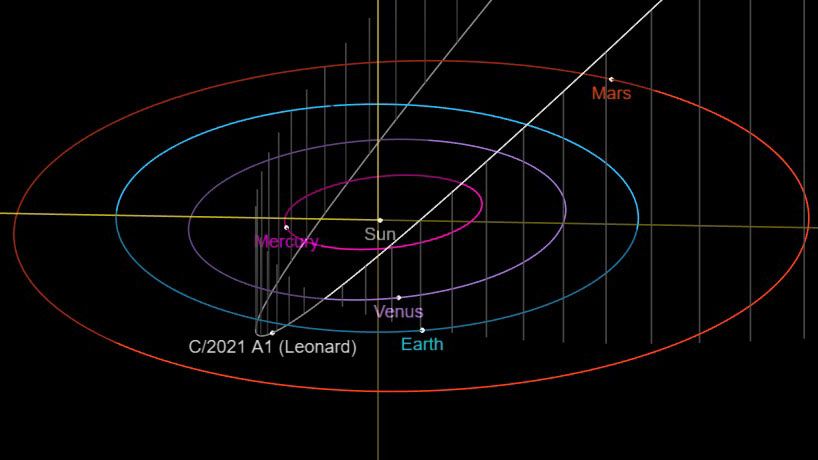 This solar system diagram shows the location of Comet Leonard when it reached perihelion, its closest point to the sun, on Jan. 3, 2022. You can see the comet's path zinging across the solar system plane, on a trackway to leave our solar system after the closest approach.
Comet Leonard was still delivering great views as it approached perihelion, or the closest point in its orbit to the sun. This spectacular view shows off its tail on Jan. 2, 2022.
These talented astrophotographers picked up a few stunning views of the comet, and we have some guides to help you further with catching a glimpse of Leonard before it departs our solar system. To track Comet Leonard's position and brightness, check out TheSkyLive.com's tracker. If you need a telescope of binoculars to see planets in the sky, check out our guide for the best binoculars deals and the best telescope deals available right now. Our best cameras for astrophotography and best lenses for astrophotography can also help you pick the best imaging gear to spot the comet.