Godspeed the SS John Glenn: Cargo Ship Named for Late Mercury Astronaut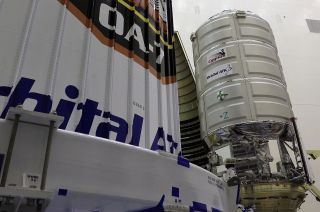 (Image credit: Kim Shiflett/NASA)
The next U.S. commercial spacecraft to resupply the International Space Station will launch under the name of the first American to orbit Earth, lifting off atop a modern version of the rocket on which he made history.
Orbital ATK on Thursday (March 9) revealed it has named its seventh station-bound Cygnus cargo freighter the "S.S. John Glenn," posthumously honoring the original Mercury astronaut and U.S. Senator.
"Glenn paved the way for America's space program, from moon missions, to the space shuttle and the International Space Station. His commitment to America's human space flight program and his distinguished military and political career make him an ideal honoree," Orbital ATK said in a statement. [Watch John Glenn's Historic Friendship 7 Launch (Video)]
Glenn, who died in December at 95, famously circled the world three times aboard his Mercury capsule "Friendship 7" before splashing down in the Atlantic Ocean on Feb. 20, 1962. Thirty-six years later, after serving four terms as a Senator for his home state of Ohio, Glenn returned to orbit on space shuttle Discovery, becoming the oldest person to fly into space at the age of 77.
The S.S. John Glenn will fly on Orbital ATK's OA-7 mission on a United Launch Alliance Atlas V rocket from Complex 41 at the Cape Canaveral Air Force Station in Florida. Fifty five years ago, the ship's namesake leapt off Complex 14 on an Atlas-D, an early configuration of the intercontinental ballistic missile-turned-launch vehicle.
The OA-7 S.S. John Glenn launch is currently scheduled for March 19 at 10:56 p.m. EDT (0256 GMT March 20).
Orbital ATK uses Cygnus, launched on either ULA's Atlas V or its own Antares rocket, to perform station cargo flights under a commercial resupply services contract with NASA. Cygnus consists of a pressurized module for crew supplies and experiments, together with a service module providing solar power and propulsion.
The OA-7 mission will be the third flight of a Cygnus atop an Atlas and fourth flight of the extended variant of Orbital ATK's pressurized cargo module, which expands the ship's interior volume capacity by 25 percent, enabling increased cargo to be delivered with each mission.
The S.S. John Glenn has already been packed with more than 7,500 pounds (3,400 kilograms) of cargo and science experiments for the station's Expedition 50 crew, including an advanced plant habitat system and other research to be conducted in the U.S. National Lab ranging from targeted cancer cell therapies to growing crystals.
Cygnus will also carry dozens of small satellites, including 28 from universities around the world, in coordination with NanoRacks and the Von Karman Institute QB50 CubeSats program.
The S.S. John Glenn is also carrying the Saffire-3 payload experiment to study flame development in the microgravity environment of space. The combustion experiment will be conducted after Cygnus departs the station, approximately three months after it arrives. The results will be transmitted by telemetry prior to its destructive re-entry into the Earth's atmosphere.
The Cygnus is also equipped with RED-Data-2, a new type of recording device that will ride along as the spaceship re-enters to provide data about the conditions the spacecraft encounters during atmospheric re-entry.
The naming of the S.S. John Glenn continues a tradition at Orbital ATK of christening its station resupply ships for late astronauts, including Deke Slayton, Glenn's fellow Mercury 7 original.
Previous ships were also named for astronauts David Low, Gordon Fullerton, Janice Voss and Rick Husband.
The most recent Cygnus, the S.S. Alan Poindexter, named for the space shuttle commander who died in a 2012 water sports accident, launched to the station on Oct. 17, 2016. It was released from the orbital complex on Nov. 21, and supported the Saffire-2 experiment before being destroyed during its re-entry into Earth's atmosphere on Nov. 27.
The S.S. John Glenn will be the first space hardware to fly memorializing the late astronaut, but was the second to be announced. Blue Origin, founded and led by Amazon CEO Jeff Bezos, named its orbital class rocket the New Glenn.
See Orbital ATK's OA-7 Cygnus S.S. John Glenn mission patch at collectSPACE.
Follow collectSPACE.com on Facebook and on Twitter at @collectSPACE. Copyright 2017 collectSPACE.com. All rights reserved.
Get the Space.com Newsletter
Breaking space news, the latest updates on rocket launches, skywatching events and more!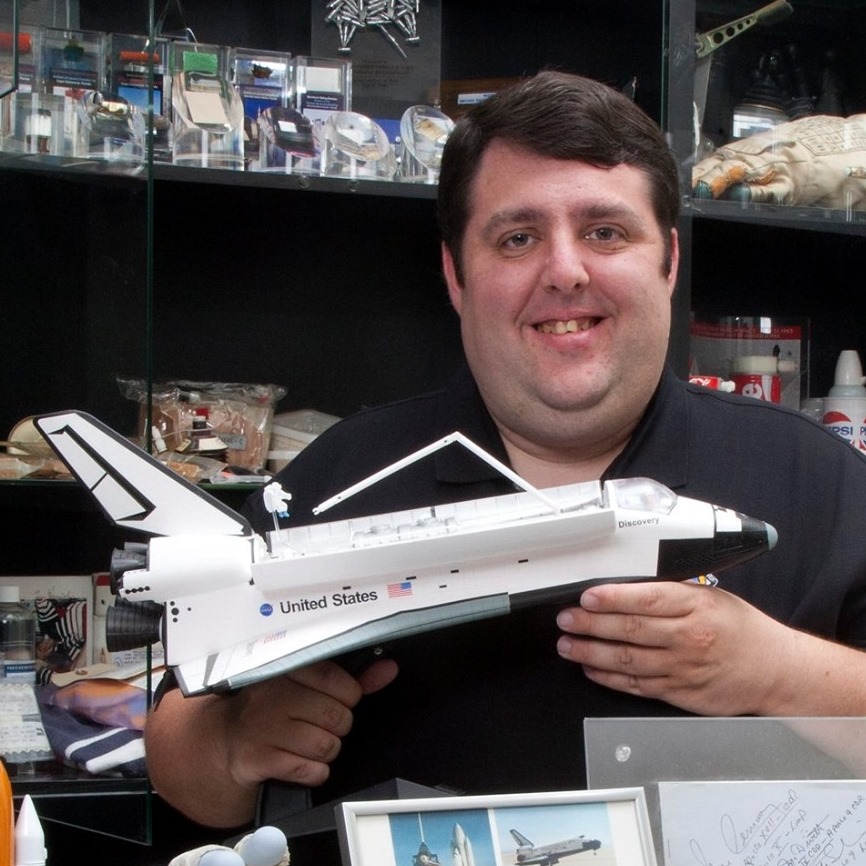 collectSPACE.com Editor, Space.com Contributor
Robert Pearlman is a space historian, journalist and the founder and editor of collectSPACE.com, an online publication and community devoted to space history with a particular focus on how and where space exploration intersects with pop culture. Pearlman is also a contributing writer for Space.com and co-author of "Space Stations: The Art, Science, and Reality of Working in Space" published by Smithsonian Books in 2018. He previously developed online content for the National Space Society and Apollo 11 moonwalker Buzz Aldrin, helped establish the space tourism company Space Adventures and currently serves on the History Committee of the American Astronautical Society, the advisory committee for The Mars Generation and leadership board of For All Moonkind. In 2009, he was inducted into the U.S. Space Camp Hall of Fame in Huntsville, Alabama. In 2021, he was honored by the American Astronautical Society with the Ordway Award for Sustained Excellence in Spaceflight History.