'Prometheus' Writer Damon Lindelof Tackles 'Star Trek 2' Rumors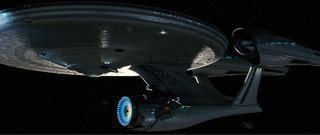 (Image credit: Paramount Pictures.)
Speculation abounds when it comes to the role Sherlock star Benedict Cumberbatch will play in the upcoming sequel to Star Trek, 2009's big-screen reboot of the sci-fi franchise. One of the most popular rumors has him playing Khan Noonien Singh, the superhuman villain famously played by Ricardo Montalban in both the original television series and in 1982's Star Trek II: The Wrath of Khan — but the truth remains a closely guarded secret.
Among the people not giving anything away is the still-untitled sequel's co-writer, Damon Lindelof, who did offer a few details about the actor's role — and why he's perfectly cast for it — during the press junket for Prometheus, which he co-wrote with Jon Spaihts.
"[Benedict] is an amazing actor, and I think what's really exciting about him is he's already played this iconic role in redefining Sherlock Holmes. And since he's basically made Sherlock his own, when you cast somebody like him to play a role in Star Trek, obviously the primary question on the table is: Will he play someone we're familiar with in Trek canon or are they creating an entirely new villain?" explained Lindelof.
"I think when you cast a guy like Benedict, you're leaning into that wind," he laughed. "And all I can say is, either way, you're going to get an incredibly original interpretation of that character."
Still, while Lindelof stopped short of providing any clues about the character's identity, he did offer up some insight regarding the Sherlock actor's contribution to the grand experiment that is the new, rebooted Star Trek universe. [The Evolution of 'Star Trek'(Infographic)]
"What's great about putting him in that band is that we've already seen them play together, but he's bringing an entirely new instrument that makes the jazz riffs a little bit unpredictable and dangerous, at a frequency that is at times piercing and unsettling to hear, but ultimately makes beautiful music," he told SPACE.com.
Dropping the musical metaphor, the Prometheus co-writer compared Cumberbatch to one of the well-known stars of the dark, sci-fi adventure that premiered this week in the U.K.
"We just wrapped production [on the Star Trek sequel] two weeks ago, but having been on the set watching him do what he does, I couldn't be more thrilled with the result and am eagerly anticipating everybody's reactions to what he's done," continued Lindelof. "It's very rare when — and I felt this way about Michael Fassbender in Prometheus, too — you see these actors and you see their work, and then you put them in a mainstream, popcorn movie and they're still doing what they were doing in the little indie films or on the stage."
Until we learn the true identity of Cumberbatch's Star Trek character, speculation will continue to surround the Sherlock actor's role — but Trek fans can take solace in the fact that they only have until the film's January 2013 release date to wonder about it.
Actually, that's probably not helping, is it?
This story was provided by SPACE.com's sister site Newsarama. Follow SPACE.com for the latest in space science and exploration news on Twitter @Spacedotcom. We're also on Facebook and Google+.
Get the Space.com Newsletter
Breaking space news, the latest updates on rocket launches, skywatching events and more!