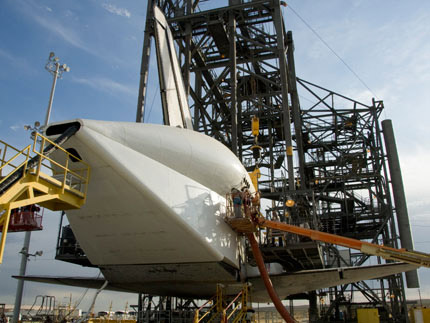 NASA postponed a cross-country trip home from California for the space shuttle Atlantis to no earlier than Monday due to bad weather.
Atlantis landed in California on May 24 after foul weather thwarted repeated attempts to return to its home port at the Kennedy Space Center in Cape Canaveral, Fla., following a successful mission to repair and upgrade the Hubble Space Telescope.
Thunderstorms and high winds prevented plans to begin flying Atlantis back home early Sunday from the backup landing site at Edwards Air Force Base in Southern California. The $1.8 million ferry flight is now slated to begin Monday at 8:20 a.m. EDT (1220 GMT), though it should be just before sunrise local time in California.
NASA will return Atlantis to Florida atop one of its two modified Boeing 747 jumbo jets, which have been converted to allow a 100-ton shuttle to ride piggyback for the trip home.
The flight is extremely weather dependent, since carrier craft cannot fly through rain, turbulence or extreme cold in order to avoid damaging the thousands of heat resistant tiles lining the shuttle?s belly. The ferry flights typically make stopovers at military airbases while awaiting favorable weather, and can fly as low as 10,000 feet (3,048 meters) to seek out good conditions.
?Flight managers are looking at various options for the best route to the Kennedy Space Center,? NASA officials said in an update. ?Weather remains very dynamic.?
Atlantis is returning to Florida after a 13-day flight that marked the fifth and final service call on the 19-year-old Hubble Space Telescope. While shuttle technicians prepared the spacecraft for its trip home, Atlantis? sister ship moved into position for its planned June launch toward the International Space Station on Sunday.
Endeavour is slated to launch a crew of seven astronauts to the station on June 13 to deliver the last piece of outpost?s massive Japanese Kibo lab. Five spacewalks are planned during the 16-day mission.
Video - Emergency Drill: Danger on the Launch Pad!

Image Gallery - Shuttle Endeavour Blasts Off at Night

New Video Show - Hubble's Final Shuttle Service Call