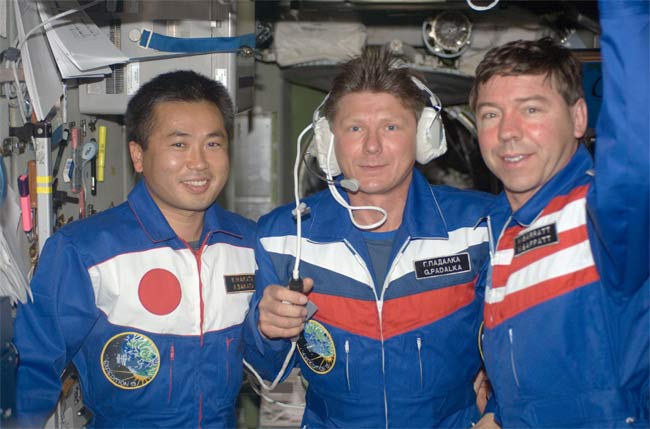 The three astronauts currently living aboard the International Space Station are more than mere space explorers. They?re also dedicated fathers working hard to keep in touch with their families while on the ultimate work trip 200 miles above planet Earth.
Expedition 19 commander Gennady Padalka, a Russian cosmonaut, and flight engineers Michael Barratt of NASA and Koichi Wakata of Japan have all left important people back on Earth.
Barratt, a first-time spaceflyer, spoke to his wife and each of his five children on March 28, shortly after arriving at the orbiting laboratory, which will be his home for about six months.
"Happy anniversary, and thanks for letting me do all this," he told his wife Michelle, since the occasion happened to be their wedding anniversary. "It was an awfully fun ride. I know we're going to miss you all but it's going to be a terrific 200 days up here."
Barratt's daughter Meeta told her father she was really proud of him, and then admonished him, "Don't break anything!"
"I'll try not to," he responded with a laugh.
Family at heart
Astronauts have said that the separation from their families and friends during long space missions, and during the even longer training periods on Earth, is one of the hardest parts of their jobs.
Barratt told reporters that talking to his family from space was a moving experience.
"I have two daughters and three sons to go with them and it was just wonderful to hear their voices up here," he said. "I think that they all sweated along with me during these years of training, and I think they?ve all had a pretty good idea of what it all meant to me before I launched. But seeing the launch actually, and seeing me come through the docking hatch and meeting people that they also know up here ? we?ve all gotten to know each other and are great friends ? I think it was incredibly meaningful for both of us. "
Aboard the space station, astronauts have an Internet Protocol phone to call their families whenever they have time, and can also communicate through video links and e-mail.
Padalka, a veteran spaceflyer, has three daughters ? Yulia, Ekaterina and Sonya ? with wife Irina.
After arriving for his second tour of duty on the ISS, Padalka spoke to one of his girls. "I already miss you. I love you, my sweet little girl," he said in Russian.
"Say hi to all the crewmembers," his daughter responded, according to a translator. "Hugs and kisses, Dad."
Wakata, who is serving as his nation's first long-duration astronaut, has one son, age 10, with his wife Stefanie.
Astronauts in the past have occasionally had to miss important family events going on back home.
In 2004, NASA astronaut Michael Fincke was orbiting the Earth as an Expedition 9 flight engineer when his second child, daughter Tarali, was born. He spoke to his wife by telephone during the delivery, but had to wait until he landed four months later to meet his daughter for the first time.
Fincke recently completed his second tour of duty on the space station as Expedition 18's commander, and landed safely in Kazakhstan aboard a Russian Soyuz spacecraft on Wednesday.
In December 2007, NASA astronaut Daniel Tani's 90-year-old mother died in an auto accident while he was completing a long-duration stay on the space station. The astronaut had to grieve from more than 200 miles away in orbit, until he came back to Earth about two months later.
Video - Dads in Space: Family Time on the ISS
Video - Expedition 19: Priming ISS for Larger Crew
New Show - Inside the International Space Station