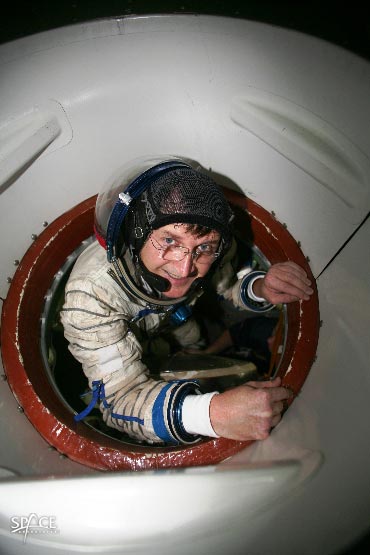 With his bags packed and his menu set, American entrepreneur Charles Simonyi is ready to launch towards the International Space Station (ISS).
The Hungary-born billionaire is on track to rocket towards the ISS with two Russian cosmonauts aboard their Soyuz TMA-10 spacecraft, now being primed for an April 7 liftoff at the Central Asian spaceport of Baikonur Cosmodrome in Kazakhstan.
"The sight of the booster is staggering, even in its horizontal position," Simonyi wrote this week on his mission blog at his Web site www.charlesinspace.com. "The scale is very large, not as big as the Saturn V on display, but large nonetheless, plus it is here and now and ready to go."
Flying in space has been a lifelong dream for Simonyi, 58, who memorized the names of each dog to fly in space as a child and, at age 13, represented then-Communist Hungary as a Junior Cosmonaut on a trip to Moscow. Now, the former Microsoft software developer is an accomplished pilot with his eyes on orbital spaceflight.
"I had no basis for what to expect and I went into this project with a lot of hope," Simonyi told SPACE.com in a prelaunch telephone interview, adding that all his hopes and more have been met.
Simonyi is reportedly paying about $25 million for his 13-day flight to the ISS under an agreement between Russia's Federal Space Agency and the Virginia-based firm Space Adventures.
Riding along with Simonyi are ISS Expedition 15 commander Fyodor Yurchikhin and flight engineer Oleg Kotov, of Russia's Federal Space Agency, who will join NASA astronaut Sunita Williams aboard the station as the outpost's new crew.
The Martha Stewart touch
Simonyi will not turn up at the ISS porch empty handed. He is bringing with him a six-course meal selected by close friend Martha Stewart and prepared by French chef Alain Ducasse's ADF consulting center.
The meal includes quail roasted in Madiran wine, duck breast 'confit' with capers, shredded chicken parmentier and other gourmet specials that Simonyi intends to share with the Expedition 14 and 15 astronauts.
"I am really looking forward to sharing this dinner with my crewmates on the station," Simonyi wrote in a blog entry.
Simonyi told SPACE.com that Stewart will be on hand to watch his launch from Earth Saturday.
"Martha is coming to the launch together with 50 other friends and I think she will have a great time," Simonyi said.
Stewart called the space station's Expedition 14 crew in January and spoke with Williams and ISS commander Michael Lopez-Alegria during a taping of her show Martha Stewart Living.
"Now Suni, please take care of Charles while he's there," Stewart asked Williams during the call. She later told USA Today that she and Simonyi were dating.
"He says he's very organized...anything you have to clean, he's very good at it," Stewart added.
Experiments galore
For Simonyi, flying in space for 13 days is more than a sightseeing tour. The space tourist plans to perform a series of experiments for the European Space Agency (ESA), Japan Aerospace Exploration Agency (JAXA) and Hungarian Space Office.
"As the world's fifth space tourist I think I have an obligation to assist with space station research and to participate in experiments on behalf of international space agencies," Simonyi has said.
For JAXA, Simonyi will conduct a series of tests on high-definition computer cameras as part of an ongoing evaluation of how their charged couple devices (CCDs) degrade in space environment. He will also use a Pille dosimeter for the Hungarian Space Office to help map the radiation environment aboard the ISS.
"It is my hope that through this research project, we will be one step closer to a future human permanence in space," Simonyi said of the radiation study.
Simonyi also expects to serve as a test subject for a series of ESA experiments aimed at understanding how the human body adapts to spaceflight.
The experiments cover a range of targets, including: temporary anemia astronauts experience after spaceflights, the influence of muscle changes on lower back pain in orbit, the effects of space radiation on ISS crewmembers and a study of the different microbes currently living aboard the orbital lab alongside its human inhabitants.
Simonyi also plans to speak with students from aboard the ISS during three HAM radio sessions, recordings of which will be posted to his Web site.
"The hundreds of questions I've already received from children around the world on my Web site are very mature and intelligent," Simonyi said in a statement. "It's clear that today's young people are eager to learn about space and space travel, and it is great!"
IMAGES: Space Tourist, Expedition 15 Crew Train for Launch