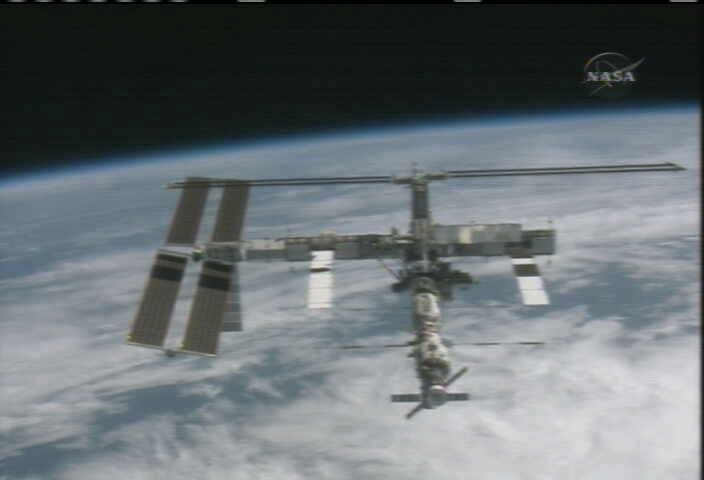 This story was updated at 12:08 p.m. EDT.
HOUSTON - NASA's space shuttle Atlantis undocked from the International Space Station (ISS) Sunday carrying a satisfied six-astronaut crew that jump started construction of the orbital laboratory.
With their successful delivery of two expansive solar arrays and a 17.5-ton pair of new portside trusses to the ISS, Atlantis' STS-115 astronauts left a larger space station than the one they docked with on Sept. 11.
"We're leaving it in an entirely different configuration than it was in when we arrived," Atlantis pilot Chris Ferguson told reporters Saturday.
The shuttle cast off from the ISS just seconds shy of 8:50 a.m. EDT (1250 GMT), but not before the six STS-115 astronauts - commanded by veteran spaceflyer Brent Jett - gave hearty farewells, hugs and handshakes with the space station's three-man Expedition 13 crew.
"It was a great mission, thanks for all the good work," Expedition 13 flight engineer Jeffrey Williams told Jett as the crew departed. "We look forward to seeing you back in Houston."
After undocking, Ferguson flew Atlantis in an orbital loop around the ISS to provide his STS-115 crewmates - and flight controllers on Earth - their first wide view of the station's metamorphosis in the last week, which saw the addition of the $372 million Port 3/Port 4 (P3/P4) trusses and new solar arrays with a 240-foot (73-meter) wingspan.
"It was really a spectacular site to see your vehicle while looking down at the Earth," Jett told the station's Expedition 13 crew. "It was fun working with you guys and be safe the rest of your mission."
While engineers are eager for the new ISS fly-around photography to study the station's new outline and structure, STS-115 lead shuttle flight director Paul Dye confessed that, for his part, the pictures alone would be worth it.
"There will probably be as many cameras as there are available, and as many guys at the windows as there is space," Dye said Saturday of the STS-115 crew. "I just think it's going to be gorgeous."
Atlantis is currently scheduled to land at the Shuttle Landing Facility of NASA's Kennedy Space Center in Cape Canaveral, Florida at 5:57 a.m. EDT (0957 GMT) on Sept. 20. The STS-115 mission is NASA's first ISS construction flight since late 2002 and the third shuttle flight since the 2003 Columbia accident.
Orbital construction success
Today's undocking marked the end of a busy week of joint operations for Atlantis' STS-115 crew.
"This mission has gone extremely well," Jett told ABC News Saturday. "We've accomplished all of our primary objectives in the construction of the space station."
The Atlantis astronauts staged three spacewalks in four days to connect the new P3/P4 trusses, wire them up with vital power and data connections, unfurl the new solar arrays and perform other assorted tasks.
"These EVAs were not easy, and the fact that everybody said that they looked easy is a compliment to these three other people here and me," STS-115 astronaut and veteran spacewalker Joseph Tanner told CBS News, referring to his spacewalking partners Heidemarie Stefanyshyn-Piper, Daniel Burbank and Steven MacLean, of the Canadian Space Agency. "We appreciate it, thank you very much."
Jett told reporters that the STS-115 mission was so busy that he and his crew rarely took what few personal hours they had in the morning and evening to enjoy or reflect on their spaceflight.
"Mostly, our pre- and post-sleep for the last couple of days has been spent working," Jett said, adding that Saturday was the first morning off the crew had. "We've been actually using that time to stay ahead [of schedule]."
Heat shield inspections ahead
Atlantis' STS-115 astronaut crew still has some work ahead as they prepare for their Earth return.
On Monday, the astronauts will again poise Atlantis' 50-foot (15-meter) inspection boom at the tip of the shuttle's 50-foot robotic arm to scan sensitive heat shield areas for damage.
Dye said the survey, which includes a comprehensive look at Atlantis' carbon composite-lined wing leading edges and nose cap, is an exact mirror of the STS-115 crew's Sept. 10 inspection on Flight Day 2. The survey will scan for any signs of damage or impacts from micrometeorites or orbital debris, he said.

Aboard the ISS, however, Expedition 13 commander Pavel Vinogradov, Williams and flight engineer Thomas Reiter still have a busy few days ahead of them. Early Monday, new Expedition 14 commander Michael Lopez-Alegria and flight engineer Mikhail Tyurin will launch toward the ISS with spaceflight participant Anousheh Ansari.
Lopez-Alegria and Tyurin will relieve Vinogradov and Williams, who have lived aboard the ISS since April, and welcome Reiter into their Expedition 14 ranks.
Later on Monday, the Expedition 13 crew will discard a trash-laden Progress 21 cargo ship to make way for the Expedition 14 crew's arrival.
New Gallery: STS-115 Spacewalks
Gallery: STS-115: Atlantis's Launch Day
Complete Space Shuttle Mission Coverage
NASA's STS-115: Shuttle Atlantis to Jump Start ISS Construction
The Great Space Quiz: Space Shuttle Countdown
Complete Coverage: ISS Expedition 13