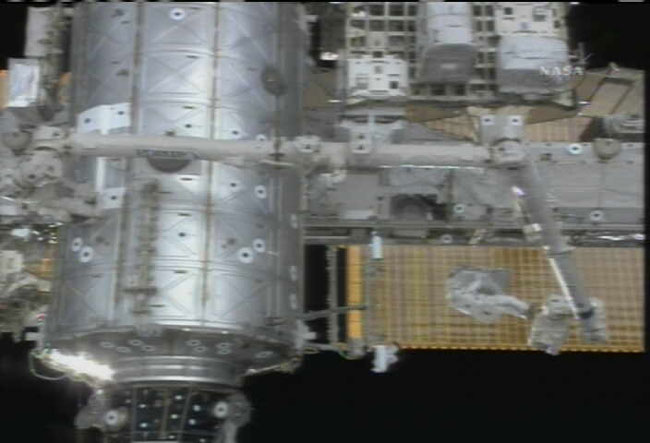 HOUSTON - There was a lot riding on today's spacewalk outside the International Space Station (ISS) and two shuttle astronauts did not disappoint, NASA officials said Monday.
"It was a big deal," Rick LaBrode, lead ISS flight director for NASA's STS-121 mission, told reporters. "To get it behind us is a great feeling."
STS-121 spacewalkers Piers Sellers and Michael Fossum spent almost seven hours outside the ISS to stow a spare cooling system pump and replace a broken cable reel for the station's Mobile Transporter. Both tasks will allow NASA to forge ahead with a precisely choreographed series of 16 space shuttle missions - including STS-121 - to complete the orbital laboratory and staff it with six full-time astronauts.
"The assembly sequence is set to proceed fast and furious here, we're only six or seven weeks away from the next mission," said Phil Engelauf, chief of NASA's STS-121 mission operations representative, during a briefing here at NASA's Johnson Space Center. "Seeing how everything has worked here, we have a green flag to press ahead."
NASA's first ISS construction mission since late 2002 - STS-115 aboard the Atlantis orbiter - is slated to launch on Aug. 28 to deliver a pair of new solar panel wings and their massive truss mast to the orbital laboratory. The space agency hopes to launch STS-116 aboard Discovery in December to continue the orbital ISS construction effort.
But much of that work hinged on restoring the backup power and data cable system for the station's Mobile Transporter, which will be used to haul large ISS components into position along the outpost's main truss. Today's spare pump module installation was also originally slated for the STS-116 crew, but was pushed earlier to get ahead on the many tasks needed to support the ISS.
Discovery's STS-121 mission is NASA's second orbiter flight since the 2003 Columbia accident and is at the midpoint of a 13-day flight to the ISS. Sellers, Fossum and their shuttle crewmates launched toward the ISS on July 4 carrying tons of supplies, a new station astronaut and a mission to complete NASA's orbiter inspection and repair tests before the flight is through.
"The mission is going great," Engelauf said. "The health of the vehicle is great and we're not really working any particular problems."
A tough spacewalk
There may be no major problems but Discovery spacewalkers Sellers and Fossum certainly had their share of frustrating moments during their Monday spacewalk, which marked the second of three planned for their STS-121 mission.
"We definitely knew it wasn't going to be simple," LaBrode said, adding that the spacewalk included many complicated tasks.
The astronauts had to work through stuck bolts (the solution: twist the screw harder), a stubborn spring that prevented initial attempts to install the new cable reel in place, and a lot of bumping that ultimately knocked Sellers' emergency thruster system loose.
Sellers was connected to Discovery or the ISS with two tethers at all times, and not in danger of drifting free, but spacewalk planners were concerned the Simplified Aid for EVA Rescue (SAFER) thruster system could separate from his spacesuit and pose a debris hazard for the orbiter or station. Fossum later reengaged the latches to lock Sellers' SAFER system into its fittings.
"I wasn't worried about the crew at all," said Tomas Gonzalez-Torres, lead spacewalk officer for the STS-121 mission.
Gonzalez-Torres said his STS-121 spacewalking astronauts and ground crew performed above the bar during the orbital repair, and were on schedule - and ahead at some times - through the six-hour and 47-minute activity.
"I couldn't have asked for a better crew," Gonzalez-Torres said. "These guys were fantastic.
Gallery: Shuttle's First Flight
Gallery: Rare Space Shuttle Images
Shuttle Discovery: Complete Mission Coverage
Great Space Quizzes: Space Shuttle Countdown
Great Space Quizzes: The Space Shuttle
Great Space Quizzes: Life in Orbit