It's impossible to talk about astrotourism without mentioning Utah.
The Beehive State in the southwest of the U.S. is home to no fewer than 22 national parks, state parks and other beauty spots protected by the International Dark-Sky Association (IDA). Some, like Arches, Canyonlands and Bryce Canyon are world famous not only for their dark skies but for their incredible red rock scapes that make them a magnet for astrophotographers as well as stargazers.
Even to list every International Dark Sky Park would be to merely scratch the surface because Utah — population 3.3 million (mostly concentrated around Salt Lake City) — has an uncountable amount of other dark locations. Canyons that block light from nearby towns, hotels with observatories on top, remote mountain ranges and scenic stops on quiet highways through vast empty landscapes.
Related: The ultimate guide to planning epic stargazing road trips in the US southwest
How to find a dark sky in Utah
Utah is huge and mostly empty, with about 80% of its 3.5 million population living in the 'Wasatch Front' between Logan via Salt Lake City and Provo in the north of the state.
To best understand Utah as a stargazing destination have a look at DarkSiteFinder.com or any light pollution map. Then scour the recreational maps on the Bureau of Land Management, the National Forests and America's Scenic Byways for out-of-the-way campsites, many of which are as dark as anywhere on the planet. You'll find them to the east, the south and the west of Salt Lake City.
Astrophotography in Utah
Top telescope pick!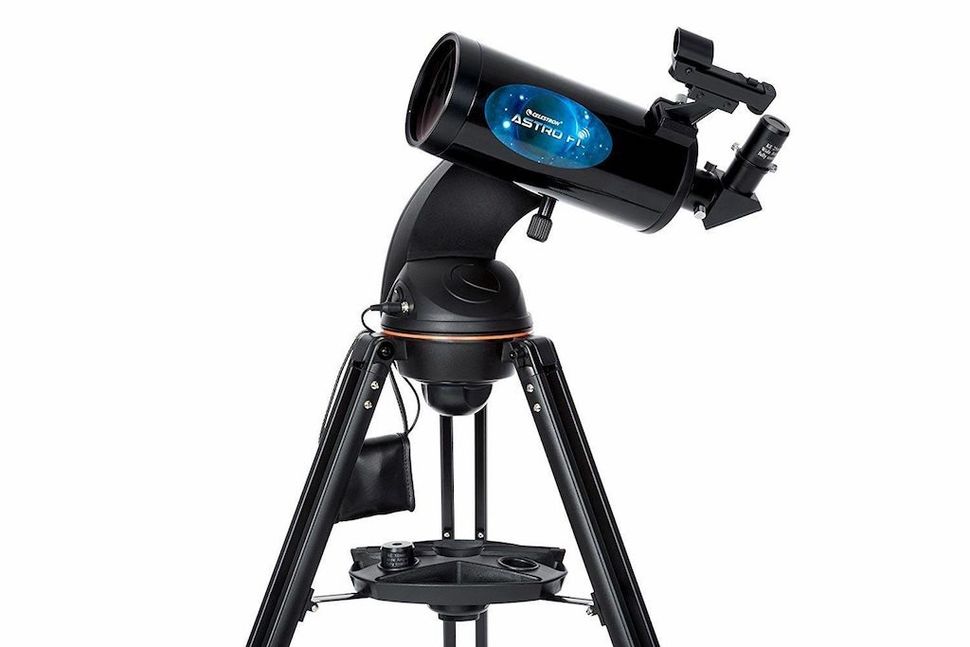 Looking for a telescope to see the features of the stars, moon and planets up close? We recommend the Celestron Astro Fi 102 as the top pick in our best beginner's telescope guide.
"The landscape is so varied — there are beautiful tall snowy mountains, winding red rock canyons, arches, and everything in between," Bettymaya Foott, an astrophotographer and Director of Engagement at the International Dark-Sky Association told Space.com in an email.
"The juxtaposition of a beautiful starry sky against a breathtaking landscape makes it pretty hard to take a bad photo." If you want to avoid the crowds, check out some of the lesser-visited Utah State Parks. "Goosenecks State Park is incredibly beautiful, and you don't have to hike to get to an amazing viewpoint and set up all your heavy equipment," says Foott. "Goblin Valley State Park also has amazing hoodoos to play around with infinite compositions and you feel like you're on another planet."
If you're looking to make a trip to a dark sky park and are looking for a telescope or binoculars to help your observations our guides for the best binoculars deals and the best telescope deals now can help. Our best cameras for astrophotography and best lenses for astrophotography can also help you prepare to capture the next skywatching sight on your own.
Utah's best International Dark Sky Parks
If you're after car parking, facilities and accommodation — from camping to luxury hotels — then you'll be happiest in a Dark Sky Park, which includes National Parks, State Parks and National Monuments. Most also offer stargazing programs in spring and summer conducted by Dark Sky Rangers (check each location's official website for details). Each park is rated here by Go Astronomy for its darkness using the Bortle scale — a measure of the quality of the night sky for a particular location — with 1 being "Excellent dark‑sky site" and 2 being a "truly dark site".
Related: 21 amazing dark sky reserves around the world
Southeast Utah
Northeast of Las Vegas on Interstate 15 brings you to Zion National Park, with Bryce Canyon National Park and Kodachrome Basin State Park to the east and Cedar Breaks National Monument to the north forming a triangle of stargazing destinations.
Cedar Breaks National Monument
Bortle: 2
About 250 miles south of Salt Lake City, Cedar Breaks National Monument has locations that double as places to gawp at both the incredible amphitheater of eroding arches, towers and hoodoos (irregular columns of rock), and the night sky. As a bonus it's all at 10,000 feet, so offers crystal-clear conditions under clear skies (wrap up warm!). Very close is the small ski resort of Brian Head. It holds weekly star parties in summer.
Bryce Canyon National Park
Bortle: 2
Home to the oldest astronomy program in the National Park Service, but an International Dark Sky Park only since 2019, Bryce Canyon National Park is a small park on a ridge overlooking a natural amphitheater of hoodoos and spire-shaped red rock formations. Visit Sunrise Point, Sunset Point, Inspiration Point and Bryce Point for exquisite views both day and night thanks to the park's high elevation of about 9,000 feet (wrap up warm at night!). The excellent visitor's center at the entrance hosts astronomy lectures, many of which include telescopes lined up outside for deep-sky viewing. There's also an annual astronomy festival.
Kodachrome Basin State Park
Bortle: 2
Just 30 minutes from Bryce Canyon, but far less visited, the Kodachrome Basin State Park is a region of dozens of hoodoos and multicolored spire-like sedimentary pipes that make it a great alternative to its more famous neighbor. With fewer visitors, it's the perfect place for astrophotography.
Southcentral Utah (darkest zone)
A great way to see the darkest areas of Utah, as well as some of its unmissable parks, is to travel the Highway 12 Scenic Byway. It takes in Bryce Canyon National Park, Kodachrome Basin State Park, Grand Staircase-Escalante National Monument and Capitol Reef National Park, with Goblin State Park conveniently placed if you plan to travel on to Arches National Park, Canyonlands National Park and Dead Horse Point State Park.
Capitol Reef National Park
Bortle: 1
Another often overlooked stop, Capitol Reef National Park is conveniently placed if you're driving to Arches and Canyonlands from Salt Lake City. Its slot canyons, domes and red rock cliffs have plenty of places to go stargazing, but as well as being an attraction itself, the nearby town of Torrey is also a Dark Sky Community.
Goblin State Park
Bortle: 1
On the western edge of Canyonlands, this extraordinary — and very remote — valley best visited on an epic trip between Moab and Bryce Canyon is all about its strange and colorful mushroom-shaped sandstone pinnacles, known as goblins. The campground at Goblin State Park has 14 sites for vehicles, 10 for tents and two yurts.
Eastern Utah
This is the most frequently visited area of Utah for anyone after dark skies and red rocks. It makes sense to stay in gateway town Moab though there are plenty of places to camp in and around Arches National Park, Canyonlands National Park and Dead Horse Point State Park.
Arches National Park
Bortle: 2
The most famous and most visited destination in Utah, Arches National Park has become a victim of its own success. April 2023 sees the start of timed entry tickets to reduce traffic, though you can easily come and go at night. It's not a large park, but there are some distinct areas to explore at night. Delicate Arch is a 30-minute hike from a dedicated car park, while The Windows area has several arches to explore in a small area. Balanced Rock is right by the main road through the park. The super-slim Landscape Arch is accessed via Devil's Garden Trail, which is also where you'll find the Devil's Garden campground, which can be booked in advance.
Canyonlands National Park
Bortle: 1
Canyonlands National Park's vast region of 527 square miles covers two distinct areas — the high-elevation Islands In The Sky area accessed north of Moab and The Needles area of spires, pinnacles and canyons below that's visited from a separate entrance south of Moab. The former gives sweeping views over the Green and Colorado rivers and also includes Mesa Arch, an iconic sight often captured with the Milky Way in the background (come in sporing for that) and at sunrise.
Dead Horse Point State Park
Bortle: 1
The first Utah State Park to achieve IDA certification, Dead Horse Point State Park, adjacent to Canyonlands National Park is often bypassed. Don't do that because the views of a bend in the Colorado River from 2,000 feet above the south-facing Dead Horse Point Overlook are unbeatable. The Rim Trail offers incredible vantage points while conveniently positioned is the Kayenta Campground, which can be booked in advance, and has picnic tables, fire rings, tent pads and electrical hookups. The visitors center close by conducts regular stargazing sessions.
Southeastern Utah
This part of Utah is most often visited on an itinerary that takes in the dozens of National Parks and beauty spots of the Four Corners region of the southwest U.S. which includes Colorado, New Mexico and Arizona.
Natural Bridges National Monument
Bortle: 2
The first International Dark Sky Park in the world in 2009, Natural Bridges National Monument is as remote as it gets — just check a light pollution map for proof of that. There's a first-come-first-served served campsite and its three major arches — Kachina, Owachomo and Sipapu — can be visited day or night from close to a circular loop. Park rangers give interpretive discussions on astronomy in spring and summer.
Goosenecks State Park
Bortle: 1
Conveniently placed if you're traveling from Natural Bridges National Monument to Monument Valley Tribal Park on the Utah-Arizona border, Goosenecks State Park, the high desert close to Mexican Hat has an incredible view looking north over an entrenched meander (a 'gooseneck') in the San Juan River 1,000 feet below. It's a fabulous place for stargazing and astrophotography. It's been an International Dark Sky Park since 2021.
Additional information
The International Dark-Sky Association (IDA) is working to preserve the night sky for its cultural and scientific value and to do that it has worked with countries to create dark sky reserves and parks around the world.
For an area to be certified as a Dark Sky Reserve it must meet the minimum criteria for sky quality and natural darkness and go through a rigorous application process with the IDA. You can learn more about their processes on the IDA's official website.
For more information and guidance for a Utah-based stargazing trip, the tourism website VisitUtah.com has a wealth of useful resources. This article was written with travel supported by VisitUtah.com.