If you're stuck at home under coronavirus quarantine and looking for a change of scenery, check out these "Star Wars" backgrounds (opens in new tab) designed for video calling backgrounds.
Here's the collection of locations from the "Star Wars" galaxy, including everywhere from Cloud City, to Coruscant, to Tatooine, to the Death Star (opens in new tab), and many more.
Got a comment? There's lots of conversation on Newsarama's Facebook and Twitter!
Originally published on Newsarama (opens in new tab).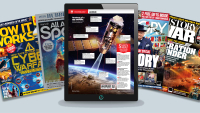 (opens in new tab)