When astronauts aboard the International Space Station call down to Earth, they refer to it as "space to ground."
For a call they made on June 7, however, a slightly different term was merited.
"This is Chris Cassidy, Bob Behnken and Doug Hurley on the International Space Station, wonderful to hear you and connect from space to the surface (opens in new tab)," the NASA astronauts radioed to the DSSV Pressure Drop, the support ship for the world's first and only commercially-certified, full-ocean-depth deep submergence vehicle, or DSV.
"It's great to connect with you," replied Kathy Sullivan (opens in new tab), who only hours earlier had returned from diving to Challenger Deep, the deepest point on Earth. "Victor Vescovo, the pilot of the [DSV] Limiting Factor, and I are back on the surface ship at this point."
Related: Astronaut-aquanauts: 50 people who orbited Earth & lived undersea (opens in new tab)
"Kathy is the first astronaut to go down to the bottom of the ocean," Vescovo said, "and the first woman. So we're very proud of her."
On June 6, Sullivan became the eighth person and first woman (opens in new tab) to reach the very bottom of the Mariana Trench, a depression nearly 7 miles (11 kilometers) down in the Western Pacific Ocean called "Challenger Deep." Thirty-six years earlier, during the first of her three space missions as a NASA astronaut, Sullivan became the first American woman to walk in space (opens in new tab).
"Looked a little more like the moonscape than anything I've seen on this planet so far," Sullivan said, describing the deep sea floor to the three NASA astronauts orbiting 250 miles (400 km) above Earth. "We spent about an hour and a half on the bottom [and] rendezvoused with one of our autonomous landers."
"That's outstanding Kathy, congratulations, what a great accomplishment (opens in new tab)," said Cassidy, the commander of the space station's Expedition 63 crew and a former U.S. Navy SEAL. In 2009, on his first mission, Cassidy became the 500th person to launch into space.
Cassidy's two American crewmates, Hurley and Behnken, made history of their own by becoming the first U.S. astronauts to launch on a commercial rocket and spacecraft. The two arrived at the space station aboard SpaceX's Crew Dragon capsule (opens in new tab) on May 31.
"Like your ride, Doug and Bob, the SpaceX vehicle, [the Limiting Factor] was designed to be reusable. It is the only craft that's been down to the Challenger Deep more than once," said Vescovo. "So congratulations on your incredible journey on the Dragon."
"Thank you for that, Victor," replied Behnken. "Doug and I are really excited for our mission as a first, but the chance to have the vehicle reused three, four and multiple times is an outstanding accomplishment, one that the SpaceX team hopes to accomplish as well."
The Crew Dragon capsule was designed by SpaceX to launch into orbit five times.
At the time of the space-to-sea call, the Limiting Factor had been down to Challenger Deep (opens in new tab) four times over the course of two expeditions in 2019 and 2020. As of Sunday (June 21), it had made three more descents, including dives with Vanessa O'Brien, who also summited Mount Everest, and Kelly Walsh, the son of Don Walsh, one of the first two people to reach Challenger Deep in 1960.
"The number of people who have dived to the deepest point in the ocean finally equals the number who have walked on the moon — 12. It only took 51 years," said Sullivan in a later social media post.
Vescovo joked with Behnken and Hurley that SpaceX CEO Elon Musk (opens in new tab) could add to that number.
"Definitely tell your boss if he gives me a ride in his, I'll give him a ride in mine," said Vescovo, who underwrote the build of the multi-million dollar Limiting Factor by Triton Submarines and financed the current dives led by EYOS Expeditions and his own Caladan Oceanic.
"Yeah, just like you alluded to, it's above our pay grade who gets a ride," replied Behnken.

Sullivan also likened her submersible ride to a trip on a rocket ship.
"It's like having a craft that can make daily trips to the moon considering how exotic and impossible it has been in all of history up until now to get to Challenger Deep," she said.
More than just a sightseeing voyage, Sullivan and Vescovo's dive was part of a series of scientific excursions (opens in new tab) to survey Challenger Deep and map the U.S. Exclusive Economic Zone at the request of the National Oceanic and Atmospheric Administration (NOAA), the federal agency that Sullivan previously led as its 10th administrator from 2014 to 2017.
"Congratulations on your scientific accomplishments in the deep underwater as we're trying to accomplish the same on the International Space Station (opens in new tab)," said Behnken. "Doug and I were able to arrive up here and add, I guess, maybe two working, helping hands between the two of us to Chris' helping hands to keep the space station operating, both to accomplish science, but also to support us on board."
Sullivan extended the similarities between her astronaut experience and her achievement as an aquanaut by having a mission patch for her dive (featuring the tagline, "The Most Vertical Girl in the World"). She was also the first person to wear a badge to signify having reached "10+ km" deep that space patch artist Tim Gagnon styled after NASA's "Mach 25" emblems awarded to astronauts after they return from Earth orbit.
Though rare, Sullivan's call was not the first astronauts to astronaut-aquanaut call.
In 1965, Gemini 5 (opens in new tab) crewmates Gordon Cooper and Pete Conrad briefly spoke with Mercury astronaut Scott Carpenter, who at the time was aboard the U.S. Navy's SEALAB II experimental underwater habitat, 205 feet (62 m) down off the coast of southern California. Four decades later, astronauts on board the International Space Station connected with astronaut-aquanauts (opens in new tab) conducting a NEEMO (NASA Extreme Environment Mission Operations) mission on the Aquarius undersea lab 62 feet (18 m) below the surface off the coast of Florida.
Sullivan and the Expedition 63 (opens in new tab) crew members concluded their own long distance call with an agreement to meet in the future to further discuss their experiences.
"Maybe someday we can meet and talk about it someplace in the middle of the deep sea or [on] the International Space Station in low Earth orbit," said Behnken.
"That's a deal!" said Sullivan. "I'll buy the first beer, you buy the second."
Click through to collectSPACE (opens in new tab) to hear the call between astronaut-aquanaut Kathy Sullivan and the space station.
Follow collectSPACE.com on Facebook and on Twitter at @collectSPACE. Copyright 2020 collectSPACE.com. All rights reserved.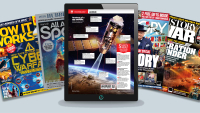 (opens in new tab)