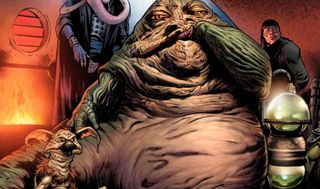 (Image credit: Marvel Comics)
40 years ago, the original "Star Wars" trilogy came to a climax when "Return of the Jedi" hit the theaters on May 25, 1983.
The film brought us iconic "Star Wars" moments such as Luke and Leia revealed to be siblings, Darth Vader set aflame in a funeral pyre, Yoda dying in his hut on Dagoba, the Empire's second Death Star destroyed and Ewoks singing the celebratory "Yub-Nub" song.
To salute the film's 40th anniversary, Marvel Comics is bringing out a series of "Return of the Jedi" birthday issues starring fan-favorite legacy characters like Jabba the Hutt, Boba Fett, the Ewoks, Lando Calrissian, Emperor Palpatine, Chewbacca, Imperial Stormtroopers, Bib Fortuna, the Gamorean Guards and many more.
The storylines of each double-sized one-shot take place right before the climactic events depicted in 1983's "Star Wars: Return of the Jedi."
First out of the gate is "Star Wars: Jabba's Palace #1" written by Hollywood screenwriter Marc Guggenheim with artwork courtesy of Alessandro Miracolo.
Here's the official description:
WHO IS PLOTTING TO OVERTHROW JABBA THE HUTT?
Jabba's palace is one of many places to find the vilest of scum and villainy relaxing, wet their whistles and indulge their vices … who would ever want that to end? Well, SOMEONE has Jabba in their sights! Beginning a series of one-shots spotlighting the "Return of the Jedi" era, Marc Guggenheim ("Han Solo & Chewbacca") and Alessandro Miracolo ("Obi-Wan") bring you a tale of Jabba's Palace you won't soon forget.
Arriving close on its heels is "Star Wars: Ewoks #1" on April 12, featuring the lovable critter tribes residing on the verdant forest moon of Endor.
This fur-filled birthday one-off is written by Alyssa Wong ("Deadpool," "Adventure Time") and matched with wild art from Lee Garbett, Caspar Wijngaard, Kyle Hotz and Paulina Ganucheau, and an intimate variant cover composed by Ryan Brown.
Check out the storyline preview:
TALES OF THE EWOKS!
On the moon of Endor occupied by the species called Ewoks, a group of these stout creatures has gathered around the fire to recount tales of triumph, defeat … and horror! In the art-forward manner of storytelling, watch an eclectic group of artists interpret the stories from the unique minds of Ewoks in a manner only they can envision! This can't-miss issue for "Star Wars" fans of mirth, merriment and artistry is the book you've been craving!
Marvel Comics' "Star Wars: Jabba's Palace #1" lands on March 29, 2023 followed by "Star Wars: Ewoks #1" on April 12, 2023.
Get the Space.com Newsletter
Breaking space news, the latest updates on rocket launches, skywatching events and more!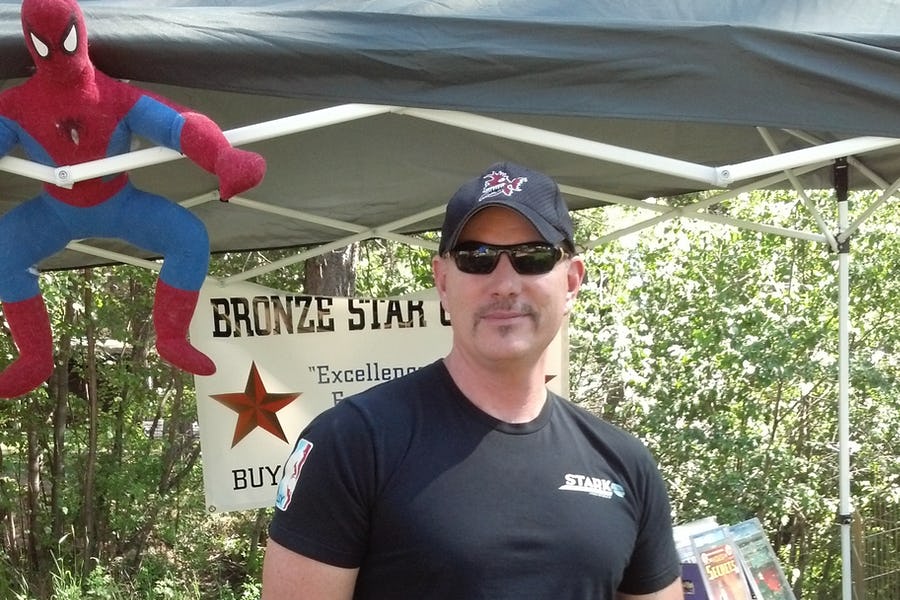 Jeff Spry is an award-winning screenwriter and veteran freelance journalist covering TV, movies, video games, books, and comics. His work has appeared at SYFY Wire, Inverse, Collider, Bleeding Cool and elsewhere. Jeff lives in beautiful Bend, Oregon amid the ponderosa pines, classic muscle cars, a crypt of collector horror comics, and two loyal English Setters.