Want to save big on a resin 3D printer? The Elegoo Mars 3 is going for a ridiculous $170 thanks to this Amazon Prime Lightning deal.
If you're looking to build small to medium sized prints and need fantastic 4K detail, then this resin printer is just what you need. Not only is it compact and easy to store and level, but it delivers fantastic quality as well.
With a 143 × 89 × 175 mm build area it won't handle full on cosplay pieces, but for smaller items it's a superb deal. That's why we class the Elegoo Mars 3 as one of the best 3D printers on the market today. Although we haven't tested the Mars 3, we did review it's cousin the Mars Pro 2 last year and we loved it.
Right now, you can buy the Mars 3 for just 170, a saving of over $100, so snap it up before this Lightning Deal ends.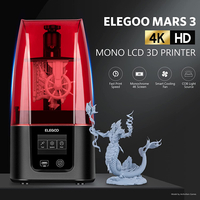 Elegoo Mars 3 resin 3D printer
Was: $273.99
Now: $170.99 at Amazon
Overview: This high-quality, high-detail resin printer is just what you need for printing figurines or other small to medium miniatures, and at this price it's a steal.
Key features: 4K resolution, 143 x 89.6 x 175 mm build volume, 3.5 inch LCD touchscreen.
Price history: Before today's deal, the Elegoo Mars 3 resin 3D printer has dipped as low as $190 at Amazon, but this is the lowest this printer has ever been. If you miss out on this lightning deal, don't worry, Elegoo is currently selling it for a cent more.
Price comparison: Elegoo: $171
Reviews consensus: The Elegoo Mars 3 resin 3D printer offers 4K resolution, ideal for printing super detailed miniatures. Its platform levelling is a breeze and it doesn't compromise on speed either. The case feels a little cheap, but otherwise it's a superb, speedy printer capable of delivering excellent quality prints.
Tom's Hardware: ★★★★
Buy it if: You want to produce super detailed small to medium-sized miniatures for gaming or display.
Don't buy it if: You want a bigger build volume or want to print and go. Resin prints need washing and curing to complete them which takes a bit of time.