Joining the expansive sci-fi narrative a century later, Apple TV+ has offered up a new season two trailer for its sweeping space epic that debuted in 2021, "Foundation."
Adapted from Isaac Asimov's seminal novels by showrunner David S. Goyer ("The Crow," "Blade," "Dark City," "The Dark Knight Trilogy"), "Foundation" is the thousand-year tale of the fall of a crumbling galactic empire and a cabal of exiled rebels attempting to prevent the long-lasting, devastating demise and resurrect its glory by using a calculated system of psychohistory.
Asimov's original series of "Foundation" tales first appeared in "Astounding Science-Fiction" magazine in 1942 before his short stories and novellas were collected into a trilogy of acclaimed novels starting in 1951, becoming an influential touchstone in the history of science fiction literature.
Apple TV+'s 10-episode second season of "Foundation" returns to the streaming service on July 14 – and picks up the intergalactic action more than 100 years after the events in the first season finale from November 2021 – and showcases the supreme talents of Emmy Award-nominated actors Jared Harris and Lee Pace with Lou Llobell and Leah Harvey.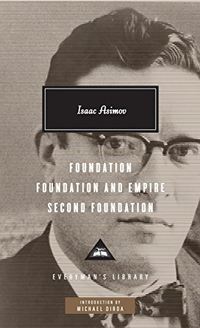 Foundation, Foundation and Empire, Second Foundation: Was $30 now $14.69 at Amazon.

See the books that started it all with Isaac Asimov's famed Foundation Trilogy series and the saga of the Galactic Empire.
Here's the official synopsis:
"Tension mounts throughout the galaxy in "Foundation" season two. As the Cleons unravel, a vengeful queen plots to destroy Empire from within. Hari, Gaal, and Salvor discover a colony of Mentalics with psionic abilities that threaten to alter psychohistory itself. The Foundation has entered its religious phase, promulgating the Church of Seldon throughout the Outer Reach and inciting the Second Crisis: war with Empire. The monumental adaptation of "Foundation" chronicles the stories of four crucial individuals transcending space and time as they overcome deadly crises, shifting loyalties and complicated relationships that will ultimately determine the fate of humanity."
Back for more galactic turmoil in this sophomore season are Laura Birn, Cassian Bilton and Terrence Mann, who will be joined by new castmembers that include Isabella Laughland (Brother Constant), Kulvinder Ghir (Poly Verisof), Ella-Rae Smith (Queen Sareth of Cloud Dominion), Holt McCallany (Warden Jaegger Fount), Rachel House (Tellem Bond), Nimrat Kaur (Yanna Seldon), Ben Daniels (Bel Riose), and Dimitri Leonidas (Hober Mallow).
Produced for Apple by Skydance Television, "Foundation" is executive produced by showrunner David S. Goyer alongside Alex Graves, David Ellison, Dana Goldberg, Bill Bost, Robin Asimov and Marcy Ross.
"Foundation" Season 2 enters orbit exclusively on Apple TV+ on July 14.