Looking for the finest Mandalorian merch this side of Tatooine? This is the way. OK, OK I got that one out of the way early. No more cheap references, I promise.
But if you are looking to start a career in interstellar bounty hunting, or at least want to dress up like everyone's favorite mercenary, then this replica Mandalorian Helmet from Denuo Novo is a fine place to start.
Denuo Novo is a relatively new kid on the block in the world of TV and movie replicas, having been founded in 2021. They're managed by Joel Weinshanker, the owner of National Entertainment Collectibles Association (NECA), so they have plenty of pedigree in the area of props and collectibles.
With the arrival of The Mandalorian season three, we thought we'd use the excuse to check out Denuo Novo's eye-wateringly expensive The Mandalorian helmet replica to see if it's worth its weight in credits. This stunning replica comes in at $700 and comes to us as the result of a collaboration with Lucasfilm. Denuo Novo were kind enough to send us one to review, so let's check it out.
And if you want to see more Star Wars coverage, stick with Space.com. Our The Mandalorian season 3 episode 1 review is live now, as well as reviews of other fantastic Mando merch, including the Lego Star Wars The Mandalorian's N-1 Starfighter set and the most adorable little guy in the galaxy, the Lego Star Wars The Child.
Denuo Novo The Mandalorian Helmet: Design
Denuo Novo have smashed it out of the park when it comes to the design of the helmet - it looks phenomenal. We've been poring over screenshots from the show for ages trying to find any imperfections or differences between the replica and the helmet that Din Djarin wears throughout the show. And honestly? We can't find any visual inaccuracies.
The shape and styling is perfect, from the iconic T-shaped visor to the bare metal finish. What sets this helmet apart from cheaper options on the market though is the weathering. Great attention has been paid to the built-up dirt and grime that the armor of a bounty hunter like Mando would have acquired out in the field. It's not just slapped on there randomly either - it looks exactly like we'd imagine a realistically worn helmet would look after a few trips to the outer rim.
If we're being picky, the reflective sheen of the helmet isn't quite as brilliant when compared to the shots we see in the show. You can certainly see your own face in the metallic surface, but it's not quite as reflective as it appears in the show - we're assuming this is because it's made from pewter-coated fiberglass and not an actual solid metal piece. This does at least mean that you're less likely to leave fingerprints all over the surface.
While the helmet itself is gorgeous, the packaging leaves a little to be desired. It comes well protected for sure, with packing peanuts for days, but there isn't any fancy box or packaging. t's just the helmet and a piece of card that shows the helmet and some information about it. Most things you can drop $700 on come with a nice box, is all I'm saying.
Denuo Novo The Mandalorian Helmet: Features & comfort
It's a helmet, so the feature list is pretty small. My testing process consisted entirely of checking the details against screenshots from the show, and turning up to all my Zoom meetings wearing it for a couple of days.
The Mandalorian Helmet fits up to a US size 8 hat size and comes with a foam-lined interior that makes it very comfortable to wear. There isn't a weight listed on the website, but ours came in at 3.22 lbs - enough to feel weighty and premium, but not so heavy that it's going to put a crick in your neck after protracted use. You also get some additional headliner pads to help ensure a snug fit for the helmet. These are machine washable and can be placed wherever you need thanks to the velcro attachment which hooks onto the helmet lining.
The dark purple-tinted visor is see-through and provides decent visibility when you're wearing it, though my own visibility was practically nonexistent because I couldn't fit this helmet over my glasses, so I had to be the visually-imparedalorian whenever I put it on. If you're a glasses wearer and considering picking this up, keep this in mind and maybe sort yourself out with some contact lenses for cosplaying. Your vision is somewhat limited when wearing the helmet as the bottom half/third of your vision is obscured by the 'cheeks', so you have to be careful where you place your feet.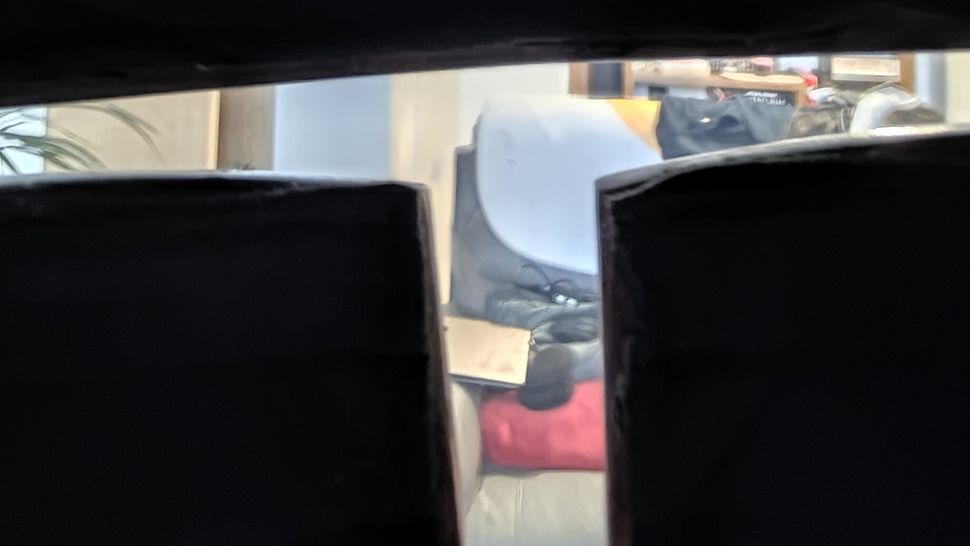 At some distances and angles, you can see the person wearing the helmet's face through the visor, which does ruin the illusion slightly, but it's probably a better trade off than the alternative of having the wearer not be able to see out of it at all. As it is, the visor is kind of like looking through tinted sunglasses.
Denuo Novo The Mandalorian Helmet: Price
I suppose it's time to address the elephant in the room - the cost. The Mandalorian Helmet costs a whopping $700 and can be purchased directly from the Denuo Novo store.
For reference, the official Black Series Mandalorian helmet has an MSRP of just under $150. That means you're paying almost five times more for this replica than you would for The Black Series version. Does the Denuo Novo version have any extra features to set it apart from the competition? Beyond the craftsmanship and detailing, no it does not.
Weirdly, you actually get less in some respects. The Black Series helmet has a fully detailed interior, while the Denuo Novo version comes with a foam lining. Now, this makes the Denuo Novo model far more comfortable to wear, so if you're looking for a cosplay option then this is the far superior choice.
The Black Series version also comes with an attachable, functional LED light, as well as two red interior lights, while the Denuo Novo version doesn't have any electronics at all. So, what are you paying all this extra money for? Build quality and attention to detail is the answer.
Whether it's worth all that extra money is up to you though. It's a stunning, screen accurate replica for sure, and the extra weathering and detailing do make it look a little nicer than The Black Series version, but five times nicer? That's a tough sell for all but die-hard collectors.
Should you buy the Denuo Novo The Mandalorian Helmet?
You already know whether you're the kind of person who is liable to drop $700 on a Star Wars replica helmet. This is a very niche product for a very niche audience - cosplayers and collectors who value screen accuracy and detail, and don't mind paying top dollar for it.
If that's you, and you're a massive fan of The Mandalorian then you'll certainly be impressed with what Denuo Novo has created here. It's a stunning replica and you can be sure I'll be wearing this thing around the house for weeks to come. But would I part with $700 of my own money for it? We have spoken, and the answer is no.
If this product isn't for you?
If Mando isn't your guy, Denuo Novo also does a range of other Star Wars helmet replicas that you can check out. For other Mandalorian style helmets, they have Jango Fett's Kamino Helmet, along with Sabine Wren's helmet from Star Wars Rebels. At time of writing, pre-orders are also live for Bo-Katan Kryze's helmet too.
For more classic Star Wars fans, there are also a range of Stormtrooper, Clone Trooper, and First Order Trooper helmets to choose from, as well as more obscure options like the TIE Fighter Pilot and Imperial Royal Guard helmets. You can see the full range of Denuo Novo helmets at their website. At time of writing, there is a 10% off sale on several of these helmets, so if you're interested, now is the time to strike.
If you want something a little less pricey, then you can also check out The Black Series helmet range, which typically retail at around $130-$150. They're a lot cleaner looking, and feel somewhere on the line between toys and collectors items, but at the same time they're a lot more affordable.
You can also check out our guides to the best star wars costumes and best lightsabers for your Star Wars cosplay needs.