The green comet C/2022 E3 (ZTF) has a few more chances to wow skywatchers before it potentially leaves the solar system.
The comet is primed for early evening viewing right now, appearing close to the Auriga and Taurus constellations throughout early February. On Thursday (Feb. 9), the comet will begin approaching Mars in the night sky, beside which it will remain for the next four or five nights. If you haven't gotten out to observe the comet with binoculars or a telescope yet, this week could offer a prime opportunity, as Mars can make for an easy-to-find reference point in the sky.
If you can't make it outside or if cloudy skies block your view, you can still catch a glimpse of comet C/2022 E3 (ZTF)'s close approach to the Red Planet, thanks to the Virtual Telescope Project. Astronomer Gianluca Masi will host a free livestream of the comet as it approaches within 1 degree of Mars on the project's website and YouTube channel. (Your clenched fist held at arm's length covers about 10 degrees of sky.) The livestream will start at 2:00 p.m. EST (1900 GMT) on Saturday (Feb. 11).
Related: See the green comet near Mars in the night sky this week
Read more: How to view and photograph comets
TOP TELESCOPE PICK:
Looking for a telescope to see comet C/2022 E3 (ZTF) near Mars? We recommend the Celestron Astro Fi 102 as the top pick in our best beginner's telescope guide.
Comet C/2022 E3 (ZTF) was discovered in March 2022 by two astronomers at the Zwicky Transient Facility at the Palomar Observatory in California while it was just inside the orbit of Jupiter, 399 million miles (643 million kilometers) away from the sun. Originally thought to be an asteroid, the comet shortly after identified itself with its coma, the cloud of dust and ice surrounding its nucleus. As it has made its way through the inner solar system, the comet has put on quite a show for astrophotographers.
In addition to the livestream of the comet as it approaches Mars, the Virtual Telescope Project has previously hosted webcasts of the comet at perihelion, its closest point to the sun, and perigee, its closest approach to Earth.
While not quite bright enough to be seen with the unaided eye in most locations, the comet is currently easily viewable through binoculars or a telescope. I have personally observed it through both, and found both views enjoyable. If you venture out to see it for yourself, just don't expect to see the bright green, well-defined views that astrophotographers have achieved; those images are usually taken on high-end equipment and are produced by laying multiple long-exposure photographs over one another.
Through a beginner-level 4.5-inch tabletop telescope at 35x magnification, I have been able to make out the nucleus and coma quite easily most nights. At this level of magnification, the comet appears almost like a "hairy" or cloudy star. Higher levels of magnification on a more sophisticated telescope can bring out more detail. No matter what level of optics you have, the comet should make for an enjoyable sight.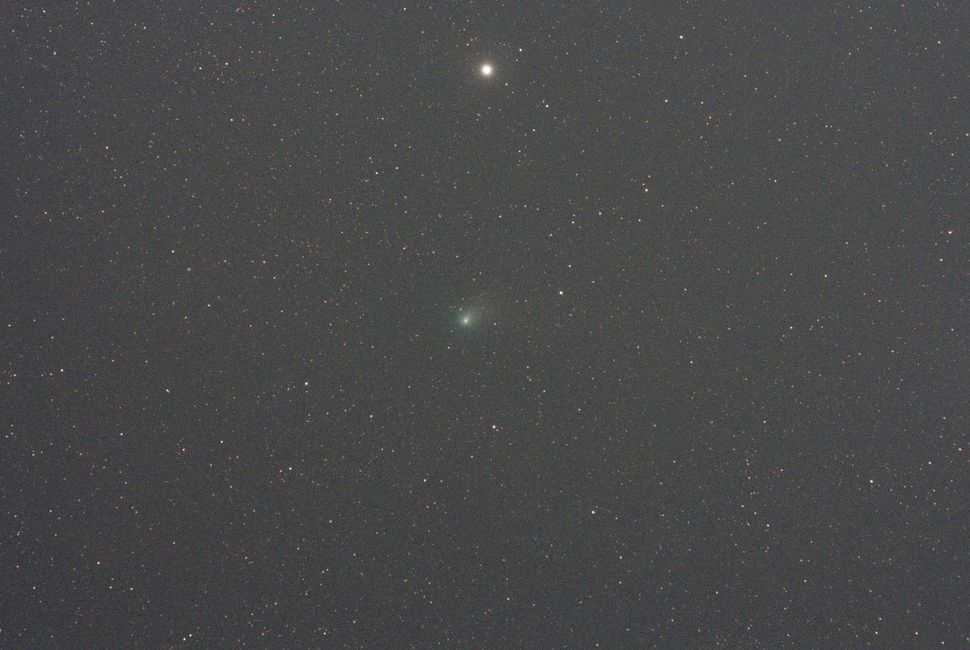 If you want to see comet C/2022 E3 (ZTF) near Mars this week and don't have the right gear, be sure to peruse our guides for the best binoculars and the best telescopes to view the comet or anything else in the sky. For capturing the best comet images you can, we have guides on how to view and photograph comets and the best cameras for astrophotography and best lenses for astrophotography.
Editor's Note: If you photograph comet C/2022 E3 (ZTF) near Mars this week and would like to share it with Space.com's readers, send your photo(s), comments, and your name and location to spacephotos@space.com.
Follow Brett on Twitter at @bretttingley. Follow us @Spacedotcom, or on Facebook and Instagram.