If you haven't yet braved the cold winter nights to see the green comet currently in the night sky, this week might be your best chance.
Comet C/2022 E3 (ZTF) will be positioned close to Mars in the Taurus constellation, making it easier to locate as it dims as it speeds away from Earth. The comet will appear beside the Red Planet from Feb. 9 through Feb. 14, after which it will begin approaching the Orion and Eridanus constellations. For viewers in the continental United States, Mars is positioned high in the night sky roughly an hour after sunset this month, making the comet primed for early evening viewing.
If skies aren't clear in your area or you aren't able to make it outside to see comet C/2022 E3 (ZTF) as it nears Mars, you still have a great opportunity to view this celestial spectacle. The Virtual Telescope Project is hosting a free telescope livestream of the comet's Red Planet approach on the project's website and YouTube channel. The livestream will begin on Saturday (Feb. 11) at 2:00 p.m. EST (1900 GMT).
Related: Green comet flaunts its tail in dazzling deep space photo
Read more: How to view and photograph comets
TOP TELESCOPE PICK:
Looking for a telescope to see comet C/2022 E3 (ZTF) near Mars? We recommend the Celestron Astro Fi 102 as the top pick in our best beginner's telescope guide.
For skywatchers who want to get a good look at the comet in person, Mars offers a great reference point for locating this "messenger from the outermost reaches of our solar system." Throughout February, the Red Planet is between magnitude -0.2 and +0.4, making it not too difficult to spot in most areas without significant light pollution.
Aside from Mars, Venus and Jupiter are positioned well in the early evening sky for viewing as well. Be sure to see our guide on the brightest planets in February's night sky and how to see them to soak up our solar system neighbors throughout the month.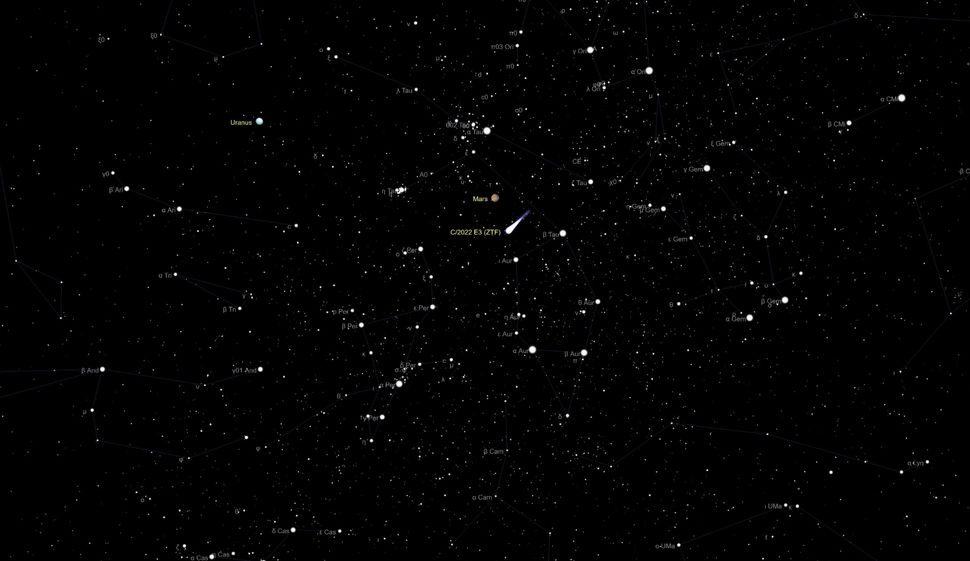 Mars is located high overhead around 7:00 p.m. local time throughout the month near the Auriga and Taurus constellations. If you aren't familiar with how the planet appears in the sky, there are a large number of popular stargazing apps available for mobile devices that can help you locate the comet, Mars and nearby constellations.
Read more: Best stargazing apps: AR apps and virtual star maps to help you navigate the night sky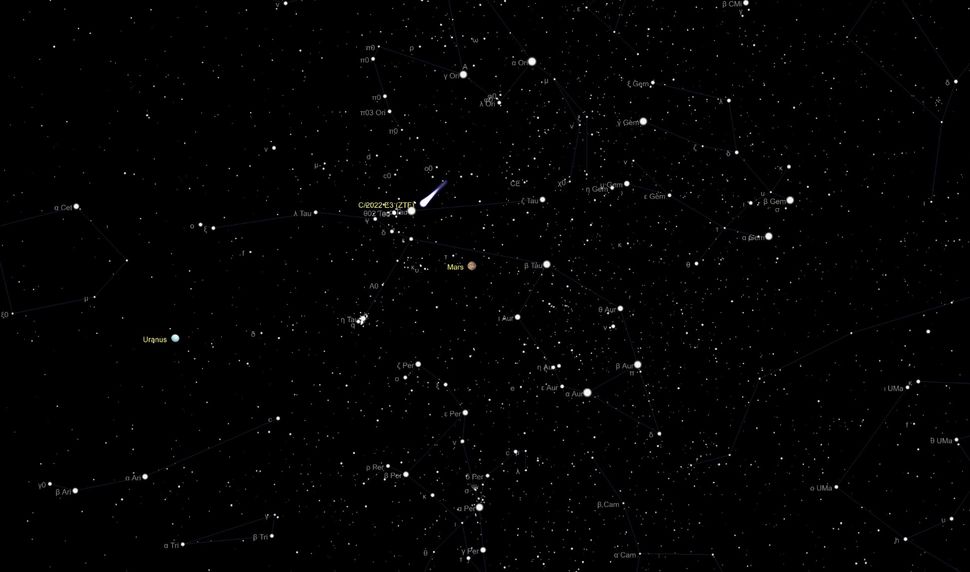 The comet is growing more distant, but it's still visible in the night sky through binoculars and certainly through a telescope. On Tuesday (Feb. 7), I was able to just barely make out the comet with my unaided eye after allowing my eyes time to adjust and first locating it through my grab-and-go 4.5-inch (11.4 centimeters) tabletop reflector telescope. Through the telescope, the comet's nucleus and cloudy green coma were easy to discern at 35x magnification; your results will vary depending on the seeing conditions in your area.
Just keep in mind that the stunning full-color pictures you see online of the comet were taken with top-notch astrophotography equipment and are usually the result of multiple long exposures stacked together and processed using dedicated astrophotography software. The views through a telescope or pair of binoculars won't be as breathtaking on their own, but they still offer a chance to see this visitor before it potentially leaves our solar system forever.
According to Geza Gyuk, an astronomer at the Adler Planetarium in Chicago, for comets like C/2022 E3 (ZTF) that have highly elliptical orbits, "it is very easy for them to have their orbit perturbed, thus making them leave the solar system entirely."
If you're hoping to catch C/2022 E3 (ZTF) as it approaches Mars in the night sky, our guides for the best telescopes and best binoculars are a great place to start. If you're looking to snap photos of the green comet, check out our guide on how to view and photograph comets, as well as our best cameras for astrophotography and best lenses for astrophotography.
Don't miss your chance to get a glimpse of this interloper before it speeds away. Clear skies!
Editor's Note: If you snap C/2022 E3 close to Mars and would like to share it with Space.com's readers, send your photo(s), comments, and your name and location to spacephotos@space.com.
Follow Brett on Twitter at @bretttingley. Follow us @Spacedotcom, or on Facebook and Instagram.