1st Barbie dolls to fly into space make their debut at Smithsonian Air and Space Museum
"This is our first chance to have Barbie in a spacesuit that depicts a spacesuit that women have actually worn."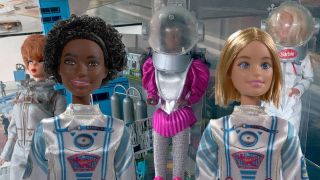 (Image credit: Smithsonian/collectSPACE.com)
At first glance, they appear to be like all of the other Barbie "Space Discovery" dolls found on toy store shelves — and that very well may be the point.

The National Air and Space Museum on Tuesday (July 18) debuted on display the first-ever Barbie dolls to actually fly into space. The two fashion figures spent several months on board the International Space Station (ISS) in 2022 as part of "Mission DreamStar," a joint outreach project by Mattel and the ISS U.S. National Laboratory. The dolls were then donated by the toy company to the Smithsonian.

Like the purpose of their launch, the Barbies' new exhibit at the National Air and Space Museum's Steven F. Udvar-Hazy Center in Chantilly, Virginia, is intended to "encourage kids to consider a career in STEM [science, technology, engineering and mathematics] and celebrate the excitement of space," said Lisa McKnight, executive vice president and global head of Barbie and dolls at Mattel, while the dolls were still in space.
Related: Barbie and Space Exploration: Iconic Doll's Astronaut Looks (Photos)
Now, in the same week that Barbie is launching onto the silver screen in a new movie starring Margot Robbie as the title character, the flown dolls are having a premiere of their own. (The timing of the exhibit's debut was not tied to the film's release.)

"These two space-flown Barbies have been added as a special addition to the toys case that has been on display in the McDonnell Space Hangar at the Steven F. Udvar-Hazy Center," Margaret Weitekamp, curator of the National Air and Space Museum's social and cultural history of spaceflight collection, said in an interview with collectSPACE.com. "They join three Barbie dolls in space outfits that have already been on display."
The three earlier Barbie dolls to enter the National Collection include a red-headed 1965 example of "Miss Astronaut" wearing a silver spacesuit inspired by the Mercury astronauts; an African American 1985 Astronaut Barbie in a suit featuring a hot pink ruffled blouse and skirt; and the Toys R' Us Astronaut Barbie issued in 1994 to commemorate the 25th anniversary of the Apollo 11 first moon landing.

The new additions differ from their previous counterparts in a few ways, beyond having spent time in space.

"This is our first chance to have Barbie in a spacesuit that depicts a spacesuit that women have actually worn. This is a spacesuit that is based on the Russian Sokol suits," Weitekamp said. "So we are now able to show a nice array of the ways that Barbie has allowed people to connect with the idea of going into space and then what is actually happening in spaceflight right now."

The flown-in-space dolls also stand out for what they are missing.

"Part of what is interesting is in order to send the Barbie dolls into space, they needed to go through essentially some preparation and shedding some weight, the way that you do with anything that is going to be flown in space," said Weitekamp. "So Barbie, of course, is famous for her accessories. And anyone who has had Barbie dolls in their house is aware of quite how many small separable pieces come in any kits and can find their way into the vacuum or the carpeting or the vents in your HVAC system."

By comparison, these two Barbie dolls have left almost nothing loose.

"They don't have the helmets, they just are wearing the suits," said Weitekamp. "My understanding is that the shoes are adhered to their feet and, in fact, their hair has been gelled down with a little bit of glue to keep it from not just being a 'flyaway,' as in having a bad hair day, but literally flying away in the microgravity environment.
"I think it's fascinating when we get back these everyday objects that have been in space to look at the ways that they have been adjusted and accommodated to that microgravity environment, whether they have been lightened or had accessories taken off or adhered to them," she said.

But what sets these two very-well-traveled dolls apart may be less important than why they are just like all the other Barbies in children's hands, Weitekamp said. The dolls are off-the-shelf, rather than being custom made or dressed for space.

"I think it's a very deliberate choice to take the kind of thing that any person could walk into any department or toy store and come home with for themselves or their child and then make that the one that goes into space. People can connect with it. You can look across the room and say, 'Oh, my kid has that.'"
Follow collectSPACE.com on Facebook and on Twitter at @collectSPACE. Copyright 2023 collectSPACE.com. All rights reserved.
Get the Space.com Newsletter
Breaking space news, the latest updates on rocket launches, skywatching events and more!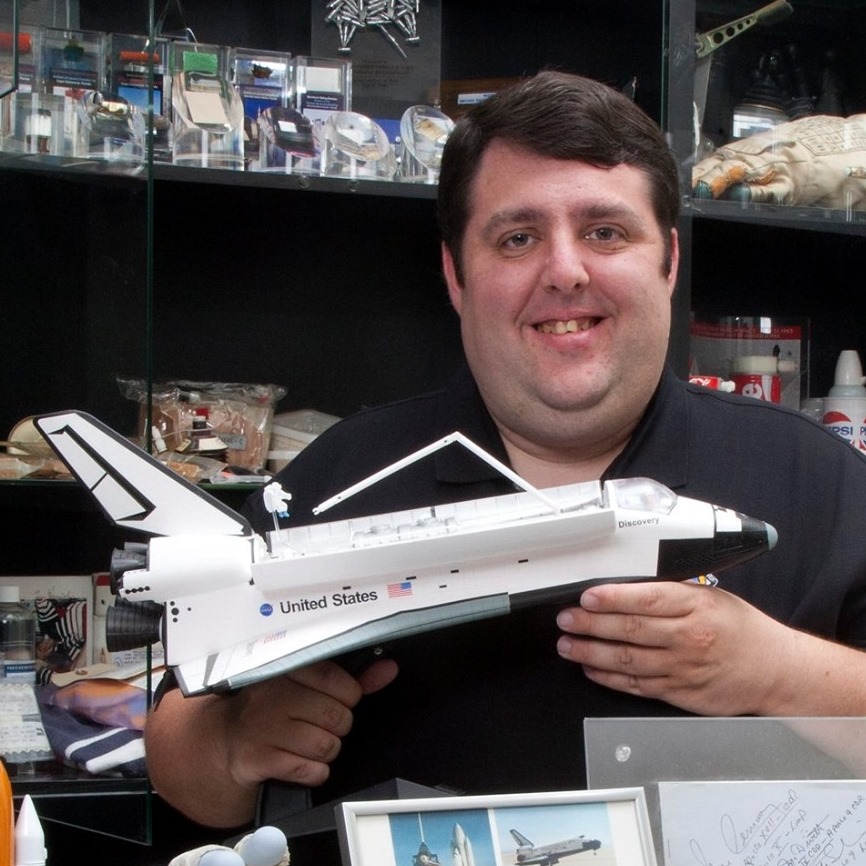 collectSPACE.com Editor, Space.com Contributor
Robert Pearlman is a space historian, journalist and the founder and editor of collectSPACE.com, an online publication and community devoted to space history with a particular focus on how and where space exploration intersects with pop culture. Pearlman is also a contributing writer for Space.com and co-author of "Space Stations: The Art, Science, and Reality of Working in Space" published by Smithsonian Books in 2018. He previously developed online content for the National Space Society and Apollo 11 moonwalker Buzz Aldrin, helped establish the space tourism company Space Adventures and currently serves on the History Committee of the American Astronautical Society, the advisory committee for The Mars Generation and leadership board of For All Moonkind. In 2009, he was inducted into the U.S. Space Camp Hall of Fame in Huntsville, Alabama. In 2021, he was honored by the American Astronautical Society with the Ordway Award for Sustained Excellence in Spaceflight History.