A new "Bablyon 5" film is finally coming.
The show's creator J. Michael Straczynski has been tantalizing sci-fi fans for some time, hinting that a new adventure set aboard in the 23rd century aboard the giant five mile long space station was in the works. Rumors were rife that a live-action reboot was in the works, but that was unlikely. And Straczynski himself has a considerable about of experience of writing for the animation format, having been one of the principal writers on "The Real Ghostbusters" and "He-Man and the Masters of the Universe," to name just two of his previous jobs.
According to the official plot synopsis for the trailer, the commander of Babylon 5 John Sheridan unexpectedly finds himself transported through multiple timelines and alternate realities in a quest to find his way back home. Along the way he reunites with some familiar faces, while discovering cosmic new revelations about the history, purpose and meaning of the universe.
Related: Babylon 5: The Road Home – Everything about the animated movie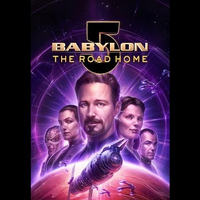 Babylon 5: The Road Home: pre-order for $19.99.
"Babylon 5: The Road Home," an all-new animated adventure written by series creator J. Michael Straczynski, will be available on Amazon in digital, 4K UHD and Blu-ray formats on August 15, 2023.
"Babylon 5" first aired in February 1993, and over the course of five and a half years, it changed sci-fi television forever. We're not going to mince words here, the series is brilliant. You will laugh, you'll definitely cry and you will absolutely be forever enlightened as you follow a mind-blowing story that unfolds across time and space.
While "The Next Generation" was wrapping up, Straczynski was writing what would become nothing less than a magnum opus that would forever raise the bar of serialized sci-fi. And in case you still didn't know, Warner Bros and Paramount were both looking for a new sci-fi show at about the same time, however the latter took many elements from the "Babylon 5" pitch (giant space station next to a strategically important wormhole, neutral in space where aliens can conduct business, leader with a manifest destiny and so on and so forth) and incorporated them into "Deep Space Nine."
Thankfully however, the writers on "Deep Space Nine" were able to steer the show away from the lengthy story arc Straczynski had already envisioned for "Babylon 5." Straczynski himself never talks about this issue, but he addressed it once in his epic, emotional and frankly astonishing autobiography, "Becoming Superman."
He quotes a statement from Steven Hopstaken, who worked at Warner Bros during the time this was all taking place. (This statement first appeared in an article on i09.) An unpleasant situation all round to be sure, but "Babylon 5" turned into an enthralling sci-fi show, with some of the best performances ever seen on a television show being delivered every single week from the likes of Andreas Katsulas, Peter Jurasik, Claudia Christian and Bruce Boxleitner.
Christian, Jurasik and Boxleitner will be reprising their roles as Susan Ivanova, Londo Mollari and John Sheridan respectively, and joining them will be Bill Mumy (Lennier), Patricia Tallman (Lyta Alexander) and Tracy Scoggins (Elizabeth Lochley) together with Anthony Hansen, voicing Michael Garibaldi, Andrew Morgado will play G'Kar and Phil LaMarr voices Dr. Stephen Franklin.
Apparently, due to legalities, "Crusade"-specific content was off-limits to the production. "Babylon 5: The Road Home" will be available to purchase on Digital, 4K UHD and Blu-ray formats on August 15, 2023.